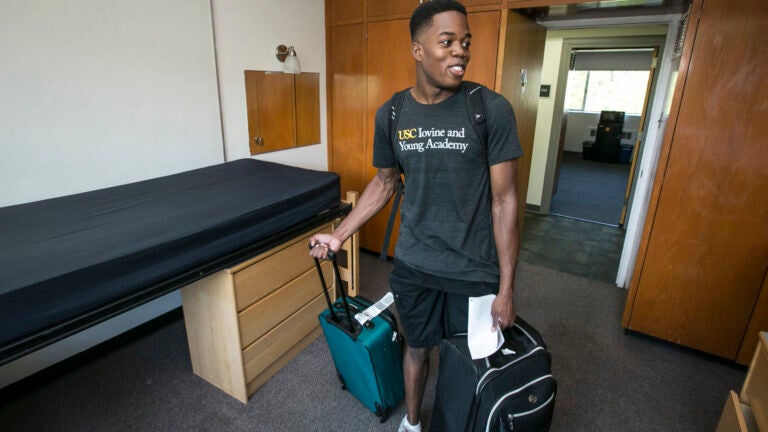 Freshman Amri Rigby puts words into action
Meet the freshman faces of 2014: Amri Rigby
Amri Rigby believes in the power of words.
Whether he's preaching before a congregation, writing poetry or performing on stage, Rigby has seen his world moved by the magic of effective communication. But make no mistake; it wasn't just words that got him into USC Jimmy Iovine and Andre Young Academy for Arts, Technology and the Business of Innovation.
This semester Rigby will be one of only 31 students who make up the inaugural class of the Iovine and Young Academy after a fiercely competitive admissions process that drew applicants from across the globe.
A disruptive innovator
Conceived as a collaborative environment that brings multidisciplinary students, instructors and professional mentors together, the USC Iovine and Young Academy offers an integrated, four-year course of study that combines art, design, engineering, computer science, business and venture management.
"If I could make a major, it would be this," said Rigby, eager to start. It's a fully immersive experience where he'll acquire the skills to move an idea from concept to creation and implementation. By his senior year, he'll present a completed prototype of his project.
As part of the admission process, he had to submit a one-minute video that illustrated an original idea and showcased his potential for being a disruptive innovator. Rigby created the Parent Decoder, a device that offers teenagers a guide to the occasionally bewildering syntax of parent-talk, helping teens and parents communicate more smoothly. "It's like your own personal life coach, teaching you how to communicate with your parents – what to say when you want to go to a dance but your grades are bad and your room isn't clean. It's very useful."
At the USC Iovine and Young Academy, he plans to take ideas like this to the next level. "I want to ask questions, experience the power of teams, and find creative solutions to problems," he said. "I want to ask 'Why not'? And I want to find out what my 'why' is? Ultimately, I think USC will make me a better leader."
A leader by example
From a young age, Rigby learned that to lead by example is to lead with power. He was raised by his mother, who poured so much of herself in her son that he still refers to her as "my inspiration." At 12, he moved from Georgia to Florida to live with Dad, he said, because "I wanted to learn what it was to be man from my father."
He attended lower-performing, ethnically diverse schools where he embraced change and started growing as a leader in the International Baccalaureate Program. After he returned to Atlanta for high school, Rigby took advantage of A Better Chance — which helps minority students attend private schools — and served as a group leader for 230 students. He exemplified change for his classmates by enrolling in a rigorous prep school, Woodward Academy.
"I wanted to lead with my character, to embody the change I wanted to see in them," he said. He later joined the Fellowship of Christian Athletes, turning a lethargic religious meeting into a dynamic place of worship. This opened the doors for him to preach at a local church in Atlanta, a city with a historical legacy of inspirational sermons with the power to change destinies.
"Preaching is an art," Rigby offers. "To see people sit a little taller in their seats after hearing a message of hope, it's a heightened reality."
This year, though, you'll most likely see Rigby not at the pulpit, but in what's called the Garage – the program's creative lab for prototyping technologies – where he'll be busy pursuing his degree in innovative disruption.