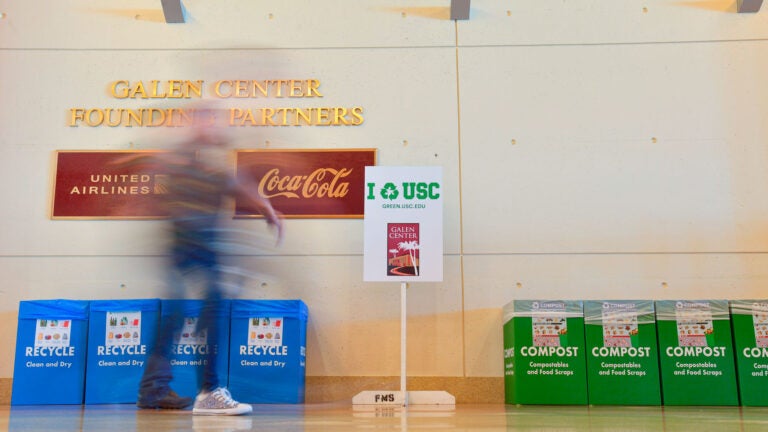 Galen Center wins big in Pac-12 sustainability competition
USC's sustainability staff members executed their first "green game" and successfully turned the Galen Center into a zero-waste facility.
Though the USC men's basketball team defeated Arizona State 71-61 on Feb. 29, there was another victory at the Galen Center that day with even greater results.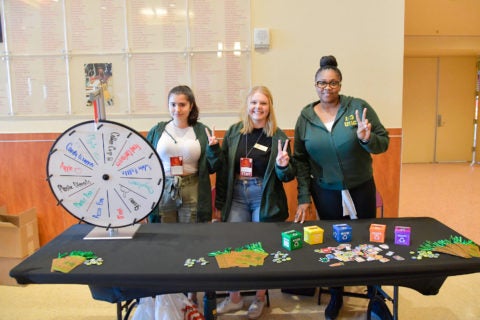 By the time the clock ran out, 91.6% of the waste generated by fans had been diverted from landfills. Today, the impressive victory for the Galen Center's first "green game" has earned USC the most improved trophy among its Pac-12 sustainability competitors. Results of the competition were announced Thursday.
Pac-12 organizers credited impactful messaging and support from President Carol L. Folt for USC's win.
"It's so important for USC to ramp up our waste diversion efforts at Galen Center," said Ellen Dux, director of the USC Office of Sustainability. "The Trojan and Rams football programs at the Coliseum have been zero waste for the past four years. It's time for USC to incorporate the knowledge we've learned about waste diversion at the Coliseum into other programs and venues as we drive towards a zero-waste campus."
Zero waste is defined as 90% of waste generated being either recycled, composted or repurposed.
Pac-12's most improved venue started from sustainability scratch
When the sustainability team brought its game to the Galen Center, it started from zero. The center, which is undergoing a massive solar power installation, had not started waste diversion efforts. The team was starting from scratch.
When it was over, the total waste generated was cut by 64%. The per-person reduction in general waste was 36%. As a result, an estimated 1,650 pounds of waste was kept out of landfills.
I think we'll see more of an emphasis on zero waste in the seasons ahead.

Paul Neidermire
"We reconfigured things to make sure compost, recycle and landfill bins were easy to spot," said Joshua Sierra, a USC sustainability program specialist. "Aramark, which handles concessions and custodial staff, acted as eco-ambassadors. We received a lot of cooperation from fans."
Some items made of materials that can't be recycled, composted or repurposed were not sold at the game.
Upstream waste reduction, fan education and community participation will all play a role as the center's management determines how to keep moving forward sustainably.
"This was a pilot for us, and it turned out incredibly well," said Paul Neidermire, general manager of the Galen Center. "We're fans of President Folt's sustainability initiatives, and I think we'll see more of an emphasis on zero waste in the seasons ahead."