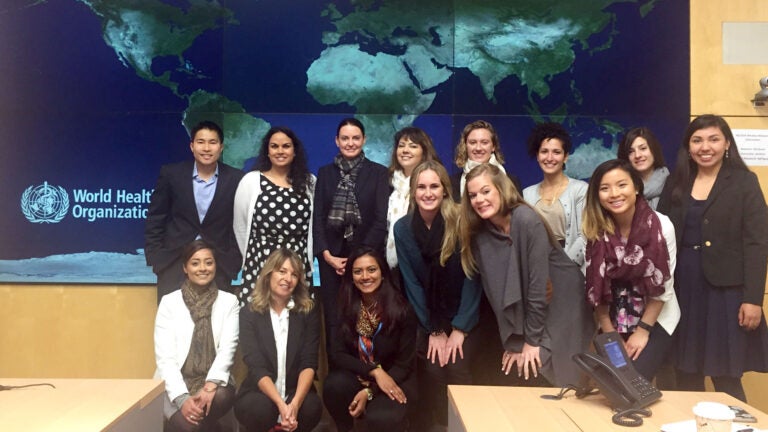 International politics unfold at World Health Assembly
USC public health students enhance their knowledge of global health topics and governance
USC students in an immersive global health course landed front-row seats to watch international politics play out at the 69th World Health Assembly (WHA) in Geneva, Switzerland. Afterward, they sat down with leaders from multinational organizations to learn how health governance works on a grand scale.
The 12 public health students were embedded in May as official, non-governmental delegates to NCD Alliance members at the World Health Assembly, the decision-making body of the World Health Organization. The annual meeting, which focuses on setting the global agenda for addressing priority health topics, convenes representatives from all WHO Member States.
This year's agenda included identifying next steps for the Sustainable Development Goals, ramping up tobacco control and handling complex health emergencies like Ebola, Zika and the latest yellow fever resurgence.
The USC Master of Public Health program offers the course "Global Health Governance & Diplomacy in Practice in Geneva at the World Health Assembly," through the Department of Preventive Medicine every spring semester.
Led by professors Laura Ferguson and Sofia Gruskin, the students were placed on five delegations within the NCD Alliance dedicated to Alzheimer's disease, diabetes, cancer, heart disease, tuberculosis and lung disease. In this official capacity, they took notes at relevant sessions, helped at side events, met participants from around the world and attended sessions to enhance their knowledge of global health topics and governance.
"This opportunity is unprecedented in global health education," said Gruskin, director of the Program on Global Health & Human Rights in the USC Institute for Global Health. "It's the kind of ah-ha experience that changes lives."
Info overload
Sitting shoulder-to-shoulder with WHO representatives in the Palace of Nations' iconic halls, the students shared photos, tweeted quotes and blogged about the assembly's ups and downs — meeting WHO Director-General Margaret Chan, enduring 17-hour workdays, networking in the halls and parsing the inspiration overload that ensued.
"[I]t was intimidating, humbling and set the stage for what the world of public health looks like: a group of incredibly qualified professionals, trying to figure out the world's biggest health/finance/resource problems in one week," wrote MPH student Parnian Khorsand in her post on the USC Global Health Travel Blog.
"Never before had I stood in front of so many public health leaders — heroes whose names filled my textbooks and news feed," wrote Cristina Gago, who is earning her B.S. in human biology and a progressive MPH in global health leadership.
The future of global health
The following week, students visited a range of international organizations to learn from representatives about their work relevant to the assembly's issues, and to the future of global health.
These organizations, including the World Economic Forum, WHO, UNAIDS and the United Nations High Commissioner for Refugees, spanned the global health spectrum: U.N. agencies, international non-governmental organizations and donor institutions. The meetings covered everything from financing, governance and community mobilization to gender, human rights and humanitarian aid.
Together, the two weeks in Geneva provided students with firsthand insight into global health governance. They learned practical lessons about political influences, challenges in reaching global consensus around contentious health topics and which collaborations can be most effective in promoting health across sectors.
"These past two weeks have been enlightening," wrote MPH student Ruya Kristal Sayim in her post. "We were able to experience the cooperation between countries and organizations, working toward common goals at the WHA … followed by a week of visiting with other organizations in global health, allowing us to have a more personal insight into the realities of a career in the global health field."
Connecting with experts
The 69th World Health Assembly is the fifth attended by USC students as delegates.
Heather Wipfli, USC Institute for Global Health associate director, said she developed the immersion experience in 2012 because existing MPH programs failed to prepare students to effectively engage in global health policy processes.
That engagement now drives the program's success, Ferguson said.
"By stepping into real roles and connecting with real experts, students recognize the value of this experience and how they will be shaped by it for years to come," she said.