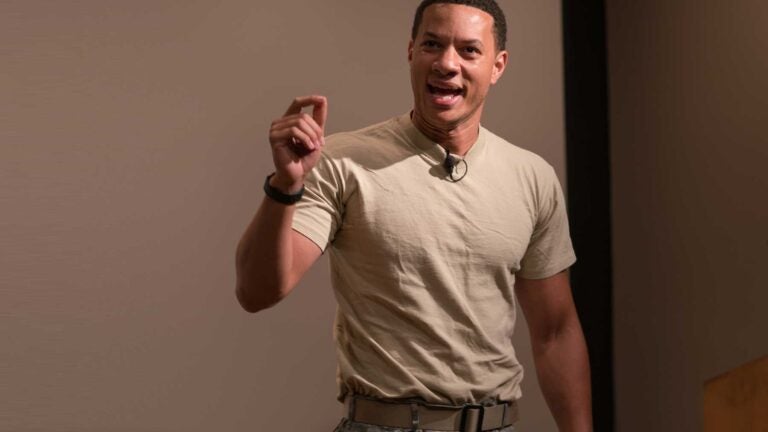 Veteran takes the stage as a great Trojan of the past
The role as Sophocles' hero Ajax offers a new perspective on the impact of wartime service
Clad in military fatigues, U.S. Air Force veteran Christopher Allen took the stage. With a somber and commanding voice, he spoke as the great warrior Ajax, a character created by the ancient Greek playwright Sophocles. In the 10th year of the Trojan War, after being disgraced by the kings Menelaus and Agamemnon, and tricked by the goddess Athena, Ajax ponders whether he should take his own life.
"The long and countless course of time, revealing what is hidden and then shrouding what appears, the most solemn oath and the strongest will can be overcome. Even I who stood so firm, as hard as iron, can feel my sharp edge dull," Allen began.
Allen performed the monologue as part of a performance on the University Park Campus. Warrior Chorus, a national initiative sponsored by the Aquila Theatre Company in New York City with a grant from the National Endowment for the Humanities, trains veterans to present innovative public programs based on the ancient literature of the Greeks.
Allen noted that the scene he chose to perform gave him a new perspective on the personal impact of wartime service. As an air traffic controller, it was not something he had experienced.
"It was intriguing to me to step into that mindset and say, 'OK, how would I respond if I were in this situation?'"
He also noted that everyone can relate to the feeling of being at the top of their game, as Ajax had been prior to his deceit, and having to cope with failure.
"He was the best at what he did," Allen said. "And then something terrible happened and now he's on the bottom. He can't get ahead. He failed, so that affected him greatly, just as it would any of us."
Classical texts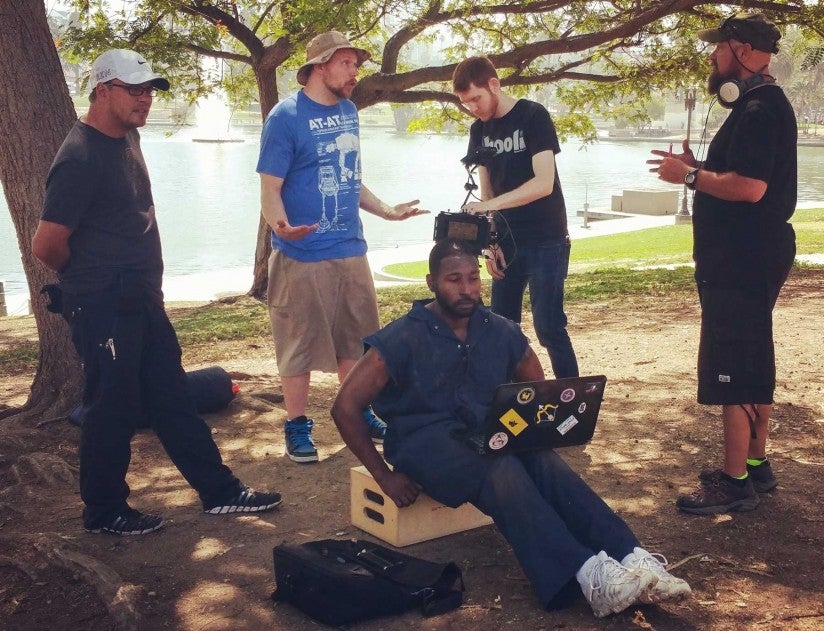 As part of the national initiative, USC was one of several institutions across the country to lead a 10-week seminar in which veterans partnered with university scholars. Together, they studied classical texts and investigated the connections between the ancient world and contemporary America as they relate to the issues affecting the veteran community and the public.
In response to what they learned, the veterans prepared performances of scenes from classical plays by Sophocles and Aeschylus as well as new interpretations of Greek tragedies, including a poem, short films and the personal observations of a female veteran.
In introducing the Sept. 29 program, John Holt, a retired U.S. Air Force major with more than 23 years of active duty service, shared the performers' hopes that their work would shrink the divide between veterans and non-veterans, generating new conversations.
"Tonight you will be invited into our sacred tribe and not only witness our interpretations of the war experiences of ourselves and that of the classic Greeks," he said, "but also learn of the stories, the social injustices and stigmas that veterans face while preparing for, engaging in and coming home from war."
The Los Angeles Warrior Chorus was led by William Thalmann, professor of classics and comparative literature and chair of classics; James Collins, formerly of classics at the USC Dornsife College of Letters, Arts and Sciences; and Nathan Graeser, community program administrator in the USC Social Work Center for Innovation and Research on Veterans and Military Families.
By vets, for vets
Thalmann, who taught the classics curriculum for the seminar at USC, noted that all males in Athens served in the military, forging an obvious but sometimes overlooked element to the plays of ancient Greece, which made them particularly significant to study.
"Greek tragedy was written by veterans and performed by veterans before an audience of veterans," he said.
For most of the 5th century B.C., Athens was at war in one way or another, he added. "So war was really a fact of life then."
John Pistone, who spent more than eight years in the U.S. Navy as a combat journalist and cameraman, reflected that studying classic Greek works drove home just how universal and timeless the experience of war is.
"What fascinates me is that you look at these stories, they were written thousands of years ago, and the morals and the questions that they pose are still very relevant today," he said. "I think as long as there's going to be war, there's going to be those questions."