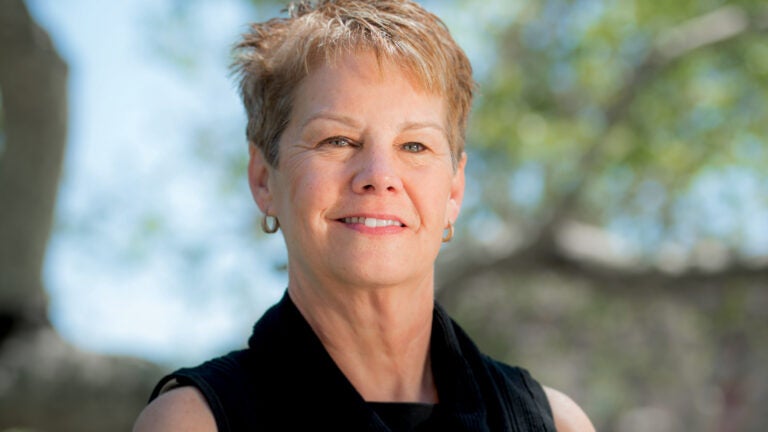 Cancer researcher Amy Ross named USC trustee
Contact: USC Media Relations at (213) 740-2215 or uscnews@usc.edu.
A scientist with a distinguished career in cancer diagnostics, Amy Ross Ph.D. '86 was elected to the USC Board of Trustees on June 3.
Ross is the outgoing president of the USC Alumni Association Board of Governors, on which she has served since 2008. She also is a member of Town and Gown of USC, Women of Troy and the USC Trojan Society of Hospitals.
The first in her family to attend college, she received her bachelor's degree from Cal State Northridge and her Ph.D. in experimental pathology from the Keck School of Medicine of USC. Among other career highlights, she started a cancer diagnostics lab, rose to senior vice president of scientific operations at Nexell Therapeutics and served as an associate biologist at Caltech.
"Amy Ross has been an exceptional leader for the USC community, and a passionate supporter of our Trojan Family," said USC President C. L. Max Nikias. "Her expertise and tireless dedication to the university will be invaluable to me and our Board of Trustees, and I am certain USC will benefit tremendously from her singular ability to build relationships and strengthen connections among our community."
Ross's dedication to USC and its alumni community spans decades. Ross was a founding member of USC's first alumni group for lesbian, gay, bisexual and transgender Trojans in 1992. Today she champions LGBT contributions to science through the National Organization of Gay and Lesbian Scientists and Technical Professionals, which she helped found. She also endows the Amy Ross LGBT Health Scholarship at USC, given each year to an undergraduate or graduate student whose creative work, scholarship or community engagement demonstrate a commitment to promoting LGBT health and wellness.
Serving on USC's Board of Trustees is an honor that the La Crescenta native never envisioned during her doctoral studies. But she's inspired to serve as a steward among the distinguished Board of Trustees, ensuring USC's mission of the cultivation and enrichment of the human mind and spirit.
"USC has supported me throughout my career," Ross said. "I'm just paying a little of that back."
As a trustee, she hopes to support the university's efforts to rise through the ranks of the nation's leading research institutions.
Academic research and training is what first drew Ross to USC. The university was one of a handful of schools offering a Ph.D. in experimental pathology when Ross applied to the program. She was working as a technician on USC's Health Sciences Campus, and she credits Nancy Warner, MD, then-chair of the pathology department at the Keck School of Medicine at USC, for encouraging her to pursue her doctoral studies—a path that Ross had not considered.
Her research led her to a career developing clinical assays and tests aimed at unlocking the mysteries of cancer and other disease. While working in bone marrow transplantation and cancer diagnostics, Ross focused her research on detecting tumor cells in cancer patients as a way to detect early relapse.
She paused her early retirement a few years ago to return to her roots as a lab technician, working at Caltech on how stem cells could be transformed into T-cells, one of the human body's main defenses against disease. She is the author of more than 75 scientific publications and holds three U.S. patents.
In addition to her volunteerism at USC, she serves on the scientific advisory board for the Michelson Prize & Grants, an initiative to promote research and development of nonsurgical sterilization technologies for cats and dogs. Aiming to reduce the number of pets euthanized in shelters each year, the initiative was founded by Gary and Alya Michelson, who recently donated $50 million to USC through their foundation to fund the USC Michelson Center for Convergent Bioscience.
Ross lives in Silver Lake. Her partner, Connie Hammen, Ph.D., is a distinguished professor of psychology at UCLA and internationally recognized researcher in the psychopathology of mood disorders.