$20 million gift creates research center on longevity and aging at USC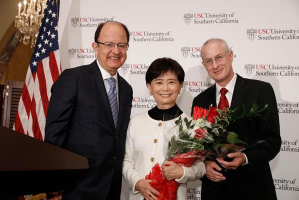 Mei-Lee Ney's donation is the largest in the history of the USC Leonard Davis School of Gerontology.
Contact: Eddie North-Hager at 213-740-9335 or edwardnh@usc.edu.
A new center dedicated to research on longevity and healthy aging has been established at the USC Leonard Davis School of Gerontology with a $20 million gift from Mei-Lee Ney.
The donation, creating the Ney Center for Healthspan Science, is the largest in the school's 43-year history. A longtime supporter of the school, Ney is a member of its board of councilors and previously funded an endowed scholarship for USC gerontology students. In 2017, she was awarded the Dean's Medallion, the school's highest honor, in recognition of her contributions.
"Our highly skilled researchers and scholars at USC Leonard Davis and across the university are tackling one of the greatest challenges in society today: ensuring that we remain healthy and happy as we get older," USC President C. L. Max Nikias said. "This extraordinarily generous support from Mei-Lee Ney provides our scientists with valuable resources needed to advance their innovative research on longevity and well-being. We are incredibly grateful for her visionary gift and her commitment to improving lives."
School leaders envision the center as a hub of multidisciplinary exploration into the biological, demographic and psychosocial aspects of aging. It will leverage the school's uniquely wide-ranging expertise in investigating the science of aging and implementing innovations to help people live with purpose, safety and security into their golden years.
"Mei-Lee Ney's generosity comes with a keen understanding that a society is measured by how it takes care of its most vulnerable members," said Michael Quick, USC provost and senior vice president for academic affairs. "Her gift ensures that the university, led by the USC Leonard Davis School, will be at the forefront of research and education that seeks to improve how we live and age."
The new center will build on USC's growing university-wide efforts to improve health and longevity across the lifespan, a tenet of its new strategic plan. Tackling challenges related to extended life expectancy is a priority in the plan, which encourages researchers and scholars across the university to share their expertise and ideas on addressing aging-related issues as one of society's wicked problems.
The world's population is rapidly aging, with people aged 65 or older soon expected to outnumber children younger than five. That has significant implications for society. Stress on the health care system and individual caregivers will continue to increase. Age-related diseases such as Alzheimer's disease and dementia, diabetes and cancer will likely affect a wider swath of the population. Issues like social isolation, caregiving, housing and work opportunities need to be addressed as older adults seek to remain vibrant and vital members of their communities.
"A pioneer in the financial industry, Mei-Lee Ney has long understood the importance of investing in the future," said Pinchas Cohen, the school's dean. "Her groundbreaking gift will allow us to find ways to improve health, wellness and longevity today and for generations to come."
Ney hopes to increase awareness of the many ways gerontologists can improve quality of life for people of all ages.
"Bringing scientists and experts from disparate fields together to focus on healthy aging will allow USC researchers to embrace the challenges and opportunities of our aging society, both locally and on the world stage," she said.
A native of Shanghai, China, Ney has served on the board of the school since 2014. She helps plan the school's Vibrant Living Retreat, an annual event that brings together experts to discuss the latest developments in longevity, science, technology, disease prevention and nutrition. Ney also serves as a board member of the USC Pacific Asia Museum.
Ney is president of Richard Ney & Associates Asset Management Inc., an investment advisory firm she helped run with her business partner and late husband, Richard, since 1973. She has worked in the investment industry since 1967, becoming a registered representative with the National Association of Securities Dealers in 1969 and the New York Stock Exchange in 1971. Prior to joining Richard Ney & Associates, she was one of only two female stockbrokers at Neuberger, Loeb, a firm known for its high-performing brokers.
From 1976 to 1999, Ney helped produce The Ney Report, a popular investment newsletter. She also edited two of her husband's books on the stock market, The Wall Street Gang and Making It in the Market. Her other passions include community and arts organizations, and she is involved with Founders at the Music Center, Otis College of Art and Design, LA Opera, Caltech Associates and Huntington Library. She resides in Pasadena.
Image: The gift from Mei-Lee Ney (center) will establish a new center dedicated to research on longevity and healthy aging at the USC Leonard Davis School of Gerontology. With USC President C. L. Max Nikias and USC Leonard Davis School Dean Pinchas Cohen. (USC Photo/Steve Cohn)