$200 million gift launches Lawrence J. Ellison Institute for Transformative Medicine of USC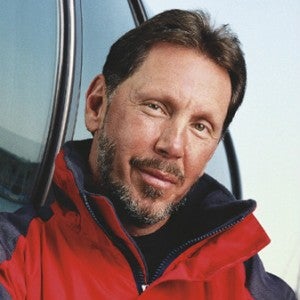 One of the largest recent donations supporting cancer research and treatment will harness proteomics, molecular biology, genetics and nanotechnology for new ways of ending cancer
Contact:
For USC, Eddie North-Hager at (213) 740-9335 or edwardnh@usc.edu
For Dr. David Agus, Katy Sweet & Associates at (310) 479-2333 or katy@katysweetpr.com
For Larry Ellison, Deborah Hellinger, Oracle Vice President, at (212) 508-7935 or deborah.hellinger@oracle.com
LOS ANGELES, MAY 11, 2016 — Technology entrepreneur Larry Ellison has donated $200 million to establish the Lawrence J. Ellison Institute for Transformative Medicine of USC, a new center in Los Angeles that will combine interdisciplinary research with the holistic prevention and treatment of cancer. David B. Agus, professor at the Keck School of Medicine of USC and USC Viterbi School of Engineering, will lead the institute.
Ellison's gift is among the largest made to cancer research and treatment in recent years. The donation was announced at the Rebels with a Cause fundraising gala for the USC Center for Applied Molecular Medicine on May 11.
"Tonight I'm announcing a gift of $200 million to the University of Southern California to build an interdisciplinary center for cancer research headed by Dr. David Agus. The new Institute will invite mathematicians, physicists and other scientists to collaborate with cancer researchers from the traditional disciplines of medicine and biology. We believe the interdisciplinary approach will yield up new insights currently hidden in existing patient data."
Ellison will be the speaker for USC's 133rd Commencement on May 13.
"This investment by Larry Ellison in USC is as inspirational as it is momentous, and it will serve as a dynamic force for change in how we approach cancer treatment and prevention," said USC President C. L. Max Nikias. "It is a concrete endorsement of USC's vision to invest in the promise and potential of new technologies, and to support a bold push forward in how we achieve wellness."
Ellison's gift will provide the lead investment for a state-of-the-art facility in west Los Angeles that will serve as the Ellison Institute's home. The building will house interdisciplinary cancer research laboratories focused on scientific discovery and innovation. Clinical advances will focus on transforming cancer treatment through technology and an interactive care clinic that offers patients world-class healthcare. The institute's collaborative environment will include a think tank, education and outreach, and a wellness program. The institute will feature community spaces built around encouraging a healthful lifestyle, including a library and gardens. The center will be open to the community for lectures and wellness classes on nutrition and similar topics.
The Ellison Institute will draw collaborators from across conventional health and wellness fields, as well as from a broad range of other disciplines such as physics, biology, math and engineering to study cancer and potential ways to prevent, detect and treat the disease. The institute will complement and integrate cancer research being conducted by faculty physicians and scientists across the university.
Agus currently leads the USC Center for Applied Molecular Medicine (CAMM) at the USC Norris Westside Cancer Center in Beverly Hills and on the USC Health Sciences Campus in Los Angeles. Under Agus' guidance, CAMM's research focuses on the application of proteomics (the study of the body's proteins) and genomics, integrating clinical trials, pre-clinical studies and molecularly targeted therapy, which focuses on molecular and cellular changes specific to cancer. Molecularly targeted therapy helps determine which cancer therapies are likely to work best for individual patients, allowing physicians to customize treatment for each patient's cancer.
"It is an honor and a privilege to team up with Larry Ellison in the fight against cancer," said Agus. "Larry understands the need for transformation in cancer care. His gift will enable us to change our very approach cancer research, treatment and prevention. We will create a new paradigm, where patients and researchers have the opportunity to interact, and where research is not taking place in an isolated silo. I believe with Larry's support, we can advance our research to the next level, allowing the most effective treatments to benefit patients who are in urgent need of new therapies — today."
Ellison, the founder and chairman of Oracle Corporation, is an internationally renowned entrepreneur, philanthropist and sportsman who continues to shape the course of one of the most important industries of the 21st century. His founding of Oracle— the enterprise-technology giant — heralded a new era of corporate data management and organization, and established him as a visionary business leader. Previously Oracle's chief executive officer for 37 years, Ellison now serves as the company's executive chairman and chief technology officer.
As the founder of the Lawrence Ellison Foundation, Ellison supports several public-spirited causes, including the advancement of cutting-edge biomedical research on age-related diseases and disabilities. In 2014, he partnered with animal welfare advocates to create a wildlife refuge, rehabilitation, and education center in the Santa Cruz Mountains. He has also been a generous benefactor for several education programs, and is active in Oracle's plans to launch Design Tech High School—a free, public school—through the Oracle Education Foundation on the company's campus in Redwood City, California. Ellison is a signatory of The Giving Pledge, a movement among the world's wealthiest individuals and families to commit the majority of their wealth to philanthropic efforts for future generations.
He also runs one of the world's largest tennis tournaments, and sails with Oracle Team USA. In 2010, the team won the America's Cup, returning the international prize to the United States for the first time in more than 15 years. Ellison and his team claimed a second America's Cup victory in 2013.
# # #