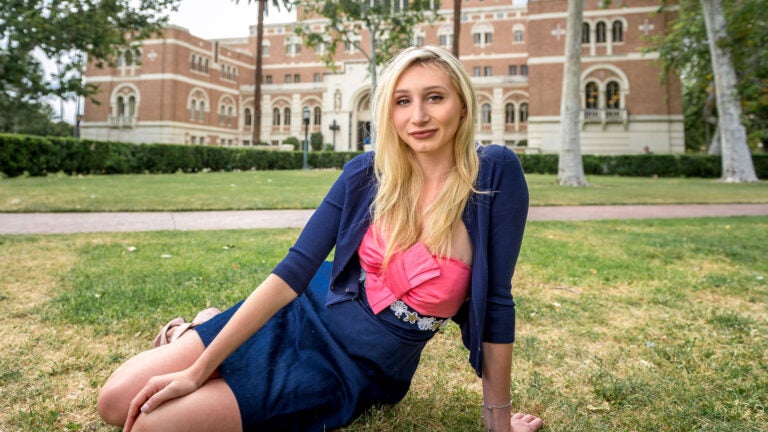 Salutatorian Josie Andrews, former child actor, now makes her mark behind the camera
She played Legally Blonde's Elle Woods on stage; now she's producing films that make a social statement
Even though Josie Andrews spent months playing ambitious law student Elle Woods on stage in Legally Blonde: The Musical, she was shaken walking onto a university campus as a freshman.
"It was overwhelming when I first got here," said Andrews, one of USC's two 2018 salutatorians. "I can barely remember the last time I was in school."
A child actor for most of her life, Andrews was schooled from the road, tuning into courses via Skype.
After taking a few years off, doing sketch comedy with the Groundlings in Los Angeles and shooting shorts with friends, she decided she was ready for the university experience.
The culture of USC and strong sense of school spirit, pride and community captured me right away.

Josie Andrews
"I think after having such a unique upbringing, normalcy is what I craved and needed," said Andrews, 23. "My criteria when I was looking for a school was big time football, fun Greek and campus life, stellar academics and high quality arts programs. The culture of USC and strong sense of school spirit, pride and community captured me right away."
Open call
Andrews started acting at age 8. She saw an ad in the paper for an open call in New York City and asked her parents if she could go.
"They were like 'OK, sure, if you can find anyone to take you,'" she said. "I called everyone in my parents' phone book … every cousin, aunt, uncle."
Her godmother said yes.
Suddenly she was a kid with a full-time job. Actually, almost two full-time jobs: Monday through Friday she might have rehearsals for one show while performing another on nights and weekends. She's been in productions of Oliver, Fiddler on the Roof, Anything Goes and Hello, Dolly!
When she came to USC, she figured she'd want to continue acting. But after working on Trojan Vision, the USC School of Cinematic Arts' TV station, she started to think about production.
"During my time at USC, I came to the realization that the stories we see on screen and the way people are portrayed and represented is totally dependent on the people behind the camera, and in the writers' rooms," she said.
She decided to major in Cinema and Media Studies, producing two films while at USC, which she is working to submit to festivals.
In Paris, Andrews shot a short film about the climate in the city in the aftermath of the November 2015 terrorist attacks.
"It was independent guerilla shooting," she said. "It was just going around shooting until someone said, 'You can't shoot here.' And I don't speak French."
At the time, the city was hosting the EuroCup.
"There were tons of security everywhere," she said. "People were trying to enjoy themselves but everyone was kind of on edge."
When she came back to the States, she was inspired to create a film about political tensions.
"After getting my first taste of using film to explore societal tensions in Paris, this seemed like a very timely opportunity to take on attempting to use filmmaking as an agent for social justice — especially since the travel ban proved to be an issue directly affecting my own community here at USC," she said.
She interviewed students the countries affected by the policy and used it to create a fictionalized story of a mother calling her child, a USC student, asking them to come home because she was concerned about the climate.
For USC 2018 salutatorian, a passion for social impact
Social impact is something she's been passionate about since she was a teenager, when she started an anti-bullying foundation after seeing her sister's experience being harassed in school. She testified before Congress in 2008 and create an anti-bullying curriculum to be used in New Jersey public schools. A screenplay inspired by her foundation and cause was optioned by The Walt Disney Company.
Upon graduation, she says she wants to do more of what she's been doing — learning by making her own films and helping friends with theirs.
I definitely think baptism by fire has always been the easiest way for me to learn.

Josie Andrews
"I definitely think baptism by fire has always been the easiest way for me to learn," she said. "I'll attribute that to my theatre background as when you forget a line, or a step, or don't make a quick change — you're constantly thinking on your feet to problem solve all while not giving away that anything deviated from the plan."
She says these skills helped with her undergraduate internships, interning in development at Lionsgate and for a NBCUniversal production company called London Alley.
The experiences solidified her decision to produce and she'll continue doing that at SCA, starting a Master's in Fine Arts in production this fall.
"I know it's unusual to pursue both your undergrad and graduate degrees at the same university, but SCA is the best of the best," she said. "SCA is the only graduate school I applied to, as I couldn't imagine pursuing my MFA anywhere else. I would definitely proudly claim the title of Super Trojan."