Leavey Foundation gift to create living space for undergraduate scholars
Leavey Honors Hall will offer academic, cultural and social activities to hundreds of freshmen
The Thomas and Dorothy Leavey Foundation, chaired by USC Trustee Kathleen Leavey McCarthy '57, has donated $30 million to USC to create the Kathleen L. McCarthy Honors College at the new USC Village. The college will unite USC's undergraduate scholarship and honors programs to establish a community of exceptional scholars.
We're tremendously grateful that she stepped forward to make the first major gift to the USC Village.

C. L. Max Nikias
McCarthy Honors College will be home to as many as 600 freshmen honors students and an exclusive program of academic, cultural and social activities. Students will receive regular mentoring from top university faculty, as well as local and international leaders, who will live in the hall or visit the college. Among its many amenities, the building will feature dedicated space for honors seminars and one-on-one advising.
A history of philanthropy
McCarthy and the Leavey Foundation have a long history of giving to USC, having provided the lead gifts for Leavey Library and McCarthy Quad. In addition, the foundation has made contributions to various scholarship endowments and established USC's first trustee chair named in memory of McCarthy's late husband, attorney and devoted USC alumnus J. Thomas McCarthy '53, LLB '56. The couple met as students at USC and maintained strong ties to their alma mater.
"Kathleen McCarthy has an abiding passion for our students and understands the importance of providing them with supportive and intellectually engaging residential communities," said USC President C. L. Max Nikias. "We're tremendously grateful that she stepped forward to make the first major gift to the USC Village, a project that will immeasurably enhance residential life for our students."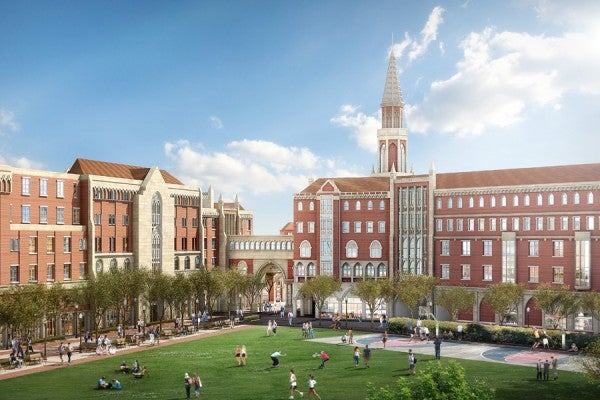 Set to open in 2017, USC Village is the largest economic development project in South Los Angeles history. It will combine academic, student housing, recreational and retail space to create a comprehensive living and learning environment for USC students. In addition to McCarthy Honors College, seven other residential colleges are being planned for USC Village. Together, they will add about 2,700 beds to university-owned student housing. The site is located directly north of University Park Campus, across Jefferson Boulevard.
"USC's residential colleges provide supportive communities and contribute immensely to students' academic and personal development," said Ainsley Carry, USC's vice provost for student affairs. "McCarthy Honors College will nurture these outstanding young scholars and inspire them to reach their full potential."
McCarthy voiced strong support for USC Village, calling it a transformative project for the university.
"It will give so many more students the opportunity to live on campus, which will be a tremendous benefit to them. USC Village is going to be a very special addition to the university, and we feel fortunate to make a gift to help start it off."
A lifetime of service
A native Angeleno, McCarthy graduated from Marymount High School in Los Angeles. As a student at USC, she became a member of Kappa Alpha Theta and was crowned the 1954 homecoming queen. She received her bachelor's degree in 1957 from what is now called the USC Rossier School of Education.
After graduating, McCarthy continued to serve on behalf of USC in Trojan Junior League and Trojan League of Los Angeles. She was elected to the Board of Trustees in 1986. In recognition of her far-reaching contributions and extensive philanthropic work, she received an honorary doctorate from USC in 1997 and was inducted into the Half Century Trojans Hall of Fame in 2013. Her husband, Frank Kostlan '56, MBA '62, is also a dedicated and loyal Trojan who has generously supported the university over the past several decades.
McCarthy's father, Thomas Leavey, co-founded Farmers Insurance. Committed to helping others and giving back to the community, he and his wife, Dorothy, established the Thomas and Dorothy Leavey Foundation, which has become one of California's largest philanthropic organizations. Over the past six decades, the foundation has donated more than $200 million to educational, medical and Catholic institutions.
The foundation's gift significantly boosts the Campaign for the University of Southern California, a multiyear effort that seeks to raise $6 billion or more in private philanthropy to advance USC's academic priorities and expand its positive impact on the community and world. Three years after its launch, the campaign has raised more than $3.5 billion.