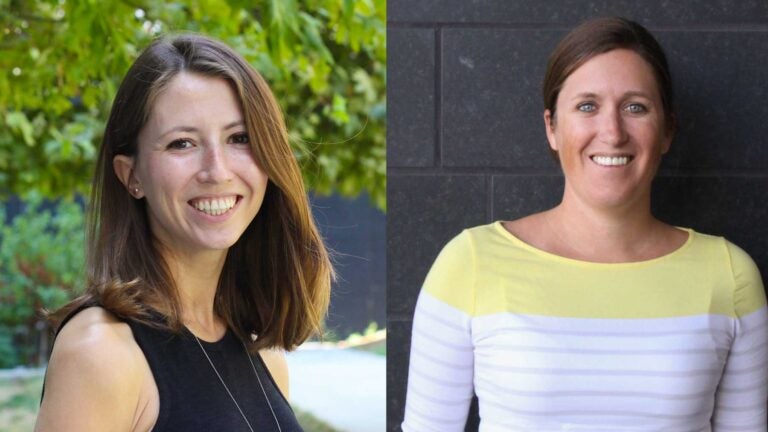 Using stem cells to restore hearing and build a stronger heart
Two of USC's best and brightest scientists study the inner ear and heart tissue regeneration
Can stem cells restore hearing or create a more resilient heart?
USC Stem Cell postdoctoral fellows Ksenia Gnedeva and Michaela Patterson are addressing these questions, with support from Eli and Edythe Broad fellowships.
Gnedeva is exploring genes involved in the proliferation of sensory cells in the inner ear, with the goal of developing regenerative therapies for hearing loss. Specifically, she is looking at a group of genes and molecules called "Hippo," which work together to sense the forces produced by developing tissues and restrict excess growth.
Before arriving at USC, Gnedeva earned her bachelor's degree in biology from Lomonosov Moscow State University in Russia, and obtained her PhD in developmental and cell biology from the Sanford Burnham Prebys Medical Discovery Institute and the Koltzov Institute of Developmental Biology. She then completed four years of postdoctoral training in sensory neuroscience at the Howard Hughes Medical Institute and Rockefeller University, before moving to USC. She has published her research in several journals, including the Proceedings of the National Academy of the Sciences and eLife.
Regenerating heart tissue
Patterson is studying genes that affect the natural ability to regenerate heart tissue following an injury, such as a heart attack. This natural ability varies greatly among individuals, largely due to the activity of specific genes, including one called Tnni3k, that dictate the number of regenerative cells in the heart.
The project is part of Patterson's long-standing commitment to working toward developing regenerative therapies for clinical translation.
After earning her bachelor's degrees in biology and Spanish from Bates College, Patterson served as a lab manager at Harvard Medical School, where she developed an interest in stem cells. She then pursued her PhD in molecular, cell and developmental biology at UCLA, studying early embryonic development and winning several awards for teaching undergraduates. She continued her postdoctoral training at USC, and her most recent publication appeared in the journal Nature Genetics.
According to Andy McMahon, director of the Eli and Edythe Broad Center for Regenerative Medicine and Stem Cell Research at USC, "these two young scientists exemplify the best and brightest of the next generation of stem cell researchers."