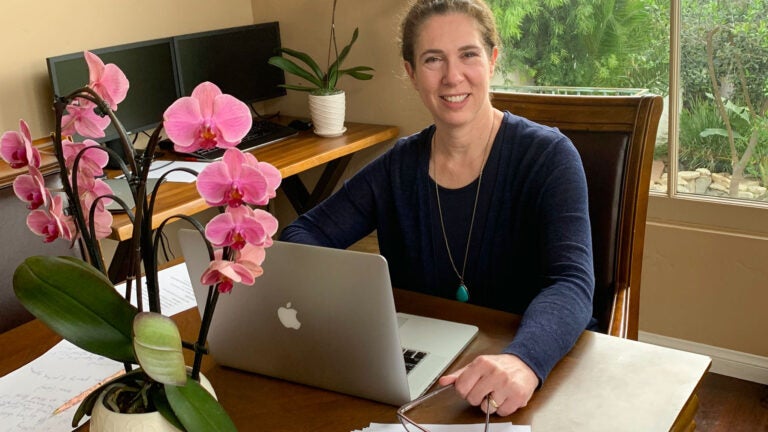 A day in the COVID-19 life of a working mom and USC's biology lab manager
Gorjana Bezmalinovic has to balance three classes, 20 teaching assistants, 800 students and a loving family. Somehow, she gets it all done.
Morning dawns on Gorjana Bezmalinovic with a nuzzle and smooch from Rey, her German shepherd. Since mid-March, life for USC's lab manager of undergraduate biology classes has been a case study in extreme multitasking. Since she began working at home, she's had to help homeschool her two children, support her husband during hard times and shift all 800 of her students to online learning.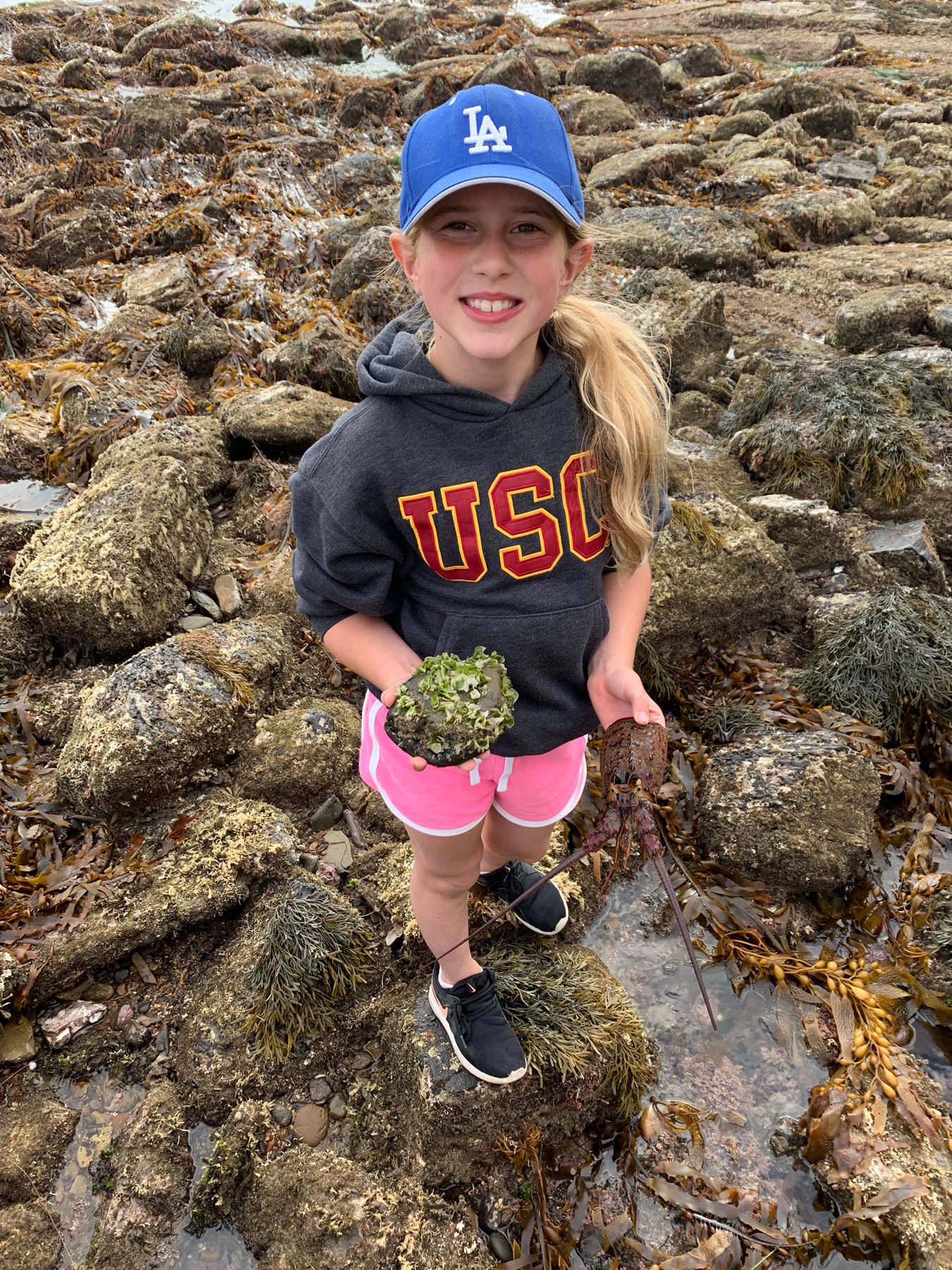 "I had peace and quiet when I was at work, but I don't now," Bezmalinovic said. "Working at home means working more than ever."
Out of bed and into the kitchen, she makes coffee and scans emails "because students love to send emails in the middle of the night." Her daughter Lara, 8, gets up first, followed by her son, Niko, 15. Then it's time to make breakfast. Next, the 47-year-old mom helps Lara get started on her homework before returning to her USC responsibilities.
Biology lab manager tackles new online challenges
On a good day, it's not easy managing two introductory biology classes, one honors class, 20 teaching assistants, seven professors and 800 students. But life for Bezmalinovic, who coordinates the needs of this sprawling enterprise, changed dramatically when classes moved online last month.
Many of the students are pre-med, pre-veterinary or pre-dental. They study evolution, ecology, cell biology and physiology. "The courses are not easy-peasy. Kids who come from small towns are shocked at the size of the classes," she said.
Her biggest challenge was figuring out how to teach dissection online. Students were disappointed that they might miss disassembling a frog or lamb heart or testing blood types — rites of passage in undergraduate biology. Bezmalinovic scrambled for solutions.
Working with her assistants, she cobbled together online instructional videos that helped students complete the exercises from the lab manual, YouTube dissection videos and an online blood transfusion video game. Her lab instructors recorded their Zoom lectures, and voilà, she had a virtual lab.
USC biology students can always turn to Mrs. B
Lunchtime at home means preparing a meal for the kids, then sending them outside to walk the dog "so I gain 30 minutes of peace and quiet," she said. The rest of the afternoon, she works with her teaching assistants. The living room is her office. Her family uses the other rooms for school and business.
Bezmalinovic came to USC in 2006 as a lecturer after completing her graduate degree at California State University, Long Beach. Prior, she lived in Croatia and attended college there. She loved science and jumped at the opportunity to manage USC's biology courses.
Most of all, she enjoys working with the students. She remembers their names; they call her "Mrs. B." She's their advisor, lecturer, administrator and counselor, available at all times of the day.
As spring 2020 semester wraps, there's still work for this biology lab manager to do
Then comes dinner time and Mrs. B is mom again, feeding a hungry family. She helps her kids with their studies then spends time with her husband.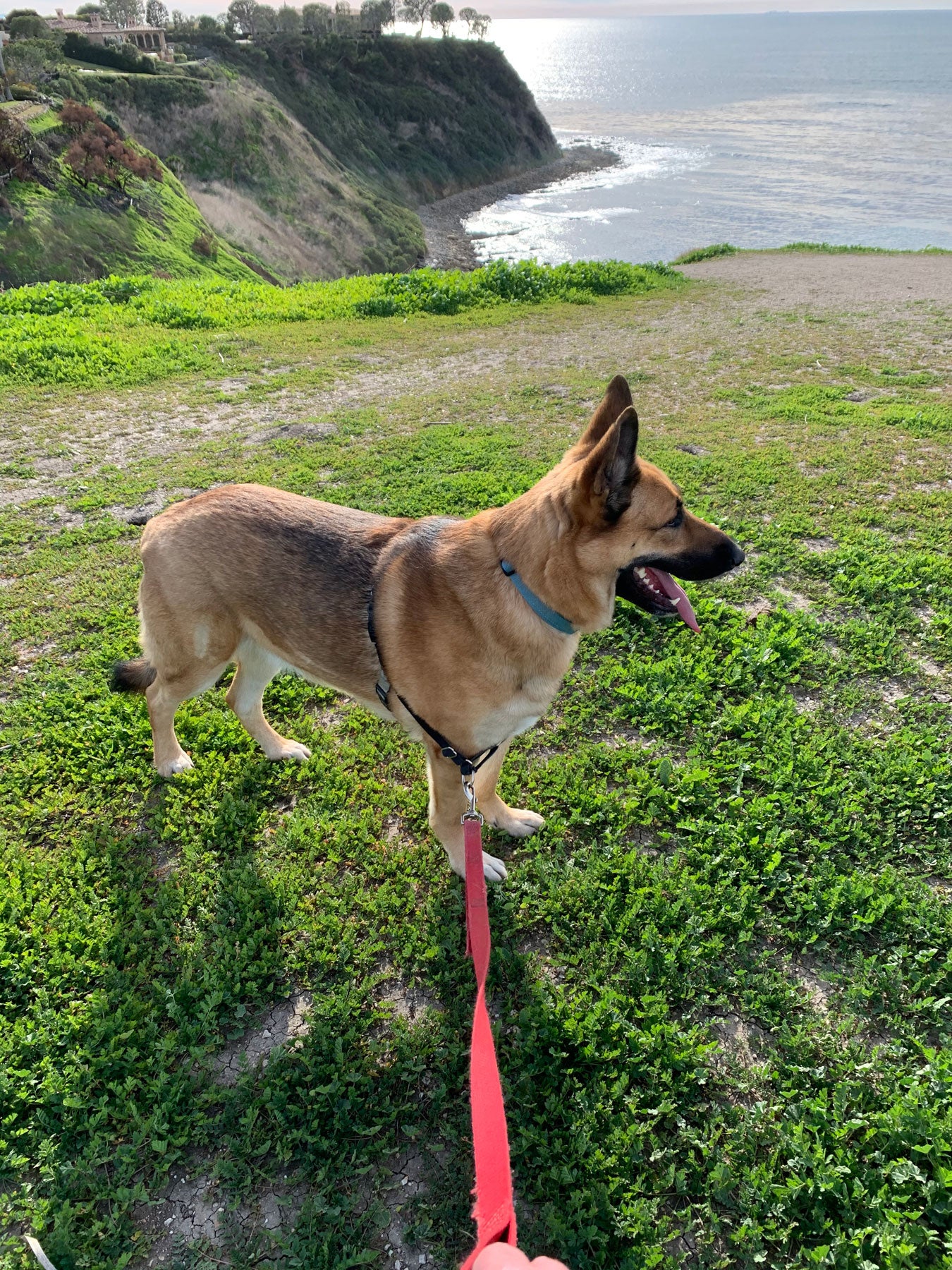 "He says, 'I thought now that you're working from home we'd have more time, but it's crazier than usual.' He wants to talk at 8 or 9 p.m., but I can't because there's always something to do. If I leave a task for tomorrow, I'll have much more to do the next day," Bezmalinovic said.
At the end of the semester, she's working on a lab exam and student presentations. Then come the final exams and grading, followed by planning for online summer classes. In a normal year, her family would vacation with relatives in Croatia, but COVID-19 wiped out that summer trip.
If there's consolation, it's the fact she doesn't have to commute to work or worry about picking up her daughter from school.
"I'm more relieved that I don't have to be stuck in traffic, but there's too little time in the day to do everything," she said. "But you know, I love helping the students. They like me, and I'm always in a good mood with them. I love my job. I wouldn't have it any other way."
At day's end, she walks Rey around the neighborhood, unplugged with no phone. It's 40 minutes of quiet comfort with the dog that will be there in the morning to get her started all over again.
Karla Reid contributed to this story.