Students Build College Survival Skills at the USC Kortschak Center
Trouble concentrating? ADHD, or just disorganized? The USC Kortschak Center helps students with much-needed college survival skills.
Dani Ashjian composes and arranges her own songs. She sings with a band around town. An emerging recording artist, she's developing her personal brand on her website. Plus she offers voice lessons on the side.
All this while carrying a full course load at USC.
It's a wonder this ambitious popular-music performance major manages to keep everything together, especially given her diagnosis of attention deficit hyperactivity disorder.
Luckily for Ashjian, a student from Richmond, Virginia, who just finished her junior year, she's found the USC Kortschak Center for Learning and Creativity. The center specializes in helping students with learning differences, such as dyslexia and ADHD, develop college survival skills like time management, goal setting and study organization.
The Kortschak Center's focus reflects a growing national awareness about the needs of such students. Experts estimate that about one in every five students at four-year universities have learning differences, yet far fewer of these college students get the kind of accommodation and support they had in high school.
At USC, Ashjian is one of 95 students currently receiving weekly one-on-one academic coaching through the Kortschak Center.
"My academic coach helps me tremendously with time management, planning and goal setting," Ashjian says. "She helps me break up tasks, making sure nothing is slipping through the cracks."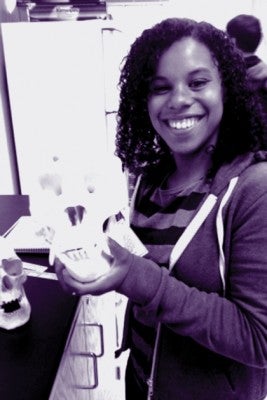 Symiah Campbell has no diagnosed learning differences, but after the first, overwhelming week of her freshman year, she headed to the Kortschak Center. The Columbus, Ohio, native was matched with one of the center's nine academic coaches, and they've met weekly. "She helps me get organized, plan out my schedule, basically just helps me not go crazy," Campbell says.
The Kortschak Center welcomes any students who need assistance and determines which academic support program at USC could best help them. It holds frequent clinics on essential skills such as note taking. Before final exams, it hosts relaxation workshops and even brings therapy dogs to campus.
Before the Kortschak Center opened in 2011, USC offered tutoring services through various centers and offices, but there was no coordinated service for students with learning differences. "The Kortschak Center for Learning and Creativity has established USC as a national leader in the design of innovative pedagogy for students with learning differences. In the short time since its creation, the center's effect on students and programs has been transformative," says Gene Bickers, vice provost for undergraduate programs.
Located on the third door of the Student Union Building, it provides a quiet setting for academic coaching. Its computer lab has the latest assistive technologies, from screen magnification software to speech recognition tools.
Walter and Marcia Kortschak, who founded the center with a $10 million gift in 2010, have two children of their own who've benefited from the center. Sarah, who graduated in May from the USC School of Dramatic Arts, majored in visual and performing arts studies, and her brother Andrew '13, a graduate of the USC School of Cinematic Arts, majored in film and television production. The Kortschaks, of Palo Alto, California, are strong advocates for entrepreneurialism and creativity.
"Our objective in establishing the center is to help students with learning differences and their strengths and build on those abilities," Marcia Kortschak says. "It's through this discovery process that students learn self-advocacy to creatively break out of the structured academic regime that holds so many students back from maximizing their potential."
The resources provided by the Kortschak Center put USC at the forefront of academic support services. "It's something unique that other institutions do not have," says learning specialist Kristina Alvarado. For students like Campbell, Ashjian and the Kortschaks, that's a big Trojan advantage.