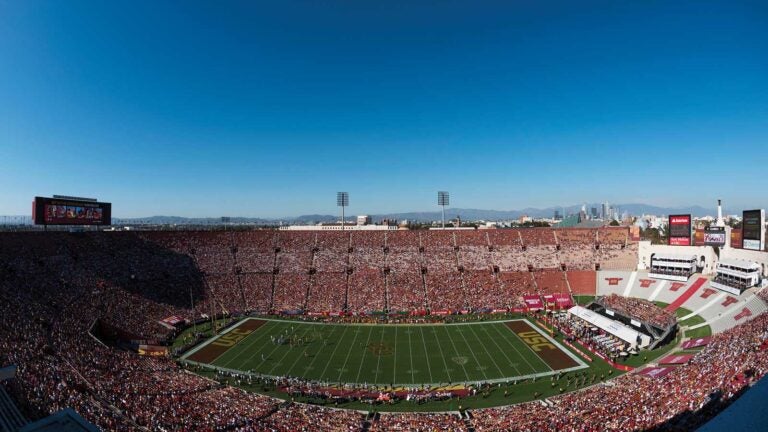 The Coliseum's Game Plan for Sustainability
The venue ranks as one of the country's most sustainable stadiums.

When fans pack the Los Angeles Memorial Coliseum, they're pushing for more than a victory from the USC Trojans or the Los Angeles Rams. They're also part of a sustainability effort that has helped push the stadium past the "zero waste" goal line. For a stadium with a capacity of more than 90,000, that's no small feat. The venue now ranks as one of the most sustainable stadiums in the country. See how the stats stack up.
What is Zero Waste?
It's when 90 percent or more of waste materials are diverted from landfills through recycling or composting. (Why not 100 percent? Because some fans bring their own non-compostable products.)
80-100
That's how many custodial and sustainability staff assist with zero-waste goals at the Coliseum during games.
24 hours
It takes a full day to process waste from a game—except on weekends when the stadium hosts both the Trojans and Rams. Then there's as little as eight hours to clean up between games.
200 tons
It's how much waste the Coliseum diverted last season—enough to fill nine 53-foot big rigs.
We're #1 (and #2)
Los Angeles Memorial Coliseum is the largest NFL stadium and second-largest college stadium to achieve zero waste.