Stroke survivor helps patients with neurological disorders
Fulbright scholar will study in India, where he'll explore the use of musical reminiscence therapy in dementia care
Thirteen years ago, Nils de Mol van Otterloo never could have imagined that he'd have the title of "Fulbright scholar" on his resume, let alone a career in social work. A graduate of the Berklee College of Music, he had just moved to Los Angeles to pursue a career in music production and recording. Then something unexpected happened. He had a stroke at the age of 27.
"It was a Friday morning. I woke up and had this horrible headache on the left side of my brain. I called my parents, and I'm talking to my mom but couldn't find the words to say things," he recalled. "So I turned on my email … and the words looked like Asian characters but from a very far galaxy."
A trip to the hospital and a CT scan confirmed he had suffered a stroke. He went into surgery and spent another month in recovery. Then he started having grand mal seizures — once a month for five years before the frequency slowed down.
It took him almost a decade before he was able to resume a semi-normal life. He eventually went on to graduate with a master's degree from the USC School of Social Work, where he focused on social work in the health care field, primarily on advocacy for patients with neurological disorders such as traumatic brain injury and post-traumatic stress disorder.
And this fall, he will continue his study of neurology and social work as a Fulbright scholar in India — the first School of Social Work alumnus to receive this accolade — exploring the efficacy of musical reminiscence therapy in dementia care.
Healing through music
De Mol van Otterloo bounced back quickly when it came to regaining his speech, but dealing with the onslaught of seizures was another story. He frequently met with neurologists who, using a trial and error approach, prescribed different medication regimens. In addition to medication, he also attended a biweekly meditation group that used breath work and music.
"This is something I did for 10 years. I found the work that I did there very helpful," he said. "I can't say with certainty how much [music therapy] played in my recovery, but empirically if you look at where I was 13 years ago and where I am today, it's a big difference."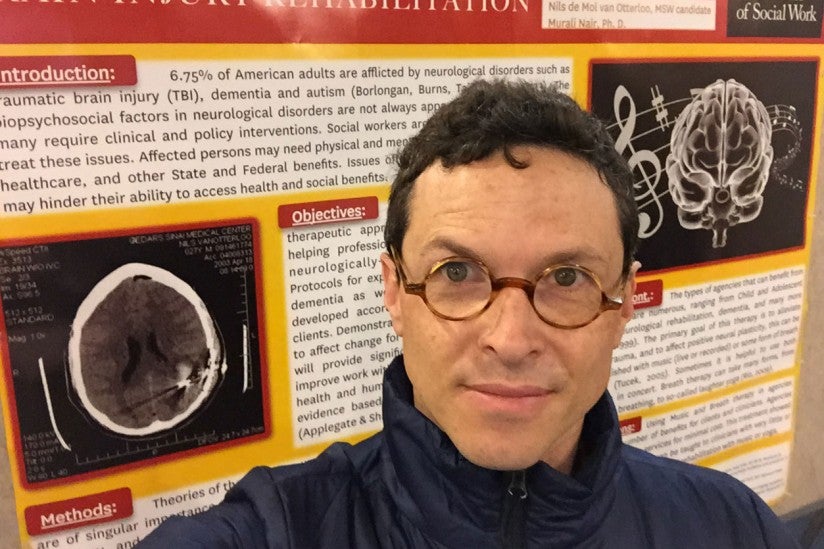 In 2012, he began his graduate studies at the School of Social Work, where his motto was, whenever there was an opportunity, seize it. This go-getter attitude took him far. He ran for and was elected a representative of the Graduate Student Government; was active in a number of organizations, including the All School Day and Diversity and Equity committees as well as the Los Angeles Veterans Collaborative; presented posters at various conferences; and received the Order of Arete, the highest honor awarded to graduate students who display outstanding leadership, volunteerism and commitment to the campus and community.
De Mol van Otterloo's last MSW internship placement was at a hospice in Burbank, where he worked with a team to provide health services to patients and their families. During the course of his time there, he developed music therapy concepts and interventions for patients with dementia.
He remembers one of his patients — a 92-year-old woman with advanced dementia who couldn't recall her husband or son.
"We would go to lunch and I'd talk to her about my family and within two minutes, she forgot everything I told her," he said. "She had a deep love for big band music from the 1940s. I had been hearing that using music with dementia was effective so I played her "Chattanooga Choo Choo" by the Glenn Miller Orchestra. During the intro chorus, she started singing the lyrics to the whole song. I literally jumped out of my seat."
He started using music therapy with other patients and found that not only were they able to sing along to select songs, but their moods also completely changed.
Research in India
As a recipient of the Fulbright Nehru-Academic and Professional Excellence Award, de Mol van Otterloo will travel to India in October to explore the use of musical reminiscence therapy to individuals with dementia. For six months, he will collaborate with faculty and students at the Amrita University School of Medicine and School of Social Work in Kochi as well as members of the Alzheimer's and Related Disorders Society of India. Blending his unique background in music and social work, he plans to use Carnatic and other familiar music to connect with the patients and families in India.
"The concept of a 'lock and key' mechanism that can open up areas of neurological processes in patients with advanced dementia is demonstrated by using music that is familiar to the patient to unlock memories and experiences that had been dormant," he wrote in his Fulbright proposal. "If it can be shown that musical reminiscence therapy provides tangible benefits to patients and caregivers at low costs, this would support the efficacy of this work internationally."
Making the most of an opportunity
Clinical Professor Murali Nair, who served as de Mol van Otterloo's mentor at USC, will also work with him during the fellowship.
"In my 30-plus years of teaching, I've come across only very few students like Nils. He is a dreamer, creative and futurist. Like Nils, I also strongly believe in the healing power of sounds, especially music," said Nair, who is an honorary Distinguished Professor at Amrita University. "Being a former Fulbright scholar and subsequently on the selection committee myself, transformative ideas like Nils' is what the Fulbright selection committee is looking for in the candidates."
The Fulbright Scholarship Program, with the support of the U.S. government and through partnerships with foreign governments, sponsors scholars who study in all areas to increase mutual understanding between the people of the United States and other countries.
As with every opportunity presented before him, de Mol van Otterloo plans to make the most out of his Fulbright scholarship. He hopes to expand the base of research in the area so that these methods may one day be integrated into the field of dementia care, possibly through a pilot program.
"The stigma of dementia is massive. And the amount of effective treatment is minimal. The best you can do is get it as early as possible and just manage it," he said. "I think music will prove to be a useful tool.
"You know the saying, 'Walk a mile in a man's shoes.' Well, I've been walking the traumatic brain injury walk for years now. I understand what it means to experience it every day," he added. "I want people to know that just because you have XYZ problem, [it] doesn't mean you can't overcome it."