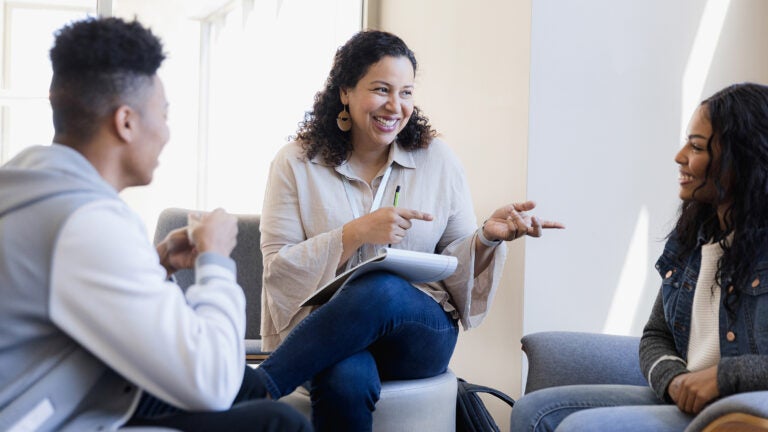 Advise USC marks university's largest investment in academic advising in a generation
New platform will give advisors a "360-degree view" of student need based on data and trends.
This fall semester, USC's Office of the Vice Provost for Academic Programs is launching Advise USC, a new platform that is poised to transform how academic advisors and USC students across schools work together to craft academic journeys.
"Academic advising is one of the most important things at USC — or in any university — for student success," said Andrew Stott, vice provost for academic programs and dean of the Graduate School. "Academic advisors can sometimes be the people who get closest to a student during their career here at USC; without them, the student experience can be so much harder."
Advise USC — which Stott described as USC's "biggest enhancement to academic advising technology in a generation" — aims to standardize academic advising across the university. All academic advisors — whether they work with graduate students or undergraduates — will be using the same system. Information from a student's records remains in the system regardless of whether an advisor leaves or a student switches majors, ensuring that students can receive consistent guidance throughout their academic career.
"Academic advising is one of the most important things at USC — or in any university — for student success."

— Andrew Stott, vice provost for academic programs
With a more streamlined experience, the provost team hopes advisors will be able to devote more time to a core mission of academic advising at USC: the personal growth of students and helping Trojans achieve their educational goals.
Additionally, advisors will be able to see what concerns students are bringing up during their sessions, which will help them better anticipate and understand student needs. "Advise USC is going to help with the reactive component of advising," said Viet Bui, director of student affairs at the USC Thornton School of Music. "This gives us the vehicle to become more proactive in monitoring student progress on an advanced level."
All of USC's more than 48,000 students will be able to log into a student-facing version of the system to collaborate with their "success team" of advisors in a variety of ways, including finding and making appointments in a few clicks; communicating about academic progress; tracking tasks assigned by the success team; and designing and sharing course plans.
Advise USC: Building a better system
The university's current advising system is a legacy program that has been rapidly approaching its end of life after more than 15 years. Within the more siloed system — which was only available to academic advisors working with undergraduates — advisors from one major could only see a student's academic information within that major. As a result, students who double-majored or had minors in a different school would have to explain their concerns multiple times to different advisors. Considering the interdisciplinary nature of the Trojan experience, the system proved outdated and inefficient, according to Sarah Holdren, assistant vice provost for academic advising and product owner for Advise USC. When the provost team learned that the original vendor for the legacy program was no longer an option, they saw an opportunity for something new.
"We're a world-class, level-one research university, and we were working with systems that were not living up to their potential."

— Sarah Holdren, assistant vice provost
"We're a world-class, level-one research university, and we were working with systems that were not living up to their potential — to the detriment of our advisors and our students," Holdren said. "We needed to figure out how we could support our students and advisors, and one of the best ways to do that is to identify and create a system that is based on modern technology that can grow and expand. We were lucky that President Carol L. Folt; former provost, Professor Charles Zukoski; and Vice Provost for Academic Programs Andrew Stott were willing to make that investment."
At the beginning of the process, a steering committee made up of education and technology leaders held focus groups with undergraduate and graduate students and advisors to learn what features they'd like to see and what issues they'd had with the older system. Holdren and her team also spoke to other universities, such as the University of Maryland, about what systems were working for them before eventually landing on Salesforce's Student Success Hub.
Using data to anticipate student need through Advice USC
As more students use Advise USC, advisors are receiving data they've never had before. Once the program opens up to all undergraduate and more graduate students, advisors will be able to see trends that reveal useful information about what kind of inquiries they are getting, how many students are making appointments, whether certain questions tend to appear at particular times of the year, and other data.
"This is going to allow us to be really comprehensive in getting a 360-degree view of a student for their academic advisor in terms of essential information, such as what courses they're involved in, their progress toward their degree, and their GPA," Holdren said.
Folt mentioned Advise USC during her State of the University speeches earlier this year, touting it as "one of our largest student and faculty-focused technology initiatives ever." It's in line with her USC Competes "moonshot," which includes an emphasis on student retention, national leadership and cross-campus collaboration.
The pilot portion of Advise USC launched in June to a small number of advisors from USC Thornton, the USC Price School of Public Policy, and the civil and environmental engineering programs within the USC Viterbi School of Engineering, welcoming graduate students in those programs in mid-July. Holdren says the plan is to bring in all undergraduate advisors in October, with students following shortly after. Additional graduate programs will be brought in later during this academic year.
"We're hoping to elevate and celebrate the important work of academic advising [with Advise USC]," Stott said. "USC is a big place with 22 schools, and we really wanted something that could sit at the heart of the university and connect everybody and every student. We want to connect the entire spectrum of academic attainment at USC."