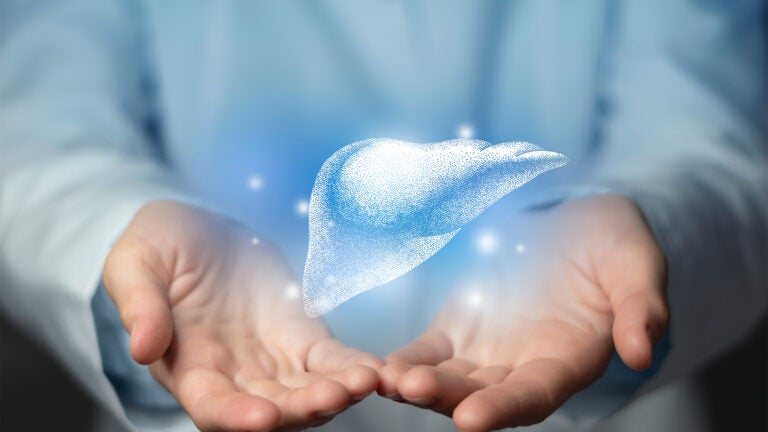 AI could save lives by identifying relapse risk in potential liver transplant patients
Predicting the variables that could lead to damaging alcohol use in post-surgical cases may spur lifesaving interventions, a USC study finds.
A screening tool developed with artificial intelligence and trained on hundreds of hours of patient interviews could flag risks for relapse in liver transplant patients with alcohol use disorder — and prompt precise interventions, according to a new USC study.
"We know that alcohol use disorder is a chronic disease. A liver transplant will cure their liver disease — but it won't necessarily cure their alcohol use disorder," said Brian Lee, the study's lead author and a transplant hepatologist with Keck Medicine of USC and an assistant professor of clinical medicine at the Keck School of Medicine of USC. "A better understanding of their risk of relapse after transplant helps us tailor treatments. There's an urgency for more tools."
The research was recently published in the American Journal of Transplantation.
Severe alcohol-associated hepatitis is the fastest-growing reason for liver transplants in the United States and Europe. Liver transplant programs typically require six months of abstinence in patients with alcohol-associated liver disease prior to transplantation because a return to harmful alcohol use can be fatal.
Liver transplantation patients may not have six months left
However, some patients don't have that much time left to live. Severe alcohol-associated hepatitis is a disease where someone suddenly develops liver failure due to alcohol, in a matter of days or weeks. What's more, studies and data show that six months of abstinence prior to transplant isn't a guarantee against relapse.
"The six-month rule doesn't do a good job in predicting alcohol relapse and excludes many patients who would die without an urgent transplant and in fact could do very well after transplant," Lee said.
That's why USC is pioneering early transplant for these patients without an abstinence "road test" — even as questions about preventing relapse remain.
Lee and his colleagues decided to see if they could fill the knowledge gap. To tease out red flags for relapse, they studied de-identified psychosocial evaluations of 116 early liver transplant patients from 10 transplant centers, 34 of whom returned to harmful alcohol use.
Prior to transplantation, patients undergo rigorous evaluations by social workers, psychiatrists and addiction specialists who ask about the patient's medical needs, social supports, work history, living situation and family life.
A content analysis tool designed to interpret chatter on Twitter combed through the patient evaluations and selected 219 questions as potentially important for forecasting post-transplant outcomes. Using artificial intelligence, the computer program narrowed the list to 13 questions.
Liver transplants: Surprising risks for relapse
The top three risks for relapse came as something of a surprise. AI identified them as:
The patient not having a primary support person lined up for post-transplant care at the time of the evaluation.
The presence of children or grandchildren in the home.
Whether the patient was recently a home caregiver for relatives.
The data show that people who have young children in the household are more likely to have relapsed after transplant. We need to think about what that means.

Brian Lee, USC hepatologist
"We rarely think about that as a risk factor, but it's true. If you look, the data show that people who have young children in the household are more likely to have relapsed after transplant," Lee said. "We need to think about what that means. Is it a more stressful environment? Is it because they're normally caretaking, and after the transplant they're no longer caretaking?"
Lee said that someone at average risk for relapse might be encouraged to participate regularly in group therapy, such as that provided by Alcoholics Anonymous. Someone at higher risk might need to go into inpatient rehabilitation. Patients might need more frequent monitoring of their alcohol use. There are medications to curb cravings and prevent relapse; AI could inform prescribing practices.
"These are all just ideas. The research should prompt more research into why these questions are predictive. It's a tool that holds a lot of promise in our decision-making," Lee said. "I've taken care of so many patients that we just knew that they would do well, but because of a six-month [sobriety] rule, we couldn't transplant them in time. I'm so glad we've come such a long way."
---
In addition to Lee, other USC authors of the study include Prathik Rao, Jordan Davis, Hyosun Han, Bistra Dilkina and Norah Terrault.