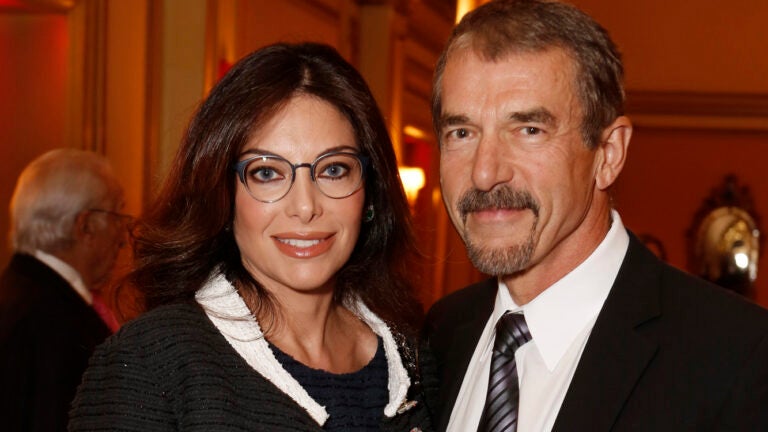 Alia Tutor endows Keck School chair for fertility research
Richard Paulson is named first holder of the new post
Alia Tutor, the wife of USC Trustee Ronald N. Tutor '63, both longtime supporters of the university, is providing a gift to establish the Alia Tutor Chair in Reproductive Medicine at the Keck School of Medicine of USC. The new chair will be housed in the Department of Obstetrics and Gynecology.
A former adviser to the United Nations' Office for Partnerships, Alia Tutor currently dedicates her time and leadership to the board of directors of Indego Africa, an organization that provides female artisans in war-torn Rwanda with education, leadership skills and other training to become successful businesswomen.
The first holder of the chair is Richard Paulson, professor of obstetrics and gynecology, chief of the division of reproductive endocrinology and infertility, and director of USC Fertility.
"Richard Paulson's groundbreaking research and treatment have given hope to many couples who feared they would never be able to have children," said Keck School Dean Carmen A. Puliafito. "This generous gift is a testament to his innovation and leadership and will assist him in his important work."
Pioneer in fertility over 40
Richard Paulson's groundbreaking research and treatment have given hope to many couples who feared they would never be able to have children.

Carmen Puliafito
Paulson has served as director of the fertility program at USC since 1986. He is an internationally recognized expert in fertility in women over age 40. He published several landmark investigations addressing the effect of age upon female fertility, including the first observation that egg donation could be used to extend the reproductive life span in women over 40.
His research has resulted in the 1993 Lancet publication of the first series of successful pregnancies in women over age 50, of obstetric outcomes in women in their 50s in the Journal of the American Medical Association (2002) and of the effects of parenting stress in mothers in their 50s in Fertility & Sterility (2007).
Most recently, Paulson's division found that women who have insufficiency in vitamin D levels have decreased pregnancy rates; it is studying how reproductive steroids such as estrogen and progesterone are absorbed by the body and best administered in a clinical setting.
In 1997, Paulson made headlines worldwide when he facilitated a successful pregnancy and healthy birth in the oldest woman on record at the time, age 63, through in vitro fertilization and frozen embryo transfer. (The patient had not disclosed her actual age, as she would not have qualified for treatment at USC due to its age limit of 55 years.)
Paulson completed his bachelor's degree in physics and his doctor of medicine degree at UCLA. He received specialty training in obstetrics and gynecology at the Harbor-UCLA Medical Center and subspecialty training in reproductive endocrinology and infertility at the then-USC School of Medicine, where he joined the full-time faculty in 1986. He is board certified in reproductive endocrinology.
"Chairs in this field are rare," Paulson said, "and although we've made a lot of progress in the fields of reproductive endocrinology and infertility, there is still a great deal of work to be done. It's a wonderful gift from the Tutor family to the Trojan Family."
Impact abroad and at USC
A graduate of Columbia Law School, Alia Tutor has served as an adviser at the U.N. Office for Partnerships, where she promoted and developed novel collaborations and alliances between the U.N. and corporations, foundations and civil society organizations. Such stellar efforts helped the U.N. in reaching its ambitious Millennium Development goals. Among those are improving maternal health, reducing child mortality and promoting universal primary education.
Alia Tutor also has held several executive positions in the private sector, including vice president of business development for Nourish Capital and Yorkshire Global Restaurants.
Ronald Tutor is chairman and CEO of Tutor Perini Corp., president of Tutor-Saliba Corp. and a co-owner of Miramax Films. He is a member of the executive committee of the USC Board of Trustees. The Tutor name graces two USC University Park Campus buildings: the Ronald Tutor Campus Center and the USC Viterbi School of Engineering's Tutor Hall.