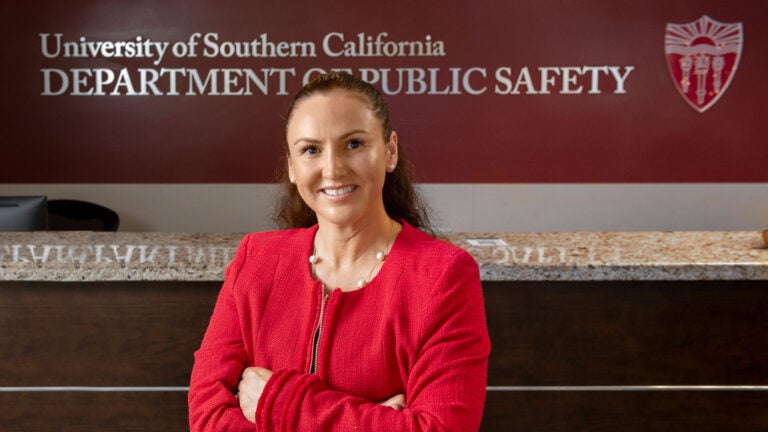 Department of Public Safety hires first Latina assistant chief
Alma Burke, formerly a sergeant in the Los Angeles Police Department, returns to the university where she received her graduate degree to help keep students safe and strengthen relationships with the local community.
USC alumna Alma Burke is known for her warmth and her connection with the community. She has sung the national anthem at Dodger Stadium twice. She sang it again at an L.A. Galaxy match, with her athletic idol David Beckham standing behind her.
She also has a tougher side that will put student safety above all else. Her 24-year career with the Los Angeles Police Department included front-line duty in vice, narcotics, counterterrorism and homicide investigations — sometimes working undercover.
Now, Alma Burke is leaving her post as a sergeant II with the LAPD and joining the USC Department of Public Safety (DPS) as their first Latina assistant chief. Both her empathy and her law enforcement instincts earned her the job after an intense national search.
"Being here just fits," Burke said. "I was a first-generation college student, and here at USC I became a first-generation grad student a few years ago. I find myself surrounded by incredible minds. I'm humbled."
New Latina assistant chief went from Santa Ana to South L.A.
Growing up in Santa Ana, Calif., Burke saw the damage crime could do to a community.
"It's changed a lot, but when I was growing up there was a lot of crime, a lot of poverty," she recalled. "My parents still live there. They refuse to move. It's home."
Now a married mother of two adult daughters, Burke remains deeply connected to her parents. That bond never broke, though it was strained when Burke headed for college at California State University, Long Beach, decades ago.
You can change a generation through the kids you touch, and you can change adults through children.

Alma Burke
"My parents would have been happy if I had just graduated from high school," she said. "For my dad, it was more like, 'What are you going to do with that college degree?' I think once I made it to college, my dad realized I was moving ahead. He became more supportive. I think, culturally, they want women to just get married and have children. I told them early on: That's not what I'm going to do."
She eventually went even further: while serving as a police officer, she graduated from the Executive Master of Leadership program at the USC Price School of Public Policy.
No fear on the front lines
After graduating from the Los Angeles Police Academy, Burke investigated violent narcotic offenders and worked undercover in vice and prostitution. As a detective, Burke investigated sexual assaults in the special victims unit and then homicides in South L.A. Counterterrorism also fell under her purview.
"All those jobs built me," she said. "I learned how to talk to people when I worked vice. You learn what they want and why they want it. I remember when I started to learn about human trafficking, running into 12- and 13-year-olds and realizing this wasn't just about prostitution. This was about saving lives. Even when I had to interview serial killers, I was peeling back the layers, understanding why they did what they did."
She currently heads the largest female law enforcement organization in California, devoted to helping officers of all genders reach their potential and deal with the trauma they encounter on a daily basis. Much of her time — on and off duty — is spent connecting with kids, the community and law enforcement.
Building a connection between kids and cops
"You can change a generation through the kids you touch, and you can change adults through children." That outlook has driven Burke's efforts, especially when she helped lead the Community Safety Partnership program in the Watts neighborhood of Los Angeles.
"I was assigned to Jordan Downs, which at one time was the murder capital of Watts. I said, 'Let's find something that helps us connect with the community, especially the kids.'"
Burke's search led her to Rockets in the Projects, which taught aeronautics to 30 kids under the leadership of Frank Miuccio, MIS director at the USC Annenberg School for Communication and Journalism.
The faces of those kids, watching rockets soar into the sky, is a vivid memory. Burke's mission, however, is often closer to the ground.
"If you get out of your police car, ask the kids, 'How was school today?' and you'll get much closer," she said. "I've seen officers buy shoes for kids. I've had kids from Jordan Downs tell me they want to be police officers when they grow up."
University groups contributed to choice of first Latina assistant chief
When asked why Burke was chosen in a highly competitive hiring process, USC DPS Chief John Thomas was quick to answer.
Alma has a proven record of collaborating with communities of color in creative and innovative ways to make them feel safer.

John Thomas
"We didn't make this decision alone," he said. "Students, our cultural centers, the Undergraduate Student Government, the Center for Black Cultural and Student Affairs, Campus Wellness, our Latinx groups — they had input into this process. Alma has a proven record of collaborating with communities of color in creative and innovative ways to make them feel safer. I want to invest in building better relationships with our Latinx and black students and neighbors."
Burke said she'll hit the ground running, employing her longstanding relationships with groups and community leaders around USC and South L.A. "They're ready to work with USC," she said. "That part comes easily to me."
Though Burke smiles often, her expression changes when asked what she wants USC students to know. She responds with sincerity and seriousness: "Their safety is a priority to me. I care how you feel, on and off campus. What can I do to help?"