Alum aims to end inequalities in education, health care
Medical student empowers underrepresented high school students to pursue careers through MERIT, a nonprofit he created to end disparities
Assigned to teach biology in a Baltimore high school, Teach for America member Tyler Mains '09 was shocked by how far many of his students were trailing academically. And he was angry about the inequalities he saw in the city's education and health care systems.
Two students in particular made a deep impression upon him.
"Trevor was about to graduate high school but didn't know what the heart did or that our bodies were made of cells," said Mains, who earned a bachelor's in biological sciences from the USC Dornsife College of Letters, Arts and Sciences. "He told me the first week that we'd get along if I let him sleep. I said, 'We'll see about that.'"
Breonna had uncontrolled Type 1 diabetes and was hospitalized seven times during the school year.
"The idea of preventing hospitalizations or even having a primary care doctor was completely foreign to her," Mains said. "She and her family never discussed it."
Support system
Breonna and Trevor were not his only struggling students. As the year progressed, Mains' initial anger and frustration transformed as he saw his pupils demonstrate both drive and potential when given the right support. (Only the first names of the students are used in this story. – Editor's note)
I developed a passion for teaching that energized me and made me excited about going into work every day.

Tyler Mains
"I developed a passion for teaching that energized me and made me excited about going into work every day," Mains said. "My students also deserve a chance to succeed in college and beyond. I felt I needed to do whatever I could to help them."
After extra tutoring and mentoring from Mains, Trevor ended the year with one of the city's highest scores on the Maryland High School Biology Assessment and a strong desire to become a physician. And he was not alone. In his two years with Teach for America, more than 90 percent of Mains' students passed the exam, compared to Baltimore's average pass rate of 50 percent.
"I wondered, 'What if we could capitalize on our students' potential for greatness and prepare them to become health care leaders?'" Mains said. "They could eventually ensure that everyone, including Breonna, has access to high-quality care."
A fresh start
As a result of getting to know Trevor and Breonna and his experiences in Baltimore — a city where some residents have life-expectancy rates similar to people living in Sudan and Rwanda — Mains not only decided to become a primary care physician in underserved communities, in 2010 he founded the Medical Education Resources Initiative for Teens (MERIT).
The nonprofit is devoted to eliminating health care disparities by transforming underrepresented high school students into health care leaders.
In the summer of 2010, Mains started his medical training at Johns Hopkins University.
He ran MERIT as a medical student group for the next three years, with the participation of 300 volunteers — graduate students, physicians and community members — from across Baltimore.
MERIT works by providing a holistic support system based on tutoring, mentoring and paid summer internships to change the trajectory of scholars' lives.
The results speak for themselves. MERIT scholars increase their SAT scores by an average of 330 points after more than 100 hours of SAT prep provided by the program, while their average GPA rises from 2.8 to 3.6.
"We've had 100 percent of our scholars accepted to four-year universities, whereas in Baltimore City, only about 6 percent of students will eventually graduate from college," Mains said.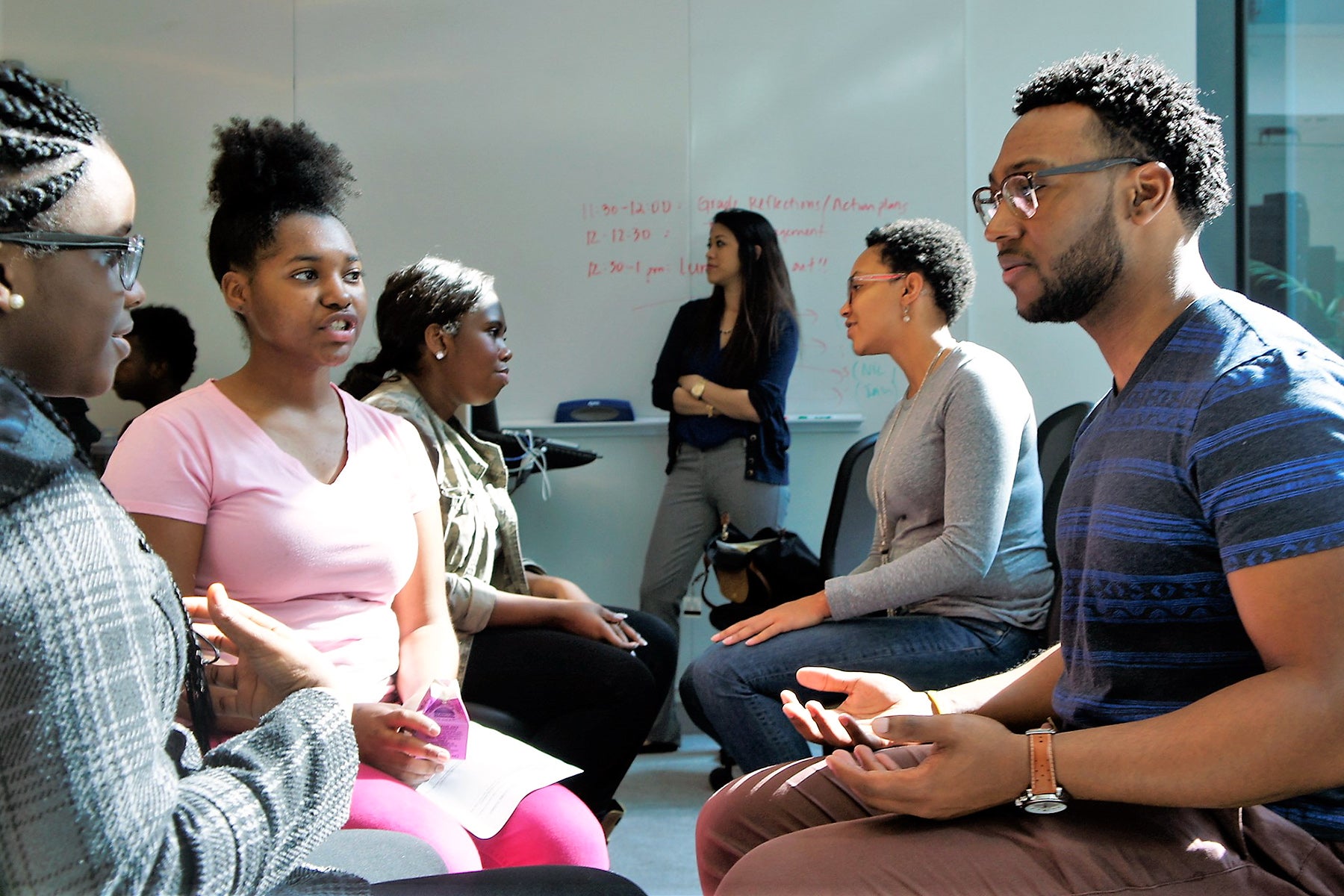 Passion and potential lead to success
The MERIT program, which now supports 80 scholars in Baltimore, starts in 10th grade and follows scholars through college, providing seven years of support. This year there were 100 applications for 30 spots.
To determine who is accepted, applicants attend three consecutive Saturday sessions in which they are asked to complete a number of tasks, including role playing with an angry patient, researching a health care disparity, creating a poster presentation and participating in a debate on genetic testing.
"We're looking for applicants with the most passion and potential rather than previous academic success," Mains said.
For the next three years of high school, MERIT scholars attend weekly Saturday morning sessions. They learn about health care disparities, the lack of diversity in the health care workforce and why it's crucial for them to become health care providers. They also attend professionalism and leadership development classes. During summer internships, MERIT scholars shadow health care providers in a variety of settings, including emergency, labor and delivery, pediatrics, intensive care and the operating room.
"They have the opportunity to work with nurses, physicians, social workers, pharmacists and dentists so they can see how many careers are possible in health care," Mains said.
In their junior year, the focus shifts to academic remediation while a second summer internship program builds the science skills students needed to prepare for college-level biology, chemistry and physics and provides hands-on work experience at Johns Hopkins research laboratories. In their senior year, MERIT mentors guide scholars through the college admissions and financial aid process, providing additional social, academic and professional support.
"MERIT provides constant challenges ranging from helping homeless students to fundraising and ensuring legal compliance," Mains said. "The rewards come when we see our scholars succeed."