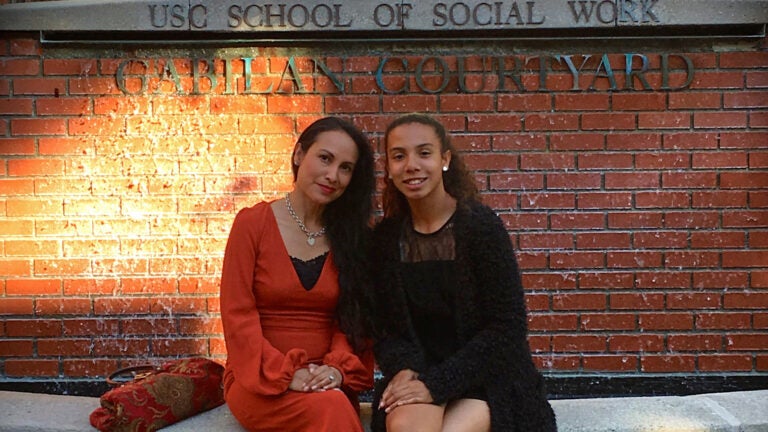 Alumna to pick recipients for Earth, Wind & Fire Music Foundation support
MSW graduate 'keeps the music alive' for young people in local communities, offering music lessons, grants and scholarships
At a time of frequent budget cuts to music and arts programs, many schools might resign themselves to thinking "that's the way of the world." But come fall, Erielda Casaya-Wright MSW '08 will select local schools to receive new instruments or funding from the Verdine White Performing Arts Center's music foundation.
Casaya-Wright is making this difference in local communities as a coordinator for the performing arts center's music foundation, a nonprofit organization co-founded by Earth, Wind & Fire bassist White that helps underprivileged and at-risk youth by offering music lessons, scholarships and grants.
With the alumna's help, the foundation raised more than $20,000 in the past six months to help fund music programs at schools including Washington Irving Middle School and Diego Rivera Learning Complex high school in South Los Angeles.
"I started getting letters from teachers such as Mr. [John] Balbuena from Diego Rivera explaining their struggles with not having instruments and budgets being cut," she said. "That's where our focus has been concentrated — helping the schools within South Central Los Angeles — because there is a huge need. It's a lot."
War-torn home
Casaya-Wright was born in Managua, Nicaragua, a war-torn city she and her family escaped when her single mother took her and her two brothers to the United States.
A believer in hard work and dedication, the family's matriarch often labored at multiple jobs just to make ends meet for loved ones.
I remember waking up at five in the morning, and my mother was out to another job and would never stop.

Erielda Casaya-Wright
"My mother worked two or three jobs to help us get to school. My mother did the best she could to raise my brothers and myself on her own," she said. "She worked as a nursing assistant while going to school [and] learning to speak English. She cleaned houses. She did everything she could to meet our needs. I remember waking up at five in the morning, and my mother was out to another job and would never stop."
Growing up in 1980s Los Angeles, Casaya-Wright lived in an era of social turbulence, characterized by rising gang activity and social unrest. Her brothers and schoolmates were in gangs. But Casaya-Wright affirms the impact her childhood environment has had on her life today.
"I can't change [or] wish [that] I was born or placed in a different setting. I wouldn't because all of that environment and everything I saw, the choices I made, shaped me to who I am today," she said. "It had a big influence in choosing my career in social work."
The dream of earning her MSW at USC was eventually realized thanks in part to the help of professors and administrators at the School of Social Work.
"There was a lot of mutual respect between my professors and a lot of understanding," she said. "My experience with the School of Social Work is that they make the time. When I first started, I was so nervous … [but] my professor was always available through phone, email and office hours. Some [of the professors] go out of their way to help their students. The support is always there to accommodate to your needs."
Building the foundation
Casaya-Wright's unique connection to Verdina White gave her the opportunity to bring about change with the foundation.
Warner Wright, Casaya-Wright's husband, is one of the White Performing Arts center's main partners as well as White's son. With Wright's encouragement, she started out as a volunteer in 2011 and began working at the foundation full time in 2014. And although Casaya-Wright's job with the foundation is primarily administrative, she uses her social work skills every day, working toward the foundation's mission to "keep music alive" in Los Angeles schools by visiting local music programs and grasping their specific situations.
Many Los Angeles Unified School District music programs are either massively underfunded or have been cut completely due to budget constraints.
"Some of these kids have so much potential and so many talents, but they don't have the instruments or the resources to be a part of a band or to go out to perform anywhere," she said. "That's the dream — that every kid has an instrument in their hands, that they're not stopped by funds being cut in our school system and that we meet those resources as a community."
She has since made visible changes to local schools in South Los Angeles with $10,000 each going to Diego Rivera for its music program and to Washington Irving for instrument repairs.
Throughout her five years with the organization, the most rewarding moment for Casaya-Wright, the mother of a 14-year-old daughter, occurred at Diego Rivera after the check presentation.
A little girl eagerly asked one of the music teachers, "Does that mean I get to play?" After a subsequent "yes," the little girl proceeded to jump up and down in utter joy.
"That was the reward right there," she said.