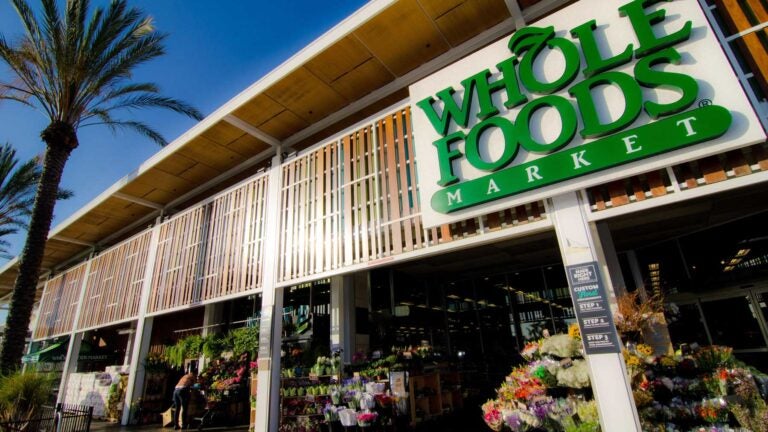 Amazon's Whole Foods play signals move from click to brick
The move sets up the mammoth online retailer to adopt new technologies that with continue to change how people shop, USC experts say
Purchasing Whole Foods would increase Amazon's market advantage over competitors and likely lead to the adoption of new technologies that further reshape the consumer retail experience, USC experts say.
The world's largest online retailer announced last week that it plans to buy Whole Foods in a deal worth more than $13.7 billion. It not only solidifies Amazon's commitment to expanding into grocery sales, it signals a swing back to brick and mortar.
"In the past, we used to see retailers with physical store structures (brick) going after an online model (click), such as Walmart buying Jet.com," said Nick Vyas, an assistant professor and director of the Center for Global Supply Chain Management at the USC Marshall School of Business. "We are now seeing that online retailers (click) going after physical stores (brick) format. I think the future of retail is still the happy marriage."
Why would Amazon want to buy Whole Foods? Its multiple store locations could help Amazon save money and time, Vyas said.
The fast get faster
Amazon is already fast, offering same-day delivery for some products and certain customers. The deal could further accelerate the company's deliveries. Consumer gratification could be nearly instantaneous.
[Amazon] has disrupted the old model of consumptions and challenged the status-quo of speed to market.

Nick Vyas
"Amazon has been changing the retail industry for the last decade in terms of challenging the norms from end-to-end retail experience," Vyas said. "It has disrupted the old model of consumptions and challenged the status-quo of speed to market."
Amazon CEO Jeff Bezos draws attention – and investment – for trying outside-the-box ideas that could revolutionize retail, going so far as to predict that Amazon could deliver orders to the moon by 2020, via his private spaceflight company Blue Origin. The announcement to acquire a grocery retailer is not quite as imaginative but nonetheless stands to enhance Bezos's business profile and portfolio.
"Jeff Bezos is poised to overtake Bill Gates as the richest man in America, so with this acquisition and his ability to more rapidly expand Amazon's physical distribution, he is likely to enhance his personal brand as well," said Ira Kalb, an assistant professor of marketing in the USC Marshall School of Business.
Amazon's use of technology has been what set it apart from big box stores from the get-go.
With its speedy, high-tech delivery system, Amazon has made it difficult for rivals to compete. The company continues to test and invest in newer technology that would make it even faster, said Bhaskar Krishnamachari, director of the Center for Cyber-Physical Systems and the Internet of Things at the USC Viterbi School of Engineering.
"The acquisition of Whole Foods may essentially provide a widely geographically distributed, local 'home base' for delivery and, in the future, possibly even driverless vehicle-based deliveries," Krishnamachari said.
The sky's the limit
The possibility of drone delivery is not far off. Last year, the company began testing it in the United Kingdom.
Taking to the air is a novel way to reach customers, but by itself would not be practical, said John Carlsson, associate professor of industrial and systems engineering at USC Viterbi. Amazon will need to rely on land transportation, even after it refines drone delivery, he said.
A system that is exclusively drone-based is likely going to have difficulty when upscaling.

John Carlsson
"A system that is exclusively drone-based is likely going to have difficulty when upscaling," said Carlsson, whose research suggests that Amazon will need both vans and drones to operate cost-effectively.
Amazon will have to build public trust and interest in drone technology, he added. People are not yet ready for this change "due to concerns about safety and noise pollution."
By buying Whole Foods, Amazon is attempting to become "the Everything Store," said Jonathan Taplin, clinical professor and emeritus director of the Annenberg Innovation Lab at the USC Annenberg School for Communication and Journalism.
In his recently published book, Move Fast And Break Things, Taplin explains how major tech companies such as Facebook, Google and Amazon are seeking control of the internet.
"Amazon wants to control all parts of the consumer retail economy," Taplin said.