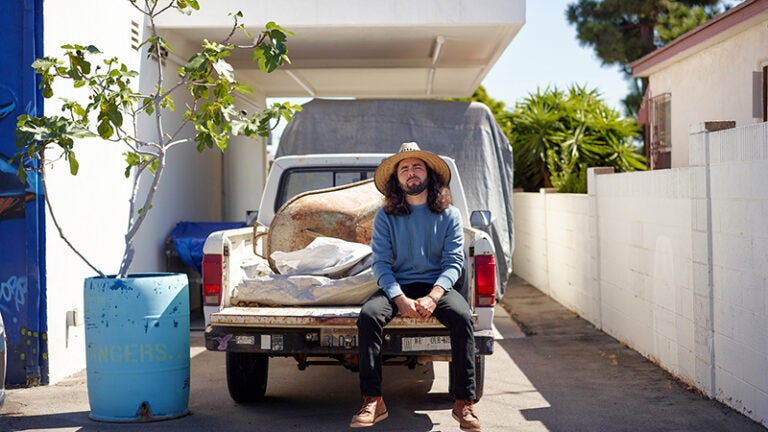 An Artist, a Community and a Well of Inspiration
Artist noé olivas, co-founder of the Crenshaw Dairy Mart art collective and gallery, draws on his parents' work ethic and his USC cohort's encouragement to bring communities together in Inglewood.
About a mile east of the bright lights and modern design of SoFi Stadium in Inglewood sits an old convenience store that doesn't seem like it's in the same city as the eye-catching $5.5 billion arena, much less the same neighborhood. The building is relatively small, with a white exterior and awnings off either side. A faded red sign on a tall metal pole in front reads "Crenshaw Dairy Mart" as an asymmetrical yellow space-age arrow directs patrons to the store.
A lot of my work is very much responding to where I come from.

noé olivas
Though the sign still promises milk, ice cream, beer, wine or groceries, the place it advertises now provides different sustenance: art, community and connection. Founded by three graduates of the USC Roski School of Art and Design, the Crenshaw Dairy Mart artist collective and art gallery aims to bridge the divide between cultural work and advocacy.
To artist and co-founder noé olivas, the space is a vessel for his passion for labor rights and immigrant, working-class communities.
"A lot of my work is very much responding to where I come from, with my family immigrating here, but also where I'm living right now in South Central, and Crenshaw Dairy Mart being in Inglewood," olivas says.
"It's inspired by my daily drives, what I see on the street and the people I interact with, but mostly by my community and collective."
Crenshaw Dairy Mart: serving the Inglewood community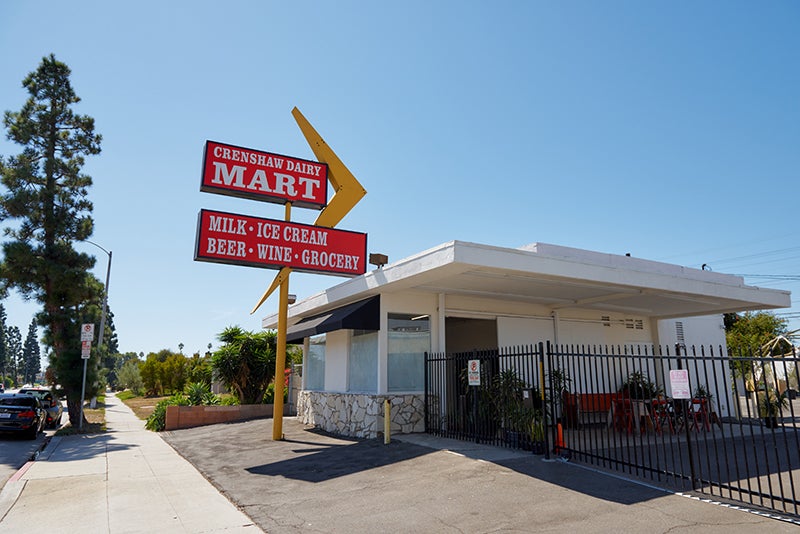 Before the Crenshaw Dairy Mart opened its doors, olivas and co-founders alexandre ali reza dorriz (both stylize their names lowercase) and Patrisse Cullors were classmates in USC Roski School's MFA program. They graduated together in 2019. Cullors, the co-founder of the nationwide Black Lives Matter movement, is an author, educator and artist; dorriz is an artist, writer, researcher and curator. After two years of brainstorming, building relationships and receiving input from the Inglewood community, the trio launched the Crenshaw Dairy Mart in March 2020.
Then the COVID-19 pandemic shut everything down.
The pandemic taught us how to adapt and operate differently from a regular gallery.

noé olivas
"The pandemic taught us how to adapt and operate differently from a regular gallery," olivas says.
The lot separating the showroom from the artists' studios became the perfect venue for outdoor displays and murals. Since the Crenshaw Dairy Mart was in the flight path of planes coming into Los Angeles International Airport, olivas and fellow artists used the roof to spread messages of hope and resilience.
According to olivas, Crenshaw Dairy Mart's work operates under three pillars: ancestry, abolition and healing. He explains, "Abolition aims to dissolve institutions of policing and the prison industrial complex. It brings up the question of how we can behave with one other, and how we can move towards love and away from violent and harmful systems."
He adds that the framework of abolition allows Crenshaw Dairy Mart artists to address the root cause of harm and create models of care in our society. "Love is a key element in all this," olivas says. "[As] feminist and educator bell hooks says in her text All About Love, 'Without justice there can be no love.' Abolition is love."
Summer 2020 brought protests against racial injustice and police brutality, initially sparked by the highly publicized police killings of George Floyd and Breonna Taylor. Several Crenshaw Dairy Mart projects were launched that summer, including Black August, a curation of works by Black artists with a screening of the documentary Whose Streets?; and Care Not Cages, a series of parking lot murals designed by olivas denouncing "racial capitalism" and the "government's addiction to greed, punishment and manmade disaster."
Growing up and family inspiration
Under one awning of the dairy mart sits a white 1987 Ford Ranger. With rust peeking through the bottom, the truck has seen better days. Nevertheless, it still runs, and its history is inseparable from olivas' work.
It's the first truck his parents purchased in the United States, six years after his father immigrated from Mexico to San Diego. It also brought olivas home from the hospital when he was born.
He started drawing at a young age as a creative outlet, but olivas had no idea it could be a career. His parents worked full-time jobs while taking English classes and earning trade certificates. When his father took a landscape design class at a community college, olivas often helped with his homework by drawing various diagrams and examples of plants.
"I've been very much influenced by the city as a border town," olivas says. "We would cross [the border] to visit family, or they would come over here, so that's all influential as far as my artwork today."
Seeing the value of his education, olivas' father encouraged his son to pursue something like landscape design or architecture. olivas admits that he initially had no interest in pursuing higher education; he wanted to go into a trade such as automotive mechanics, but his parents talked him into the traditional college route.
"My parents pushed a lot of education on my siblings and me," olivas says. "They understood the value of education and — especially as an immigrant family — making sure that your children receive a good education."
olivas attended San Francisco State University for a year before returning home to attend San Diego Mesa College. After two years, he transferred to the University of San Diego, where both his parents worked, earning his BA in visual arts in 2013.
"That's where I really started to refine what I'm interested in, expand from drawing and painting, and do a lot of sculpture work," he says.
After graduation, olivas continued to work for the university, which granted him access to its art studios and facilities. From there, he spent several years building up his artist portfolio and launching his own mobile art project space — which he named "untitled space" aka "domingo project" — out of a white 1967 Chevrolet Step-Van P30 bread truck speckled with rust on top.
"That bread truck was a way to create community and connect with different artists and learn from them," olivas says. "It was about starting a conversation, but also connecting the art spaces and communities of the San Diego and Tijuana areas."
Path to USC and cohort influence
olivas took his time before attending graduate school, considering schools on the East Coast and the Midwest. But USC offered an opportunity to attend a reinvented fine arts program at a top-rated institution while remaining close to family and his artistic inspiration.
"My work is about my experience and my family's experience on this land that we're on now, and just to keep that conversation going," he says.
Attending USC Roski School allowed olivas to learn from his fellow students — Cullors and dorriz included — and faculty and staff mentors. One mentor, Juan Morales, says olivas came to USC with a strong foundation, but exposure to many different perspectives and experiences pushed his talents to the next level.
"He's one of those guys that truly immersed himself into the program," Morales says. "He's certainly made the most out of it."
olivas met Morales, a fabrication adviser and facilities technician at the USC Roski Studios Building, when the former started at USC. The two first crossed paths when olivas reached out to those in and around USC Roski School with expertise in fabrication (producing large and technically complex pieces). From there, conversations on art, making and fabricating developed into a friendship that has continued post-graduation, with collaborations on multiple art projects.
"He's one of those artists we need today," Morales says. "He's one of those agents of change."
Though highly grateful to his mentors and instructors, olivas says his cohort had the biggest impact on him. Whether the group was teaching, encouraging or learning from one another, olivas says everyone in the cohort was inspired to push the boundaries of art.
"They were friends, and now they're family," olivas says.
Projects, activism and the road ahead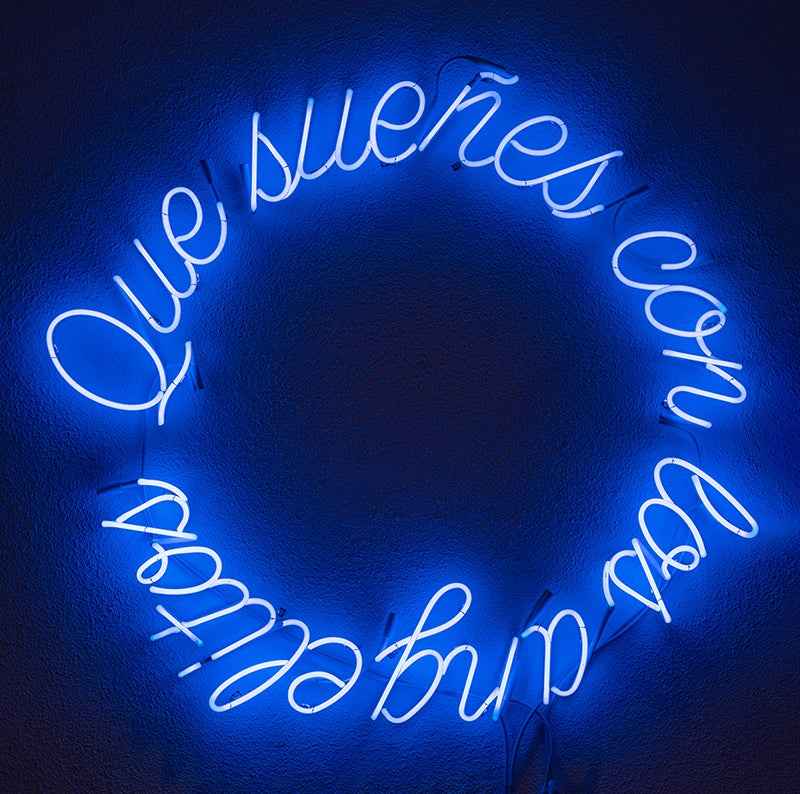 Most recently, UCLA's Hammer Museum featured olivas' work as part of its Hammer Projects series. Morales assisted olivas with the installation, titled Let's Pray, which used items like car parts, motor oil, broken concrete and soil to comment on labor issues in Southern California while also paying homage to its "rich cultural landscape."
"I feel like a lot of my work is about the poetics of labor and the injustices in it," olivas says. "Folks are taken advantage of with low wages, so it's all about the experiences within my family and the sacrifices they have made."
I think a lot about how we make this work for all of us, you know? How do we support and love each other?

noé olivas
Let's Pray ran from Jan. 15 to May 8, 2022. Following the exhibition's conclusion, olivas worked on developing new installations at the Crenshaw Dairy Mart. Recently, the space launched OPEN STUDIO, a series of presentations from international artists with a focus on those in the African diaspora, as well as weekly programming in the outdoor abolitionist pod, a walk-in spherical structure with various plants and produce growing in sacks hanging from the pod.
In the same lot as the abolitionist pod, just around the corner from where many of the Crenshaw Dairy Mart's exhibits are held and right in front of olivas' 1967 bread truck, sits that old white Ford Ranger pickup truck. It's not an exhibit, but its prominent placement makes sense. In a space that unifies a community through shared experiences, and helps it overcome trauma and hardship, the truck seems to fit in, representing the sacrifices made to ensure a better life for the next generation.
"I think a lot about how we make this work for all of us, you know? How do we support and love each other?" olivas says.
"Everyone has their own struggles, everyone is in a different place, and everyone needs to heal in different ways."