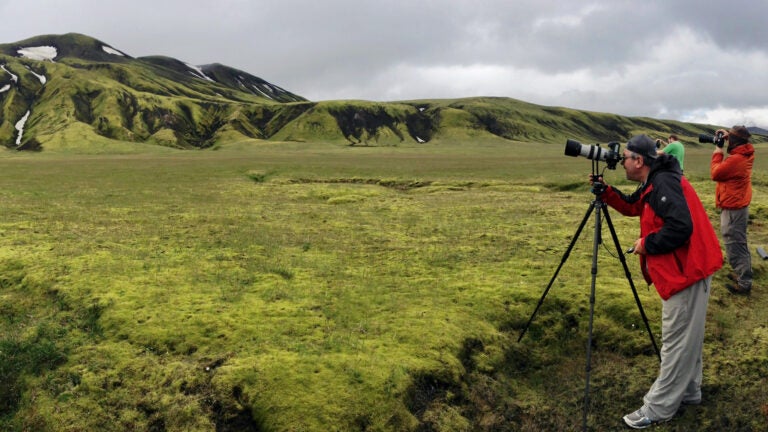 An artist who innovates with technology
Digital explorer creates immersive content from the world's most stunning locations
[new_royalslider id="18″]
Think of a remote, forbidding, awe-inspiring terrain. Iceland's glaciers. The Himalayas. The Mojave Desert. Easter Island.
Eric Hanson has been there.
Hanson, a faculty member in the John C. Hench Division of Animation and Digital Arts at the USC School of Cinematic Arts, travels to rugged, jaw-dropping destinations and captures them with cameras, laser scanners, camera drones and helicopters.
When you zoom in on a detail, there are always more visual stories to discover.

Eric Hanson
The digital explorer, a former competitive hang glider pilot, documents the world's inaccessible locations with thousands of still images taken in extremely high resolution. He assembles the images into immersive video environments that surround viewers with panoramic images roughly 1,000 times as detailed as a conventional digital camera can capture.
"You see things that would be impossible to see with the naked eye if you were actually there," Hanson said. "And when you zoom in on a detail, there are always more visual stories to discover."
Rich natural environments
Using skills honed as a visual effects artist in big-budget feature films (The Day After Tomorrow, Cast Away, The Fifth Element and many others), Hanson switched from creating — and then demolishing — fictional cities and landscapes to concentrate on celebrating the richness of the natural environment.
For a sample of what his life is like, here's how he spent his summer break. He began in New Mexico, creating an immersive short film about a long-distance collaboration between the Chinese dissident artist Ai Weiwei and Navajo artist Bert Benally.
Hanson's film, designed to be shown at fulldome theaters with 360-degree projection capabilities, was shot in the dramatic landscape of New Mexico's Coyote Canyon on the Navajo Nation.
From China, Ai had sent a design for a sand drawing, which was reproduced on the canyon floor using powder from ground-down pottery shards from Ai's ceramics. Artist Benally created an adjacent sculpture, lighting it with flaming wood structures.
Hanson's Pull of the Moon, which captures the landscape and the two artists' collaboration, can be seen at the Museum of Contemporary Native Arts in Santa Fe through mid-October. It also is being shown around New Mexico in a mobile fulldome theater.
Visually speaking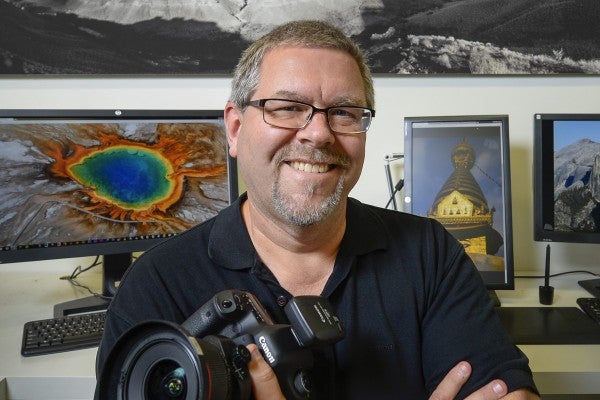 After his desert trip, Hanson spent a few weeks at xRez Studio, the Santa Monica imaging and visual effects business he runs with Greg Downing, another visual effects artist with a track record in feature films. Their studio is on the cutting edge of computational photography and computer graphics, using technologies such as digital terrain modeling, gigapixel imaging and 3-D photogrammetry.
The two have done work for National Geographic (for the magazine's issue on the 100th anniversary of the San Francisco earthquake, as well as photography for a recent IMAX title), museums, researchers, environmental activists and other filmmakers.
A current project involves photographing and modeling the iconic Moai sculptures on Easter Island to document how they have decayed over time.
The studio's website has one of the largest collections of gigapixel images available online, all interactively explorable.
Off to Iceland
In late July, Hanson was off to Iceland, packing up five camera bodies, 15 camera lenses and a helicopter-drone camera for a video project with singer Bjork. The Museum of Modern Art in New York City is mounting a retrospective on Bjork in 2015, and Hanson is working with director Andy Huang '07 on the 12-minute film to be shown at the exhibition.
Hanson and Downing and their small crew were in Iceland for two weeks, spending one week on the Bjork shoot and one week shooting locations for their own research. They chartered a helicopter over Europe's largest glacier and photographed "absolutely incredible, exotic terrain," Hanson said. There were stunning dormant volcanoes, deep canyons with braided meltwater runoff, spectacular waterfalls and coastlines edged with tall basalt columns jutting out of a black sand beach.
Back in California with his harvest of memory cards, Hanson started work on a new project — producing content for the virtual reality headset Oculus Rift.
USC played a pivotal role in developing the device, and content production for head mounted displays is an emerging market.
"The content thus far is gaming-centric," Hanson said, "but the filmmaking community can feel the shift coming to cinematic storytelling."
Upcoming IMAX project
Hanson has carved out some free time for studio projects this semester, as he's on sabbatical from teaching. In the eight years he's been at USC, Hanson has developed eight classes, including introduction to visual effects, digital lighting and rendering, digital effects animation, digital compositing and visual effects storytelling.
Next spring, he's slated to teach one of the first studio classes to use the school's new IMAX theater at the Robert Zemeckis Center for Digital Arts. Undergraduates will shoot three short films, each designed for a different immersive experience — an IMAX theater, a fulldome theater and the Oculus Rift.
Hanson's work dovetails with other pioneers at USC Cinematic Arts who create immersive worlds, such as Paul Debevec, associate director for graphics research at the Institute for Creative Technologies, and Alex McDowell, who directs the school's World Building Media Lab.
Hanson credits Debevec for creating essential rendering technology that he and many others use. McDowell creates richly imaginative fantasy environments instead of the natural landscapes Hanson works with, "but we all use similar tools and storytelling devices," Hanson said.
Kathy Smith, chair of the Hench Division of Animation and Digital Arts, said that Hanson should be recognized for developing the school's curriculum in visual effects.
"Eric is an artist who innovates with technology," she said. "He really understands how to use technology in cutting-edge ways to drive visual effects forward."