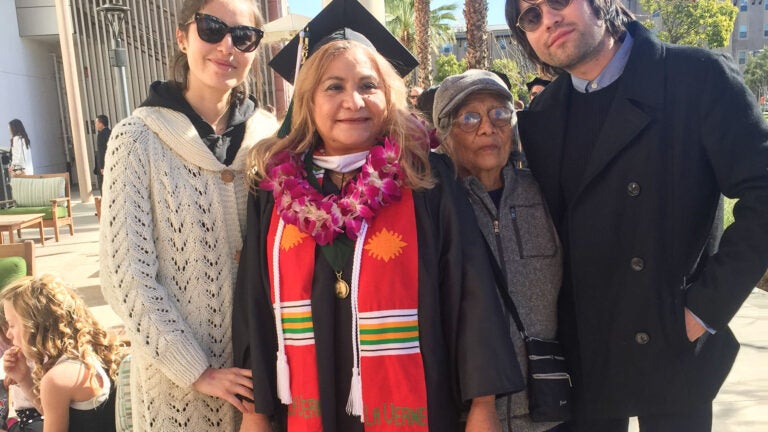 Determination and grit helped this 59-year-old finally earn her master's
Inspired by her children, Ana González never gave up. Now, she's got her degree and years of college memories, including a memorable meeting with President Carol L. Folt.
On the eve of earning a master's degree from the USC Suzanne Dworak-Peck School of Social Work, Ana González tried to choose her favorite memory from her time as a college student.
The 59-year-old recalled getting internships with the Los Angeles Unified School District and with the USC Leslie and William McMorrow Neighborhood Academic Initiative, where she helped immigrant students and their parents think not just about the possibility but the probability of attending college.
So many of those kids are just like her — González came to the United States from Mexico when she was 12 and did not know any English. In speaking with them, she emphasizes the availability of financial aid to help their dreams of higher education come true, a hurdle that deferred her college aspirations for decades.
Ana González: undeterred by virtual conferring of degrees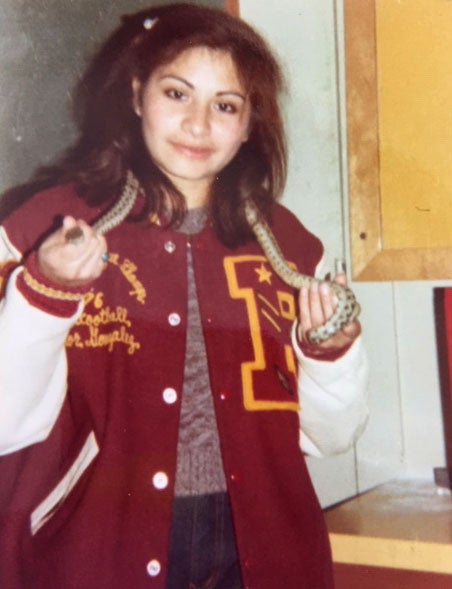 After attending high school in Boyle Heights in the late 1970s, she planned to reuse the cardinal and gold colors of her Roosevelt High School spirit garb at USC. Despite taking advanced courses in math and science to prepare, she quickly came to believe it was impossible.
"I didn't know about financial aid, and it seemed so expensive," she said. "I had to put it on hold."
Nearly 20 years after her high school graduation, she began attending Pasadena Community College. In 2016, she graduated from the University of La Verne.
On Friday, González was awarded her degree along with more than 19,000 other USC students. Nearly 1 in 4 were, like González, the first in their family to attend a university.
This was not like any other year. Because of social distancing, universities are conferring degrees virtually. USC is planning a proper commencement for a later date.
But in an odd way, the pandemic has made graduation a family event for González and her family. She celebrated at home with her daughter Catalina, who graduates next week from Harvard University with a master's degree in sustainable environmental management. Like USC, Harvard's campus is closed to ensure social distancing. Because of the cost of airplane tickets, under normal circumstances they would not have been together for their graduations.
"I did not want to die before I had a college title," González said. "I want my grandkids to say, 'Grandma, she made it.'"
Inspiring USC grad makes an impact on President Folt
For the past 25 years, González has been working for the Pasadena Unified School District, making her way from a part-time instructional aid to a full-time job as a liaison with foster youth.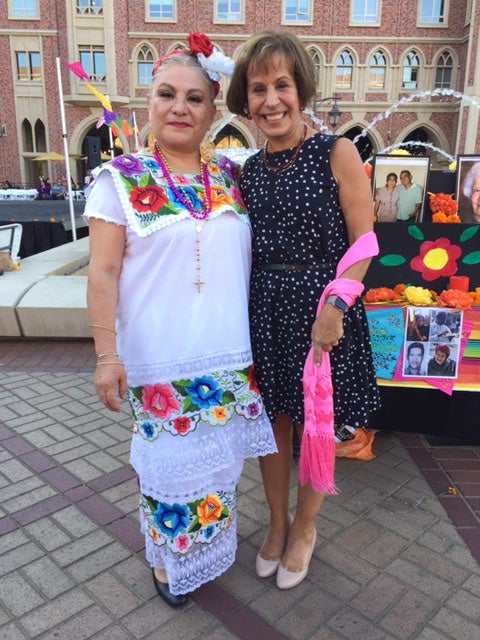 As fulfilling and personal as her mentorship experiences have been, she said her best college memory is performing at the halftime show of the USC-Notre Dame game. As part of the Grupo Folklorico de USC dance team, she took the field with the Trojan Marching Band in 2018. "The video went viral," she gushed.
Or maybe the real highlight was another Grupo Folklorico de USC event. The group was set to perform a Día de los Muertos celebration at USC Village for the neighborhood, and González took the initiative to send an invitation — along with flowers — to President Carol L. Folt. And she said yes.
Nobody believed González had a special guest until Folt showed up in person. They talked for an hour.
"Ana González is amazing," Folt said. "When I met her in the fall I was inspired by her grit, determination and spirit, and by the joy she brought to her dancing with Folklorico.
"As a first-generation and non-traditional student, Ana has fought her way past every obstacle and she epitomizes the great opportunity and promise that comes by increasing access and equity for all in higher education. With her MSW degree, I know Ana will continue to make an impact on so many lives. She already made a wonderful impact on mine."
"I want to help people," González said. "My daughter encouraged me to go higher; my son, too. They motivate me. I always wanted to teach them, that no matter the circumstances, you can succeed."
Now more than ever, it's a message that we need to take to heart.
See Ana González perform with Grupo Folklórico de USC.