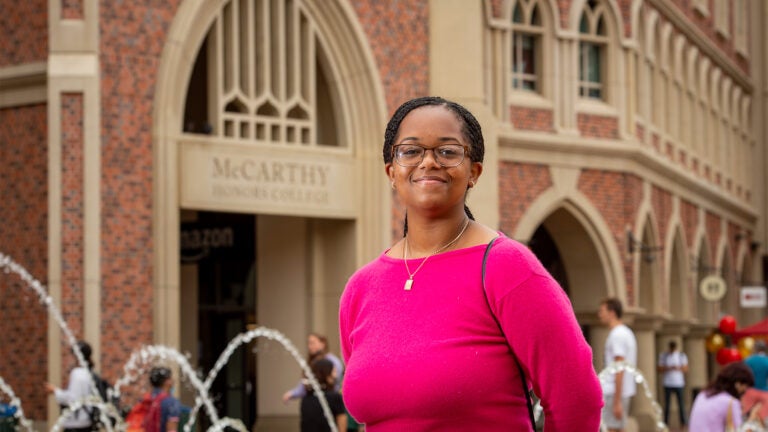 Annenberg Youth Academy student begins her USC journey
The USC Annenberg program for media-savvy high school students kept Kymia Freeman engaged during the pandemic and helped fulfill her dream of becoming a full-fledged Trojan.
Kymia Freeman was eager to get a jump start and a sneak peek into USC student life when she was accepted into the Annenberg Youth Academy for Media and Civic Engagement as a rising junior in high school.
The USC Annenberg School for Communication and Journalism program recruits high-achieving high school students throughout Southern California who are interested in media and introduces them to career and education opportunities in media communications. The program allows students to take college-level courses while helping participants strengthen skills specific to the media field, such as writing and multimedia production.
"USC has always been my dream school, and it would've been so awesome to come on campus and get to meet professionals in a field I am interested in," Freeman said. Despite the initial disappointment of not being able to stroll through Wallis Annenberg Hall or step inside USC Annenberg's state-of-the-art media center due to the ongoing COVID-19 pandemic, she credits the program with helping her stay engaged with her studies.
"When you have a bunch of boxes on your screen or are doing homework in your bedroom, it can't replicate the experience of a classroom and it was easy to disengage," she said. "The program was instrumental in helping me overcome that. Every day, I looked forward to opening my computer. They made sure we had our cameras on. They made sure we were engaged."
Annenberg Youth Academy connects students and inspiring media professionals
One of the key components of the Annenberg Youth Academy is introducing participants to media experts and professionals. This allowed Freeman to meet and build a connection with guest speaker, ABC News Congressional correspondent and USC alumna Rachel Scott.
"Having someone like her in my corner has been so amazing, I can't emphasize that enough," Freeman said. She and Scott exchanged phone numbers during a Zoom workshop, and the relationship has blossomed into a mentorship. "As a Black woman, just having her there and seeing her set the example really means a lot. It made me a more confident editor-in-chief, and it made me really confident in applying to college."
The lessons she learned at the academy set her senior year plans in motion. She was able to provide leadership as editor-in-chief of her high school newspaper, The Oarsman, and she successfully gained acceptance into her dream school.
"When I got my acceptance into USC, I was like, wow!" she said. And despite a move-in day experience that required "a lot of mental preparation," Freeman remains inspired by her new home. "I was in such awe in the beauty and resources that are here."