Anthony Lazzaro, 100, administrator credited with shaping the modern USC
The senior vice president emeritus was responsible for the construction of more than 130 buildings on USC's campuses and was key in planning the 1984 Olympics.
USC Senior Vice President Emeritus Anthony D. Lazzaro, an alumnus and longtime administrator responsible for the construction of more than 130 buildings on USC's campuses, died on May 20. He was 100.
Lazzaro's more than 60 years of service included leadership positions in some of the university's most high-profile initiatives, such as its 1961 master plan, the establishment of the Health Sciences Campus and USC's role in the 1984 Summer Olympic Games.
As the university's chief of capital construction and liaison with the now-dissolved Community Redevelopment Agency of Los Angeles, he helped transform the USC University Park Campus from a collection of detached buildings on city streets into a cohesive campus connected by parklike walkways and quads.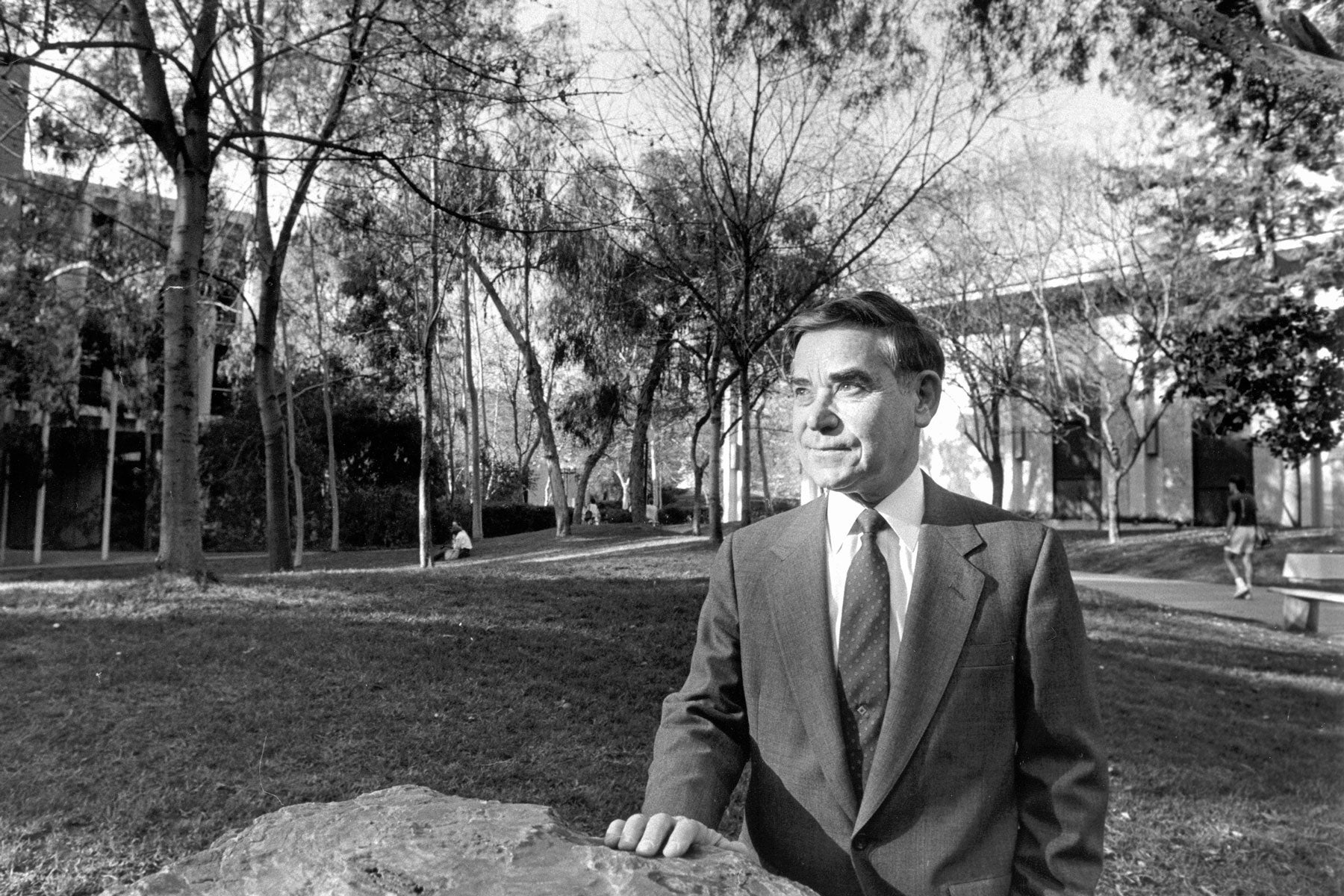 "Tony Lazzaro's profound impact continues to touch every corner of USC's campuses, long after he formally retired," President Carol L. Folt said. "His leadership was critical in establishing the Health Sciences Campus, and he oversaw much of the construction of the modern University Park Campus during his more than six decades of service to the university. The iconic globe that we all see at the heart of UPC was his idea, and he helped stage the tremendously successful Summer Olympics in Los Angeles in 1984. His incredible legacy will live on at USC and beyond."
Tony Lazzaro's profound impact continues to touch every corner of USC's campuses, long after he formally retired.

Carol L. Folt
Born in Utica, N.Y., Lazzaro was drafted into the U.S. Navy during World War II, serving on attack and troop transport ships and eventually becoming a chief engineer. Discharged as a lieutenant, he moved to Los Angeles with his wife, Shirley, and enrolled at USC's engineering school on the G.I. Bill. After graduating cum laude from USC in 1948, he began his steady climb up the university management ladder, rising from assistant business manager and director of campus development to senior vice president for business affairs.
When he started at USC, the university featured only 11 permanent buildings and 29 World War II barracks, he recalled in a 1990 USC video. Over his career, he oversaw the construction of 132 of the more than 200 buildings that stand on USC campuses today.
"Tony Lazzaro was a key architect of USC's progressive elevation to a world-class institution through his long service at USC until his retirement in 1991," said Yannis Yortsos, dean of the USC Viterbi School of Engineering. "He helped guide the university during a period of rapid development and growth that ultimately positions it to its current status of excellence. As a dean of engineering, I had the opportunity to interact often with him for many years after his retirement, by visiting him in his Olin Hall office until about 2014, and to receive much advice and counsel. His warmth, his commitment to the university and his humor and wise advice will be sorely missed."
Lazzaro's liaison work with the L.A. Olympic Organizing Committee
Lazzaro served as USC's chief liaison officer with the 1984 Los Angeles Olympic Organizing Committee, negotiating agreements that totaled more than $19 million and turned USC into a major Olympic Games venue. He also helped design and plan the Olympic Village and build other facilities for the Olympics in Los Angeles, including the Olympic Swim Stadium (rebuilt and reopened in 2014 as the Uytengsu Aquatics Center).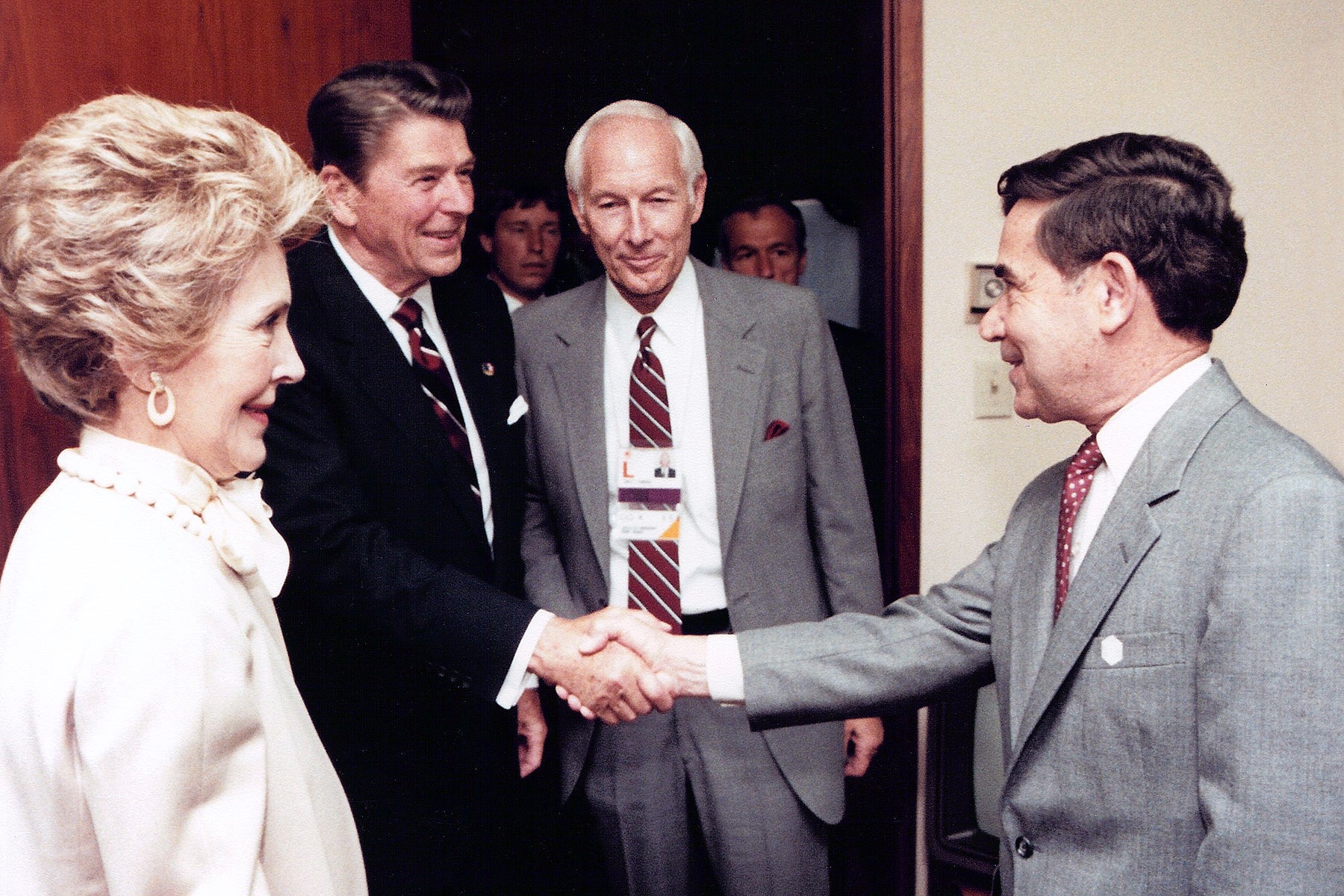 When former President Ronald Reagan showed up looking for a temporary office near Olympics competition sites, Lazzaro graciously offered him several choices in Bovard Hall, but Reagan wanted Lazzaro's suite. "It was near the helipads near the Seeley Mudd Building and Cromwell Field," Lazzaro said in the video. Reagan left after opening day, but when the games were over, USC's then-President James Zumberge praised Lazzaro. "More than any other, he deserves the credit for the success of USC's involvement with the Olympics," Zumberge told the USC Chronicle.
During his career, Lazzaro also provided administrative leadership over a wide range of campus support functions, including facilities management, public safety, student housing, transportation services, the USC Bookstore and compliance and risk management.
Lazzaro served as president and vice president of the National Association of College and University Business Officers and as a member of its board of directors for 11 years. He also was president and vice president of the Western Association of College and University Business Officers and was a member of the Accrediting Commission of the Western Association of Schools and Colleges.
His commitment and distinguished service were recognized in 1988 when USC Trustee Raymond Watt made a donation to USC on his behalf and USC dedicated a plaza near the center of the University Park Campus in his honor. The plaza underwent a major renovation in 2013.
Fred B. Olds Award presented to Anthony Lazzaro
In 2007, the USC Alumni Association selected Lazzaro to receive the Fred B. Olds Award, which is presented to USC alumni for their extraordinary and unparalleled service to the university over many years. Throughout his more than six decades of service, Lazzaro advised seven USC presidents.
He also served on the Los Angeles Hoover Urban Renewal Advisory Committee, the Palos Verdes Board of Education Advisory Committee and was a consultant to the U.S. Department of Health, Education and Welfare. He served on the board of directors of Republic Federal Savings and Loan Association.
Lazzaro is survived by daughter Nancy Lazzaro, a 1971 graduate of USC and former USC assistant professor of Italian literature; grandson Derek Lazzaro, who earned his law degree from USC in 2009; and grandson Anton Lazzaro, an entrepreneur.
Lazzaro's success at USC cannot be remembered without acknowledging the particular and invaluable contribution of his wife Shirley Jones Lazzaro, who preceded him in death.
In lieu of flowers, the family requests donations be made to the USC Viterbi School of Engineering or the USC Emeriti Center.