USC holds its largest Arab American Heritage Month celebration to date
The Middle Eastern North African Student Assembly's lively kickoff event in Hahn Plaza features music, Arab dance, inspiring stories and plenty of food.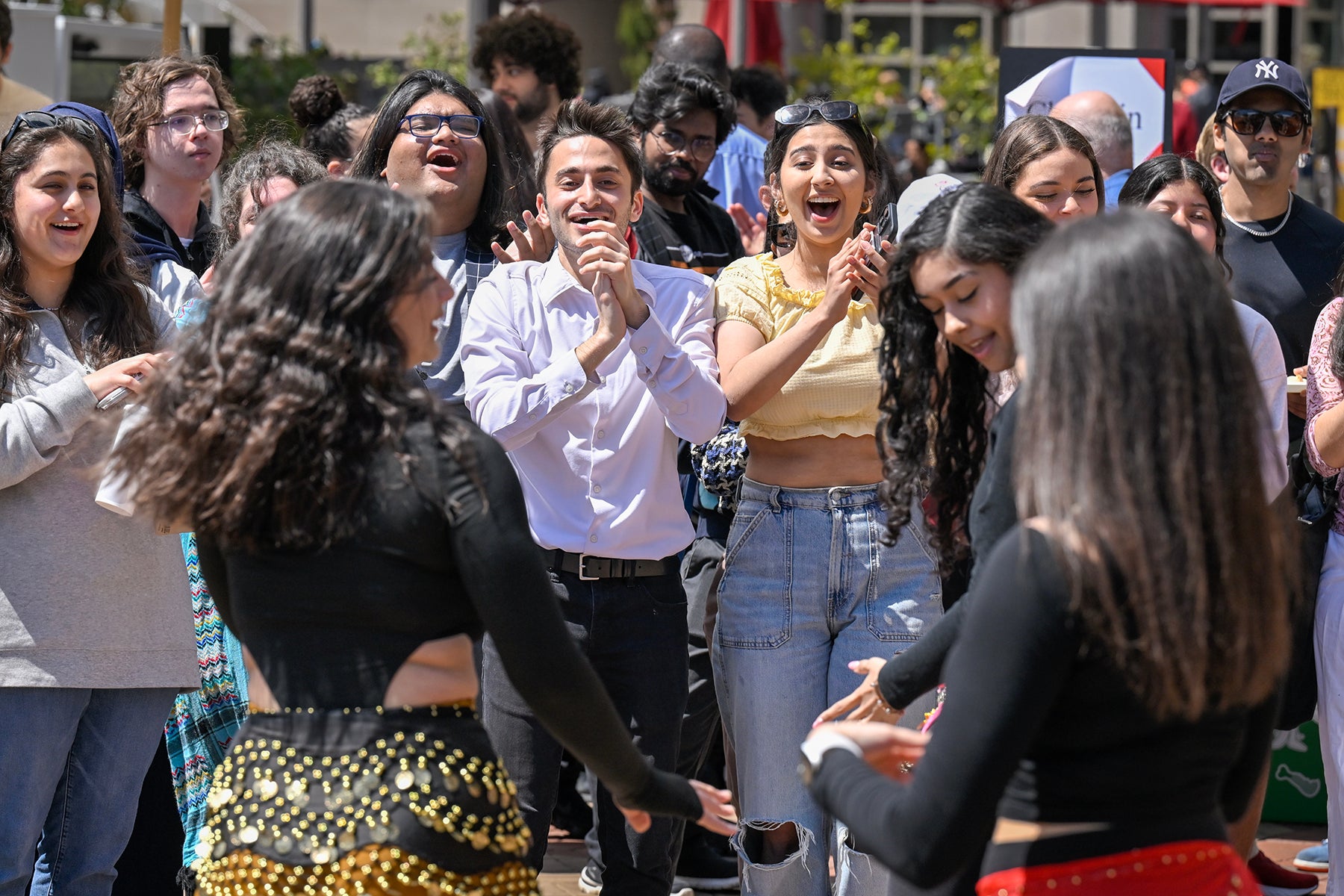 International relations sophomore Erika Chagin had no regrets about juggling her studies in recent weeks with rehearsals for an Arab dance. Her performance along with four other students dazzled a crowd of nearly 200 people during Monday's Arab American Heritage Month kickoff event at Hahn Plaza on the University Park Campus­­.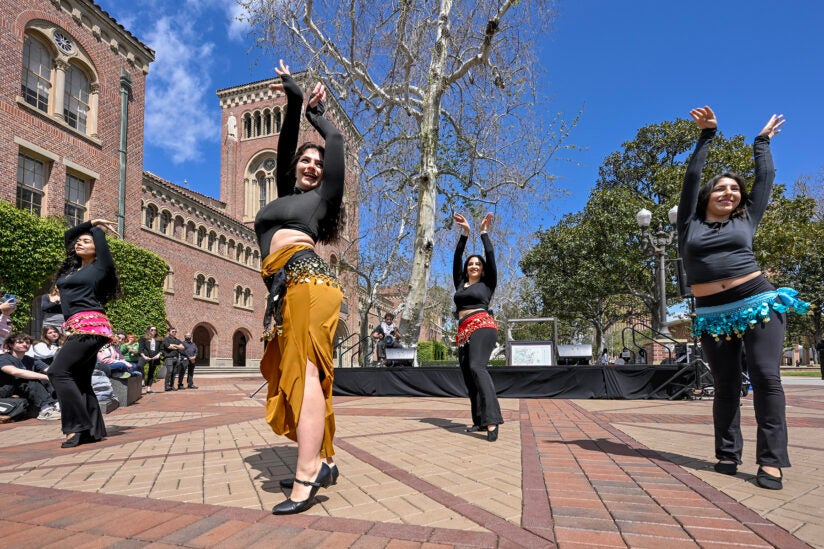 "Seeing such a nice turnout was really inspiring and very gratifying," the USC Dornsife College of Letters, Arts and Sciences student said after the performance."It felt really nice to represent my heritage in front of so many people and to be involved in what was only the second Arab American History Month at USC."
The lunchtime event was presented by the Middle Eastern North African Student Assembly (MENASA), which emphasizes unity and raising awareness about the Middle Eastern-North African region and diaspora. Attendees feasted on such foods as zaatar bread, spinach fatayer and baklawa — a Middle Eastern pastry similar to Greek baklava — as they watched performances and listened to remarks from USC President Carol L. Folt and other speakers.
MENA students a growing presence at USC
Folt pointed out that the university has nearly 800 students from 22 Middle Eastern and North African countries who identify as Arab or as Arab Americans. Among them is two-time Olympic swimmer Yusra Mardini, who is in her first year at the USC School of Cinematic Arts. Mardini is a refugee of the Syrian civil war and competed in the 2016 and 2020 Summer Olympics as a member of the Refugee Olympic Athletes Team and Refugee Olympic Team, respectively. Her life inspired the 2022 biographical film The Swimmers, which was distributed on Netflix.
"Now she's in the middle of building a foundation to bring education and sports opportunities to other refugees," said Folt, who closed her remarks with a quote from Mardini: "'Keep dreaming, no matter who says you can't do it.'"
I will always remember and be proud of my Arab roots. They are the foundation of my life and the wings to my future.

Christine El Haddad, USC Marshall
Associate Professor Christine El Haddad of the USC Marshall School of Business, another featured speaker, said that the United States is home to more than 3.7 million Arab Americans who trace their origins to more than 20 countries in the Middle East and North Africa, including Lebanon, Syria, Jordan, Egypt, Saudi Arabia and the United Arab Emirates.
She described Arab Americans as "an integral part of this nation" who have made important contributions to the United States across different fields, including literature, art, music, film, science, medicine, business and politics.
"Today, we celebrate their achievements and rich heritage," said El Haddad, who is from Lebanon. "I will always remember and be proud of my Arab roots. They are the foundation of my life and the wings to my future."
Making 'good trouble'
The event's keynote speaker, Amin Nash of the Arab American Civil Council, spoke about the struggle to establish the mile-long Little Arabia District in Anaheim and for the area to be officially recognized as a designated ethnic enclave. Approval from the Anaheim City Council finally came last August. Nash described the vote as "one of the most American things I've ever seen in my life."
"I knew that local and state governments struggle to imagine people from the Middle East and North Africa as a part of this country's fabric," he said. "We argued and we even talked back to the [council] to not ignore our community, to not erase us, to give us what this community has worked hard for. You could say that we made genuinely good trouble."
Nash shared that the battle in Anaheim was made more difficult because there is no MENA checkbox on official forms, which he said results in a lack of MENA demographic data and affects allocation of resources. He used his experience in Anaheim to encourage MENA students at USC to "imagine yourself as part of this campus, as part of this country's fabric." He applauded MENASA's ongoing efforts to have a MENA checkbox added to university forms so Trojans of Arab descent would be able to check a box that reflects their heritage.
"Because you are a part of this place, you do belong," he said. "Your voice is important. Your voice matters. The truth is many people won't think we exist until we show them."
Realizing their potential at Arab American Heritage Month celebration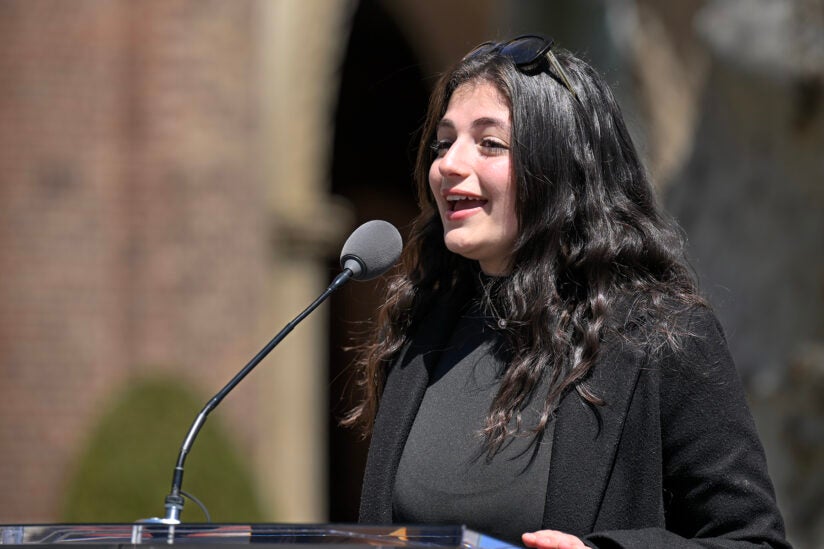 MENASA co-directors Anthony Khoory and Nour Myra Geha, the driving forces behind the creation of MENASA, called their 19-member executive board to the stage in the final moments of the event to bask in the success of what they have been able to accomplish in the past year. They first created an on-campus club for MENA students and successfully pushed for the Undergraduate Student Government to admit their club as its own assembly, complete with the funding, dedicated staff and other resources that come with that status.
"We knew it was going to take a lot of time and a lot of hard work and a lot of effort," said Geha, a USC Dornsife sophomore who grew up in Lebanon. "What we did not know is by building this up, we were going to be creating a community where real relationships are formed, where culture is shared and appreciated. We're so thankful to be able to share this joy with you on a university level."
USC Dornsife senior Khoory closed the event by singing "Mawtini," the national anthem of Iraq that is embraced across the Arab world.
"It's beautiful seeing all of you here," he said to the crowd. "It's a blessing how far this community has come on campus in the years since I was a freshman. I'm so thankful to God, who pushed us forward to really realize our potential."
The kickoff is part of a series of USC Arab American Heritage Month events that will include a community potluck, a talk on racial justice in the Middle East, a dabke dance night, a Sham El-Nessim celebration and a concert with Egyptian singer and performer Bayou. The month will conclude with a formal ballroom event with speakers, performances and a DJ on April 27.