Arianna Huffington tells students to turn off their phones and get more sleep
The publisher visits USC, where she talks about the harmful effects of 24/7 technology and Thrive Global, her new enterprise
You have to say this about Arianna Huffington: She sees the zeitgeist before anyone else.
In 2005, she realized the internet was the ideal platform to make everyone's voices heard, and launched the Huffington Post. In the next decade, the sometimes controversial website went on to blow up many old-school notions of journalism, but also went on to many victories, including a Pulitzer Prize in 2012. The Huffington brand, meanwhile, became a global name.
In 2016, not long after stepping down from her eponymous page, Huffington launched another startup, Thrive Global, this one dedicated to acknowledging the negative effects of our work-hard-play hard culture as well as the growing realization that our current relationship with 24/7 technology may not, in fact, be all good.
The 67-year-old publisher, author and global influencer expounded on her new mission to more than 600 USC students and others on Jan. 26 at Town and Gown. An overflow crowd watched her talk on a big screen in the patio.
Huffington's appearance was co-hosted by USC's Performance Science Institute (PSI) and ATHENA, the university's initiative for female entrepreneurs run by the Master of Science in Entrepreneurship and Innovation degree program at the USC Marshall School of Business.
Our digital world
Kicking off the spring semester, Huffington's 90-minute talk, "Thriving in a Digital World," came at a moment when the national conversation is coming around to the deleterious effects of 24/7 technology.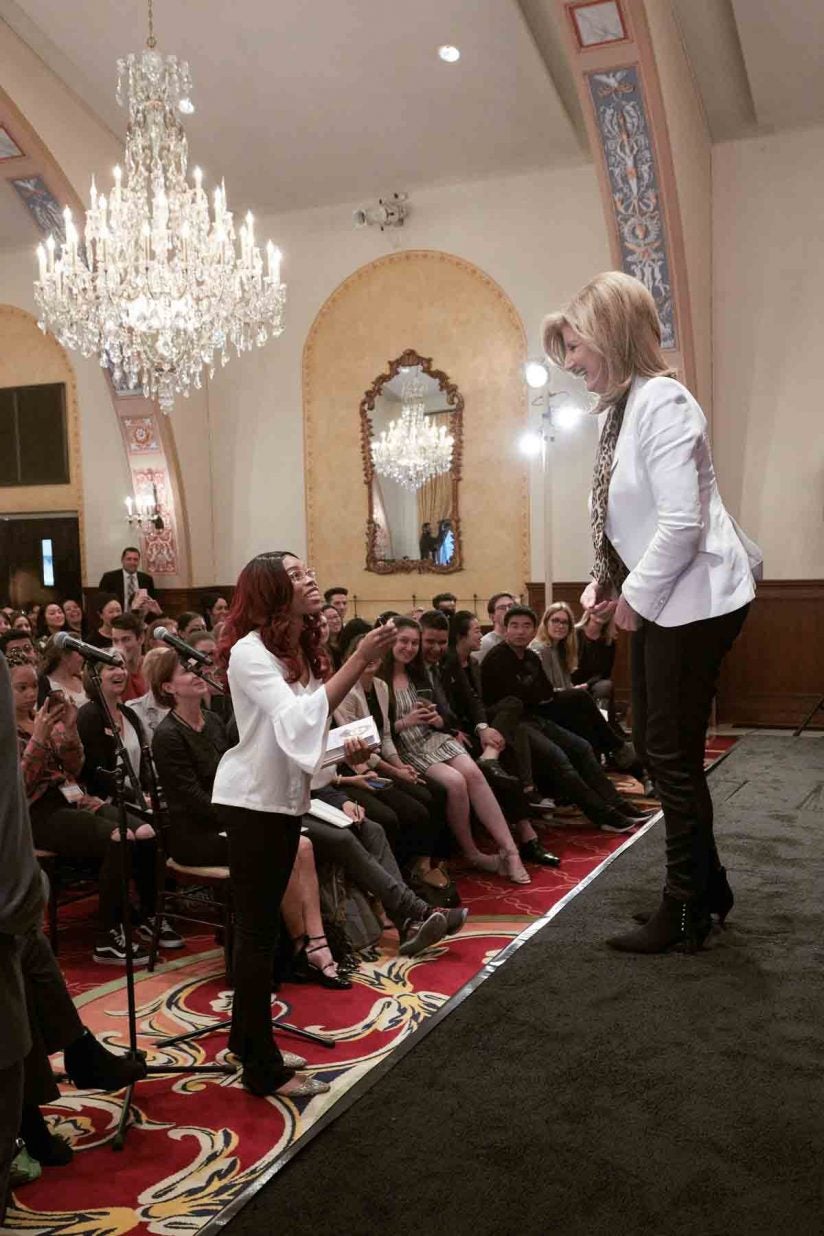 "Arianna Huffington lives and works at the intersection of mindfulness, entrepreneurship and living your best self," said David Belasco, co-founder of the PSI and executive director of the Lloyd Greif Center for Entrepreneurial Studies, whose class on the entrepreneurial mindset regularly brings high-profile speakers to campus each spring. "That's also what we're doing at the Performance Science Institute."
Does operating at peak performance mean forgoing self-care and sleep? That's not what the science is discovering, Huffington said.
"The goal of machines and software is to minimize downtime," she said. "But for the human operating system, downtime is not a bug, it's a feature."
Her new startup — with sharable content, products and an app designed to help people cut their social media addictions — has been created with the idea of creating a world where everyone is allowed to fail, to be imperfect, and most importantly, to unplug (and get eight hours of sleep.)
A challenge, perhaps, for a roomful of high-achieving USC students, Belasco acknowledged.
Huffington pointed out that for years she was a driven perfectionist and had to work hard to silence "the annoying backseat driver" always plaguing her with self-doubt.
"Perfection is a terrible trait for anyone," she insisted. "We have to have a mindset that encompasses failure, allows us to change the world and to do new things and to be confident learners."
Accepting possible failure allowed her to create the Huffington Post, write 16 books, then pivot and create Thrive Global, she said.
Changing your habits
On the topic of unplugging, Huffington told listeners about successful people learning the hard way that their ties to their devices were harming themselves — and their family.
Take, for example, the chief business officer at Google, whose small children said they'd rather the babysitter take them to the park on his rare day off because "you're always on the phone."
When he shared that story, his team was inspired to change their own habits, she said.
We want to share these stories because we want to change the culture.

Arianna Huffington
"We want to share these stories because we want to change the culture," she said. "Culture is a company's immune system." A cut-throat, burn-out culture will catch up and harm the bottom line eventually, she said. "The truth is we're never going to eliminate bad human nature, but a healthy, strong culture Identifies problems very quickly and solves them. "
Taking control
Just two weeks earlier, Thrive Global, along with partner Samsung, launched a mobile phone app designed to help people wrest control from their devices.
The app includes a feature called Thrive mode, which blocks all apps, calls, texts and notifications except from the people on your VIP list — auto-reply, which lets people know you're away from your phone, and app blocking, which lets you set boundaries with the apps you choose.
When smart phone technology came out 10 year ago, she said, "we had assumed it was all for good and now we know it isn't. We know that there are terrible, unintended consequences.
"We now need to set boundaries to protect our humanity," she said. "In the same way we celebrate augmented reality, we have to celebrate augmented humanity."