Artist Enrique Martínez Celaya named first Provost Professor of Humanities and Arts at USC
The poet, philosopher and scholar will lead conversations with students on artistic expression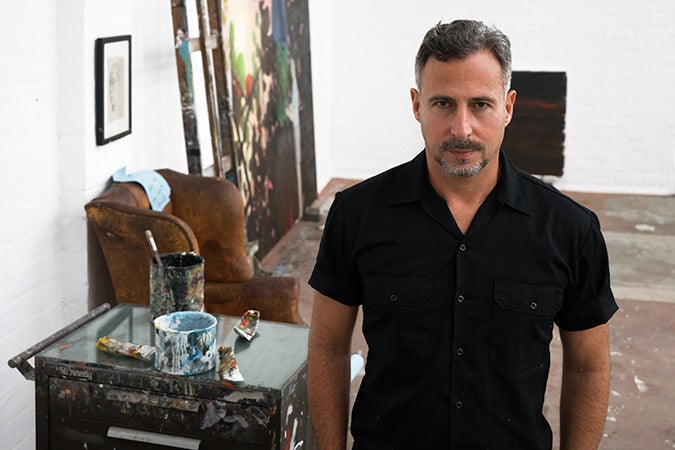 Los Angeles-based artist Enrique Martínez Celaya has been named the first person to hold the position of Provost Professor of Humanities and Arts at USC. The celebrated artist and writer, whose paintings have been exhibited and collected by major institutions around the world, was trained as a physicist before devoting his life to art.
He will join the USC Dornsife College of Letters, Arts and Sciences, where he holds a primary appointment, on Aug. 16. He will also hold a secondary appointment at the USC Roski School of Art and Design.
"We are honored to welcome Enrique Martínez Celaya to our faculty," said USC Provost Michael Quick, who announced the appointment. "He is an exceptional contemporary artist with an engaging and creative mind. He will be an exciting addition to our university community, especially since he will be working across disciplines as a Provost Professor."
USC Dornsife Dean Amber D. Miller also welcomed the appointment.
"Provost Professor Martínez Celaya's distinctive approach to creative practice breaks down the partition between art and scholarship," she said. "At USC Dornsife, he will lead conversations related to artistic expression — built upon broad intellectual engagement and critical analysis — that will help our students think about art and creativity from new perspectives."
From Dartmouth to USC
Martínez Celaya comes to USC from Dartmouth College in Hanover, N.H., where he most recently served as the Roth Family Distinguished Visiting Scholar. He said he was excited at the prospect of joining the Trojan Family.
"I am impressed with the spirit of USC and the enthusiasm I notice in the students, the faculty and the administration," he said. "I am looking forward to sharing with them my devotion to teaching, broad intellectual conversations, and a mindful artistic and writing practice."
Martínez Celaya, who has worked in collaboration with scientists, entrepreneurs, writers, musicians and architects — including the Canadian band Cowboy Junkies, the poet and Nobel Prize-winning chemist Roald Hoffmann and novelist Mary Rakow — said he would like to bring to USC a widely encompassing view of what it means to be an artist and a scholar.
One of the aspects of USC I find most energizing is the openness of the university to new ways of thinking and new ways of training our students.

Enrique Martínez Celaya
"One of the aspects of USC I find most energizing is the openness of the university to new ways of thinking and new ways of training our students — a rare and inspiring attitude that coincides with my own aspirations."
Martínez Celaya said he was interested in interdisciplinary collaboration at USC, as well as with scholars and artists outside the university.
"My artistic practice incorporates literature, philosophy and science as well as art theory and history," he said. "In the past, I have worked with scientists, novelists, poets and philosophers, and I hope to continue and expand these collaborations at USC."
Divisional Dean for Humanities and Social Sciences Peter Mancall said it is a unique honor for a college of letters, arts and sciences to welcome an artist and scholar with Martinez Celaya's range and depth.
"His work will enrich our efforts across the entire humanities division and help us create and sustain new initiatives and partnerships with USC's renowned art schools," said Mancall, Andrew W. Mellon Professor of the Humanities, Linda and Harlan Martens Director of the Early Modern Studies Institute and professor of history and anthropology.
The first course Martinez Celaya will teach at USC, "Fringe Moderns and the Landscape of Disillusionment," will be an introduction to modernist poetry and art.
Renaissance scholar for the 21st century
Born in Cuba, Martínez Celaya moved to Spain with his family at age 8 and then to Puerto Rico three years later. He began his formal artistic training there when he was apprenticed to a painter at age 12. However, an aptitude for science and mathematics led him to study applied and engineering physics at Cornell University, and he received his master's in quantum electronics from the University of California, Berkeley. He pursued a doctoral degree before eventually abandoning physics for art. He then attended the Skowhegan School of Painting & Sculpture in Maine and earned a master of fine arts with the department's highest distinction from the University of California, Santa Barbara.
Before joining Dartmouth, he held faculty appointments at Pomona College and Claremont Graduate University in California, and at the University of Nebraska, where he was honored as the second presidential professor in the institution's history.
Martínez Celaya said his art is both influenced by, and in dialogue with, literature and philosophy. He has created projects and exhibitions for the State Hermitage Museum in St. Petersburg, Russia; the Museum der bildenden Künste in Leipzig, Germany; and the Pérez Art Museum in Miami, among others. He also has worked with institutions outside of the art world, including the Freedom Tower in Miami, the Cathedral Church of Saint John the Divine in New York, St. Mary's Church in Limerick, Ireland, and the Berliner Philharmonie in Berlin.
His work, which has been the subject of several monographs, is included in the permanent collections of the Los Angeles County Museum of Art, the Metropolitan Museum of Art and Whitney Museum of American Art in New York, the Moderna Museet in Stockholm and the Phillips Collection in Washington, D.C., among others.
Martínez Celaya has sponsored programs for children, assisted public schools in curricular development and advised companies on creative practices. He has lectured at venues around the world, including UCLA, the American Academy in Berlin, the Aspen Institute, the School of the Art Institute of Chicago and New York University.
He was selected as a Montgomery Fellow at Dartmouth College and as the Cecil and Ida Green Honors Chair at Texas Christian University. Other honors include the Knight Foundation Grant, the National Artist Award from the Anderson Ranch Arts Center, the California Community Foundation Fellowship, the J. Paul Getty Trust Fund for the Visual Arts and the Young Talent Award from the Los Angeles County Museum of Art. He was a Regents Fellow of the University of California at both Berkeley and Santa Barbara.
In addition to his distinguished career as an artist, Martinez Celaya is the author of books on philosophy, poetry and art, and in 1998 founded Whale & Star Press, an imprint that publishes books on art, poetry, art practice and critical theory. As a physicist, he published scientific papers on superconductivity and lasers and is the inventor of several patented laser devices.