Astronaut and NASA leader Charles F. Bolden Jr. rejoins USC Board of Trustees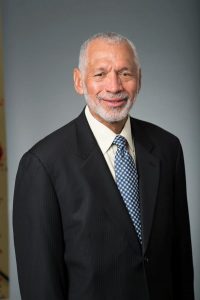 Charles F. Bolden Jr. MS '77, former NASA administrator and space shuttle pilot, has been elected to the USC Board of Trustees.
Contact: USC Media Relations at (213) 740-2215 or uscnews@usc.edu
A retired Marine Corps major general, Bolden served for 34 years in the military. He earned his master's degree in systems management from USC in 1977 and previously served as a USC trustee from 2003 to 2009 before stepping down to lead NASA.
"Charles Bolden is a courageous leader whose dedicated service to our nation is a testament to his strong character and values," USC President C. L. Max Nikias said. "His wealth of knowledge and experience will be a major asset to our university, and we are thrilled to welcome him back to our board."
Bolden's many accomplishments include logging more than 7,000 hours as a naval aviator and test pilot, commanding and piloting four missions aboard the space shuttle and serving as commanding general in support of Operation Desert Thunder in Kuwait. Appointed by President Barack Obama in 2009, he served as NASA's top official until January 2017.
"It feels great to come back to USC," Bolden said. "I'm excited about the opportunity to continue my work with this great institution and its many talented faculty members, students and researchers."
Bolden said he is encouraged by the university's emphasis on convergence – bringing together scientists, engineers and medical researchers from different disciplines to tackle society's toughest problems. He sees aerospace engineering and technology as a valuable and necessary component of those efforts.
"I think USC has done a great job so far, and I hope to see that progress continue," he said. "I've also been very impressed with the increased focus on veterans' education and the many related programs that have been launched over the past decade. USC is providing veterans with the tools they need to become productive and successful members of the community."
During his time at the helm of the U.S. space program, Bolden oversaw the transition from shuttle missions to a focus on the International Space Station and the development of new aeronautics and space technologies. NASA achievements under his watch include the successful Curiosity rover mission to Mars and the Juno spacecraft mission to Jupiter.
The agency continued its planning for the launch of the Hubble Space Telescope's successor, the James Webb Space Telescope, which is currently slated for spring 2019. Bolden also pushed for advancements that will enable missions in deep space, including developing the Orion spacecraft and a rocket launch system designed to allow astronauts to visit new destinations like an asteroid or Mars.
A decorated military career
The South Carolina native graduated from the U.S. Naval Academy in 1968 and became a second lieutenant in the Marine Corps. He completed flight training two years later and flew more than 100 combat missions in Vietnam, Cambodia and Laos during 1972 and 1973.
Bolden later trained as a test pilot and worked at the Naval Air Test Center. As the U.S. space shuttle program prepared for its first launch, he was selected as an astronaut candidate.
His first mission came in 1986 aboard the space shuttle Columbia. Four years later, he piloted Discovery, successfully deploying the Hubble Space Telescope while in orbit at an altitude of 400 miles.
In 1992, he led a mission aboard Atlantis, followed by his final shuttle mission on Discovery in 1994, the first joint U.S.-Russia flight. Bolden completed his service in the astronaut program with more than 680 hours in space.
He returned to active duty with the Marine Corps and held various distinguished positions, including deputy commandant of midshipmen at the U.S. Naval Academy, deputy commanding general of the 1st Marine Expeditionary Force in the Pacific, and deputy commander of U.S. forces in Japan. He retired from military service in 2003.
Before his appointment as NASA administrator, Bolden was senior vice president of a language translation and interpretation company and CEO of an aerospace and military consulting firm.
Bolden was inducted into the U.S. Astronaut Hall of Fame in 2006 and the National Aviation Hall of Fame in 2017. His military and NASA decorations include the Distinguished Flying Cross, the NASA Outstanding Leadership Medal and the Defense Superior Service Medal. He received USC's top alumni honor, the Asa V. Call Award, in 2003.
Bolden is married to Alexis "Jackie" Bolden. They have a son, Anthony; a daughter, Kelly; and three grandchildren, Mikaley, Kyra and Talia.