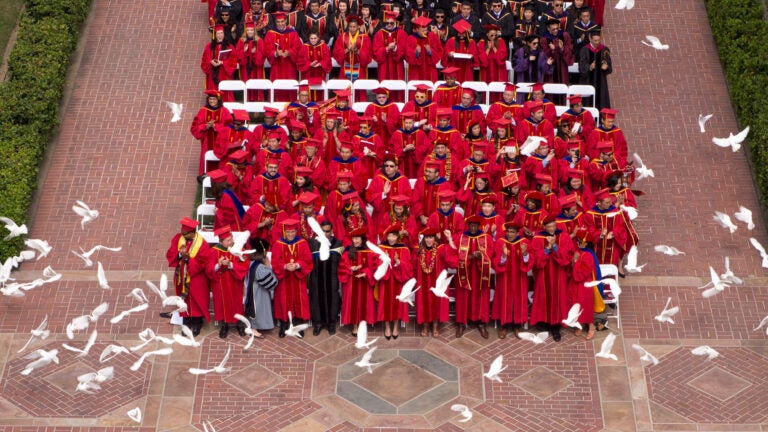 Oracle's Larry Ellison urges graduates to pursue their own dreams as USC marks 133rd commencement
The tech titan recalls the decisions that shaped his life and advice he received from longtime friend Steve Jobs.
Larry Ellison, the founder of Oracle Corp., grew up thinking he would move to Los Angeles, attend USC, get married and become a doctor.
Many people he grew up with on the south side of Chicago expected him to do just that, he told the thousands attending USC's 133rd commencement today on the University Park Campus.
---
COMPLETE COVERAGE: USC's 133rd commencement
---
"Over time, their dreams became my dreams. They convinced me that I should be a doctor."
Ellison attended college and took courses in pre-medicine. But he dropped out at age 21.
"Whatever the underlying reasons, I was unable to make myself into the person that I thought I should be," Ellison said. "So I decided to stop trying."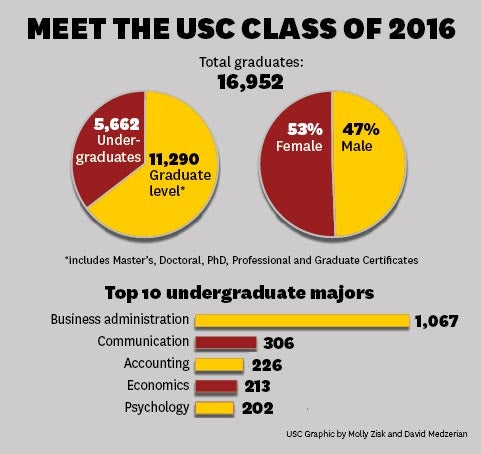 "Virtually everyone important in my life — my family, my teachers, my girlfriend — wanted me to be a doctor," said Ellison, who this week announced a $200 million gift for USC to establish a cancer research center, the Lawrence J. Ellison Institute for Transformative Medicine of USC.
He packed up his belongings and moved to Berkeley. Soon after, he began to work in computer programming. He embraced the outdoors. Ellison married, but his wife began to ask him to take classes and perhaps get a degree.
Ellison took some classes, but the most enjoyable one, he found, was a sailing course.
His wife kicked him out and accused him of lacking ambition — not knowing that later he would become an accomplished leader in Silicon Valley and an expert sailor, bringing back the America's Cup in 2010 and 2013 with Oracle Team USA.
Ellison said divorce marked a pivotal moment.
"Once again, I was unable to live up to expectations of others," said Ellison, who went on to found the tech giant, Oracle Corp., in 1977. "But this time, I was not disappointed in myself for failing to be the person they thought I should be. Their dreams and my dreams were different. I would never confuse the two of them again."
Nearly 17,000 degrees were given today to a diverse group of USC graduates, representing all 50 states and 112 nations. Commencement drew an estimated 60,000 people to support their loved ones in celebration of their achievements.
USC President C. L. Max Nikias praised the graduates gathered in Alumni Park, noting that they are forever members of the Trojan Family.
"Virgil reminds us that the Trojans' will could even bend the will of the gods toward their favor. The Trojans always seized destiny," Nikias said. "So remember: You do not go forward alone. You go forward as a member of a global Trojan Family with more than 350,000 members. And we shall always be at your side."
Advice from a friend
Speaking to the graduates, Ellison offered advice he learned from his close friend, Steve Jobs. The late Apple CEO and president of was friends with Ellison for 30 years.
Jobs died of cancer in 2011 at the pinnacle of success, but he had experienced extreme lows, too, Ellison recalled.
At one point during Jobs' absence from Apple, Ellison met with Jobs to walk together at Castle Rock State Park in the Santa Cruz Mountains and offered to help him by buying the company and appointing him CEO. Jobs declined and offered another plan that would involve putting him on Apple's board.
Ellison questioned whether Jobs' plan would be profitable.
"Steve said, 'Larry, this is why it's so important that I'm your friend. You don't need any more money.'
"Yeah, I know, I know, but we don't have to keep it, we could give it all away," Ellison responded.
Jobs said: "I'm not doing this for money. I don't want to get paid. If I do this, I need to do this standing on the moral high ground," Ellison recalled.
Ellison joined the Apple board of directors and then Jobs became a board member. "And then I watched Steve build the most valuable company on Earth," he said.
Ellison told the newly minted graduates that he learned through Jobs and his own life that "passion and love are different," he said.
"Deep inside of all of us — all of us — there is a primal desire to do something important with our lives," he said.
Honorary degree recipients
Ellison was one of six people presented with honorary degrees. The others were Academy Award-winning Mexican filmmaker Alejandro G. Iñárritu, known most recently for the film The Revenant; Jackie Lacey, the first African-American and woman to be elected and sworn in as Los Angeles County District Attorney; Mark Stevens, a USC trustee and managing partner of his family investment firm, S-Cubed Capital; Mary Stevens, a co-chair of the Sacred Heart Prep (Atherton) Spring Auction and member of the Alzheimer's Association's Part the Cloud Committee; and Selim Zilkha, the co-owner of Zilkha Biomass Energy whose legacy is the Zilkha Neurogenetic Institute at the Keck School of Medicine at USC.
"As a group, they represent excellence in a broad variety of endeavors, but they share a passionate commitment to bettering the lives of others through their work," Nikias said. "Their collective contributions stand as an inspiration to us all."
Nikias recognized valedictorian Sulekha Ramayya for her achievements. Ramayya, a USC Renaissance and Presidential scholar, is a biomedical engineering major who also earned a minor in business finance. Nikkias noted that Ramayya has distinguished herself as an ambitious, compassionate social entrepreneur.
"She has co-founded a nonprofit organization — Mylaria — dedicated to helping combat malaria outbreaks in developing nations," he said. " Sulekha's interdisciplinary approach to her studies inspired her to work with our faculty and staff on establishing a program at USC that would allow students to obtain degrees in engineering and business."
Nikkias also recognized the Class of 2016's two salutatorians.
Ryan Lindveit received a bachelor of music composition degree from the USC Thornton School of Music. Literature is the backbone of much of his musical work. He recently won the USC New Music for Orchestra Competition with "Like an Altar With Nine Thousand Robot Attendants," a piece inspired by the late science fantasy author Ray Bradbury.
"Today, we honor his stellar artistic talents, as well as his academic excellence," Nikias said.
Adrienne Visani was recognized for her research at the USC Zilkha Neurogenetic Institute, as well as for her volunteer work at a medical clinic in South Africa. A USC Trustee Scholar, Visani earned a degree in neuroscience at the USC Dornsife College of Letters, Arts and Sciences.
"Today we salute Adrienne's brilliant scholarship and dedication to her medical training," Nikias said.
Among the students who received special recognition was 96-year-old Alfonso Gonzales, who recently discovered he was one unit short of his degree. A discussion with a member of the Office of the Registrar led the USC Davis School of Gerontology to create an independent study for Gonzales, a World War II Air Force veteran, to complete his degree.
Nikias praised Gonzales for his tenacity.
"Like a true Trojan, he was determined to 'Fight On,' and finish what he began," Nikias said, as the crowd cheered.
Words for the wise
During her speech, Ramayya offered three things for graduates to keep in mind as they start their careers or other endeavors: time, humility and mentors.
"Change takes time and requires patience," Ramayya said. "Our greatest achievements as a group will not just be the advancements we make but how we use those advancements to reduce global inequity."
Mentors are important to "preserve a perspective in a changing world," she said. "Mentors are not just advice givers but sounding boards — people that will humble you for your accomplishments and encourage you from your failures."
The 2016 graduates will move on to make their mark. Upon reflecting on his own life, Ellison said they are starting their own great adventures.
"Remember this graduates: In a constantly changing world, what is possible is a moving target," he said. "Don't be afraid to experiment, and try lots of different things. And don't let the experts discourage you when you challenge the status quo."
An environmentalist, Ellison encouraged Trojans to devote themselves to a righteous cause, "one that elevates you and improves the conditions of humanity and our planet."
Based on his own experience, he said: "Each of you has a chance to discover who you are rather than who you should be — a chance to live your dreams, not the dreams of others."