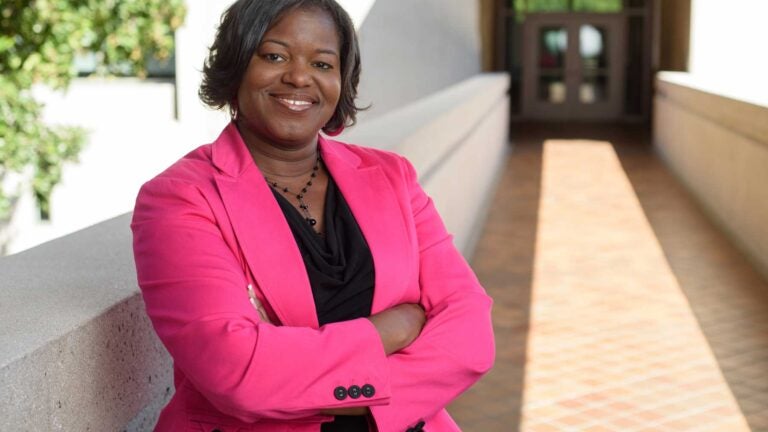 At 45, a USC entrepreneur finds the ideal graduate program in her own backyard
Kimberly Kelly-Rolfe builds a one-stop shop for the accounting, bookkeeping and payroll needs of small businesses
It all added up — and Kimberly Kelly-Rolfe really liked that.
Kelly-Rolfe, 45, who has owned and operated a local accounting and bookkeeping business for 20 years, was looking for a graduate program to help her learn how to scale up.
"I had just finished an emerging leaders program and I'd developed a model to help scale small businesses," she said. "But I had no idea how to start."
In the course of her research, she happened upon the one-year Master of Science in Entrepreneurship and Innovation at the USC Marshall School of Business — which offers would-be entrepreneurs a practical how-to on the fast-track — and knew right away it was what she wanted.
She liked that the focus was on the practical elements of building and growing a business.
I wanted a program where I could get in there and learn how to scale my business.

Kimberly Kelly-Rolfe
"I wasn't looking so much for academics," she said. "I wanted a program where I could get in there and learn how to scale my business."
So close
And it was at USC, a campus all but in her backyard.
"In high school, my English teacher had us doing research in college libraries, and so I spent many hours studying in Doheny [Library]," she said. "I feel at home on this campus."
But actually applying for the program required a leap of faith. She had graduated years ago from California State University, Northridge.
"I told my husband, 'they're not going to accept me at USC; I grew up here in South L.A. I'm a grown woman with two kids. I'm just not your typical USC graduate student."
But, in fact, as a businesswoman with an idea and a passion, Kelly-Rolfe was the perfect candidate for the USC Marshall master's degree.
"She had already started a business and she was passionate about her idea for how to grow it," said Tommy Knapp, associate professor of clinical entrepreneurship and academic director for the program. "That's the student profile we're always looking for."
Small business nation
Small businesses, defined by the Small Business Administration as any independent company with fewer than 500 employees, make up the vast bulk of American business.
According to the organization, 99.7 percent of firms with paid employees are small businesses, and in 2013, there were 28.8 million such businesses operating.
In 2015, Kelly-Rolfe had the opportunity to advocate for small businesses at the White House. One of the things she heard at that symposium was about accounting issues.
"We returned from that meeting and pivoted to focus on small businesses," she said. "We became a one-stop shop for the accounting, bookkeeping and payroll needs of small businesses."
Not long afterward, she enrolled at USC Marshall.
She took classes on the entrepreneurial journey, venture initiation and feasibility analysis. One of her favorite classes was "Founders' Dilemmas," taught by Noam Wasserman, professor of clinical entrepreneurship and author of the best-selling book of the same name. Wasserman made his academic name with this course at Harvard University, where he was a professor before joining the Lloyd Greif Center for Entrepreneurial Studies at USC in 2016.
She's a winner
But she also learned firsthand about what it means to be part of the Trojan Family.
"My cohort had a reputation for being one of the closest," she said. "We just truly love and enjoy one another. I have never experienced anything like it, and I'm a former sorority girl."
She also never imagined being chosen to receive the 2017 Marcia Israel Outstanding Graduate Student award.
"I had no idea until they announced it at the Marcia Israel Awards dinner," she said. "The vote of confidence from Lloyd Greif and his panel of entrepreneurial experts goes beyond anything I could ever have expected. I am so grateful."
The award is given once a year to a student whose business it is to give back to their community. Winners are chosen by Greif, the founding director of the Lloyd Greif Center, and a panel of experts.
The award has motivated her to continue advocating on behalf of small business nationally — and working locally to help another small business get its books in order.
"If every small business in the country employed just one more person, we'd have full employment," she said. "I think that's a goal worth working for."