Award-winning Genomic Scientist to Build New Department and Institute at USC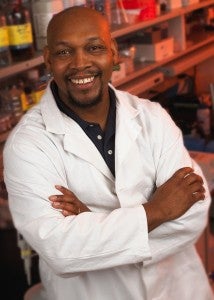 John David Carpten will put together a team to study genes and create personalized patient care
Contact: Zen Vuong at (213) 300-1381 or zvuong@usc.edu
USC has hired John David Carpten to lead a new department and institute that will translate the molecular study of genes into individual treatment plans.
Carmen A. Puliafito, dean of the Keck School of Medicine of USC, praised Carpten's breadth of expertise, which includes germline genetics in cancer and other heritable diseases, somatic cancer genomics and cell biology.
"Over the course of his career, Carpten has become renowned for his key discoveries and contributions in the fields of cancer genetics and genomics," Puliafito said. "He is recognized as a thought leader in the area of precision medicine, as shown by a number of papers describing the results of clinical cancer sequencing studies in cancer patients."
Carpten began his appointment as chair of USC's new Department of Translational Genomics and as director of the new Institute of Translational Genomics on Jan. 4. He joins Keck Medicine of USC's collaborative efforts to further "precision medicine," which aims to provide patients with individually tailored medical treatment and drugs.
Carpten said he plans to hire seven to 10 foundational faculty members over the next five years, adding he may have between five to seven of them on board by mid-summer. Degree programs in innovative areas of biomedical research eventually may be offered, Carpten said.
He is still developing primary areas of focus, but said they will likely include genital and urinary cancers, women's cancers and other tumor types such as multiple myeloma. However, the department will not focus exclusively on cancer.
"Other potentially ripe areas include neurological diseases, pediatric cancer and rare genetic syndromes," Carpten said. "I am also heavily committed to understanding why certain diseases and disorders are more prevalent among different underrepresented populations."
Stephen Gruber, director of the USC Norris Comprehensive Cancer Center, said Carpten is an international leader in cancer genomics and precision oncology, identifying mutations that create opportunities for targeted therapies directed toward each patient and each tumor.
"The new Department of Translational Genomics is an enormous asset not only for the USC Norris Comprehensive Cancer Center, but also for the Keck health system," Gruber said. "Hiring John Carpten and creating this new department will have a ripple effect across all of our USC campuses. This will help children with rare diseases at Children's Hospital Los Angeles and cancer patients with previously untreatable diseases at USC Norris. It will transform our thinking through the application of new methods formulated in collaboration with our engineering, computational biology and chemistry colleagues at the University Park Campus."
Before USC, Carpten worked at the Translational Genomics Research Institute in Arizona as deputy director of basic sciences and professor/division director of the Division of Integrated Cancer Genomics. Carpten said he came to USC because it is more than just a research institution.
"USC allows future Translational Genomics faculty and me to bring translational components directly into the clinical enterprise," he said. "Not only is the department situated in a distinguished medical school, but it also physically operates within the confines of a hospital. My department will have access to patients who are coming right through the USC clinical system. Our ultimate goal is to bring to bear novel technologies and molecular insights to help improve outcomes for USC patients."
The new department and institute reside in the Harlyne J. Norris Research Tower, which is in a wing of the USC Norris Comprehensive Cancer Center and USC Norris Cancer Hospital.
Carpten earned his doctorate in 1994 from the Department of Molecular Genetics at The Ohio State University. He began his career in genome science at the National Human Genome Research Institute and received extensive training in germline genetics and genomics. As a fellow, he focused on hereditary prostate cancer and was lead author of a Science journal study that was the first genome-wide scan for hereditary prostate cancer genes.
He is among the pioneers in health disparities research and used his skills to form the African American Hereditary Prostate Cancer Study Network, which led to the first genome-wide scan for prostate cancer susceptibility genes in African-Americans.
In 2014, the American Association of Cancer Research awarded Carpten the honor of Distinguished Lectureship on the Science of Cancer Health Disparities for his "far-reaching impact on the etiology, detection, diagnosis, treatment or prevention of cancer health disparities."
Carpten is uniquely prepared to lead a translational genomics team at USC, Gruber said.
"Translational genomics is at the forefront of modern medicine," he said. "Translational genomics is truly the definition of scholarship with consequence, creating the methods to bring genomic insights into patient care, where it truly makes a difference for people."
# # #