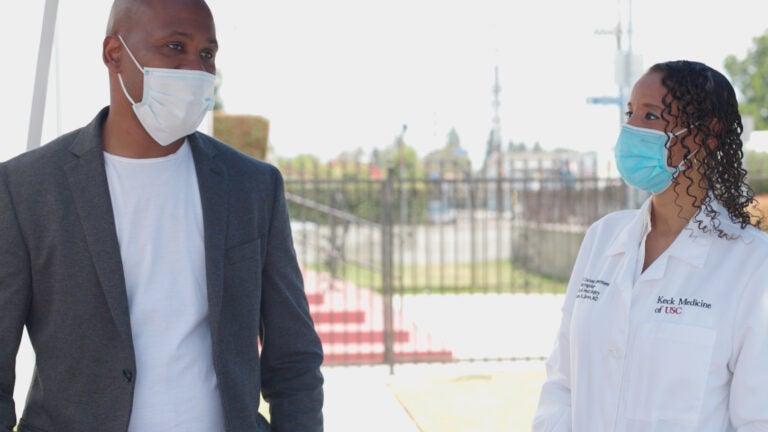 How Black church leaders and USC are overcoming vaccine hesitancy in Watts
The VaccinateLA health campaign connects community organizations in South and East Los Angeles with vaccines, doctors and other resources.
Alvin Stafford faced a critical challenge when he became pastor of Bethel Missionary Baptist Church last November: Los Angeles was in the midst of its second COVID-19 wave.
Being the pastor of a Black church in Watts gave him a front-row seat to the pandemic's devastation. Several members of the congregation lost their jobs. Many got sick, and 12 died during this COVID-19 season.
Stafford knew he had to act to protect his new community.
When a production company suggested filming public service announcements to promote vaccinations this spring, Stafford felt that wasn't enough. The people of Watts first needed vaccines, which were not readily available at the time.
"I declined and said it wasn't something I was willing to be a part of unless someone provided us with vaccines," he said. "I didn't want to encourage something that wasn't available."
Stafford was also adamant about having a vaccine pop-up clinic in the community. He didn't want the people of Watts to have to go to other neighborhoods for health resources like vaccines. They deserved the same access as every other L.A. community.
That's when he connected with the VaccinateLA health campaign.
The partnership among the Southern California Clinical and Translational Science Institute, USC, Keck School of Medicine of USC, Keck Medicine of USC and community partners like the Martin Luther King Jr. Community Hospital and Bethel Missionary Baptist Church helps residents of South and East Los Angeles get vaccinated. The production company that originally contacted Stafford, Everyone Can Eat, also joined the initiative and began filming videos and producing social media content.
The campaign leverages the expertise and respect of local community leaders to bring vaccines, doctors and food banks into historically underserved communities.
"There is something to be said about committing to the community," Stafford said, "showing that we are not afraid to be here and that the people of Watts deserve the same types of resources and service and professionalism."
Stafford was particularly appreciative of the fact that USC and Martin Luther King Jr. Community Hospital both came to Watts with banners, volunteers had uniforms and nametags, and residents could pick which of the three vaccines they wanted to take. "All of that made the community feel like they were getting first-class services in Watts."
Vaccine hesitancy proves to be a multifaced problem in Watts and beyond
Unlike early vaccination efforts in Los Angeles — when demand was high and supply was low — health officials faced a unique obstacle in Watts: vaccine hesitancy. Even though they qualified for the shot, many community members had yet to be vaccinated. Organizers had to build community trust and identify specific barriers that made the people of Watts hesitate when it came to the COVID-19 vaccine.
One of the first steps: holding a town hall with doctors from USC, Los Angeles County+USC Medical Center and Martin Luther King Jr. Community Hospital. Organizers from the Southern California Clinical and Translational Science Institute knew they needed to give the community room for questions. For some, it was their only chance to ask a doctor about the vaccine. To ensure community members could relate to the health professionals, all doctors who attended the town hall were people of color.
The No. 1 problem people were having wasn't, 'Where am I going to get the vaccine?' It was, 'Where am I going to get my next meal?'

Michael Greene
Sean McBride and Michael Greene, a producer and co-founder of Everyone Can Eat, respectively, documented the town halls and vaccination clinics. They saw the value of the campaign's hands-on, grassroots approach.
"If people are going to get vaccinated, they need to be comfortable," McBride said. "Are they comfortable with where they are getting it, with who is administering it? Are they getting their questions answered? It was taking a person-to-person approach instead of a mandate."
Greene quickly noticed another major barrier: food insecurity and its role in vaccination efforts.
"The No. 1 problem people were having wasn't, 'Where am I going to get the vaccine?'" he said. "It was, 'Where am I going to get my next meal?' For me, it was mind-blowing that in my backyard — Watts is 15 minutes from me — food insecurity is still the main concern, even during a pandemic."
If people are worried about where they are going to sleep or how they are going to get their next meal, he knew getting vaccinated would be a low priority.
VaccinateLA combines vaccinations and groceries to solve multiple needs
Once VaccinateLA organizers understood the role of food insecurity, they launched a unique model: a combined food bank and vaccine clinic. When community members arrived to pick up groceries, they could also get a vaccine shot.
Tamara Chambers remembers a special moment during the clinic. The chief medical director of otolaryngology at the LAC+USC Medical Center and associate professor of clinical otolaryngology at the Keck School of Medicine of USC had spent half an hour talking to a young man who did not want to get the vaccine.
She patiently answered all of his questions, then directed his attention to a single father with two kids. As they entered the clinic to pick up food, one of the kids complained about being hungry. She asked the young man to think about those children. They weren't eligible for the vaccine and hadn't been to school for months.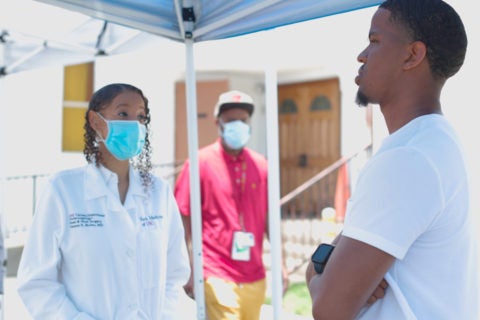 "For some kids, going to school may be the only meal they get that day," Chambers recalled telling him. "We can't get our act together with the vaccines, so that kid can't go back to school and get that one meal."
In that moment, she saw a flash of realization in the young man's eyes. He could help his community by being vaccinated. He agreed to get his first shot.
For Chambers, that small interaction was a huge deal. It meant this young man, and other people he interacted with in Watts, would be much less likely to end up in the hospital with COVID-19. And she knows firsthand why that is so important.
USC doctors hope that building community trust will lead to more vaccinations
Chambers spent the pandemic treating the most serious cases at LAC+USC Medical Center. During the peak of the pandemic, when hospital resources were strained, she was the only doctor who would perform a tracheotomy.
The procedure involves cutting into a patient's windpipe to relieve stress on the lungs. It can help get patients off ventilators, which were in short supply. But by doing the procedure, doctors risk direct exposure to the coronavirus.
Asked why she was willing to risk her health, Chambers said her mother often repeated the phrase, "to whom much is given, much is expected." She sees it as her responsibility as not only a doctor but also a Black woman to help the community.
"COVID has really decimated and ravished the Black and brown communities," she said. "We know these communities disproportionately have medical problems. We know they are least likely to seek health care. It has affected people's ability to learn, to go to school, to keep their jobs, care for their families and have a decent quality of life."
To date, the VaccinateLA initiative has vaccinated 20 people. It's a modest number, but organizers behind the initiative expect it to grow as they build trust in the community. They know people in Watts and elsewhere have good reason to question authority.
"There are so many factors to consider, the first being trust," Stafford said. "We are still very much in the middle of serious social issues with police officers on trial for murdering people. There is just a disconnect, so trust is a big part of this. Quite frankly, we are still addressing it."
VaccinateLA has another clinic scheduled for August 8. Doctors and volunteers will strive to increase the number of vaccinations they deliver, even if it means convincing one person at a time. Chambers knows that COVID-19 will continue to spread as long as there are vulnerable people who haven't received the vaccine.
"It's not a matter of if," she said. "It's a matter of when you will get COVID if you are not vaccinated."