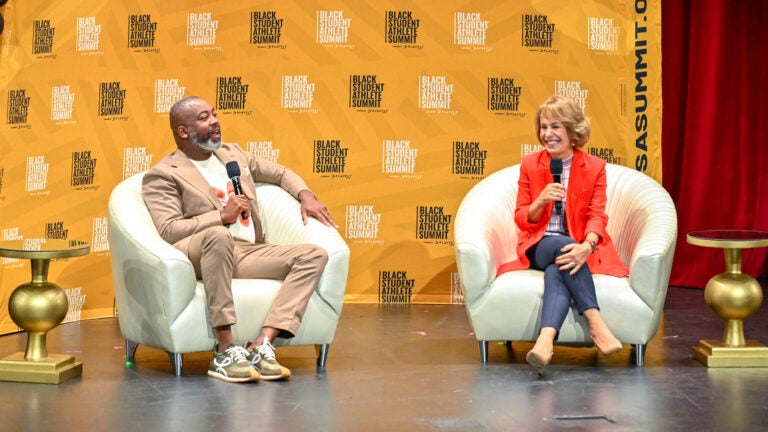 Folt encourages student-athletes at conference to be their 'authentic' selves
More than 1,400 attend 2023 Black Student Athlete Summit on the USC University Park Campus.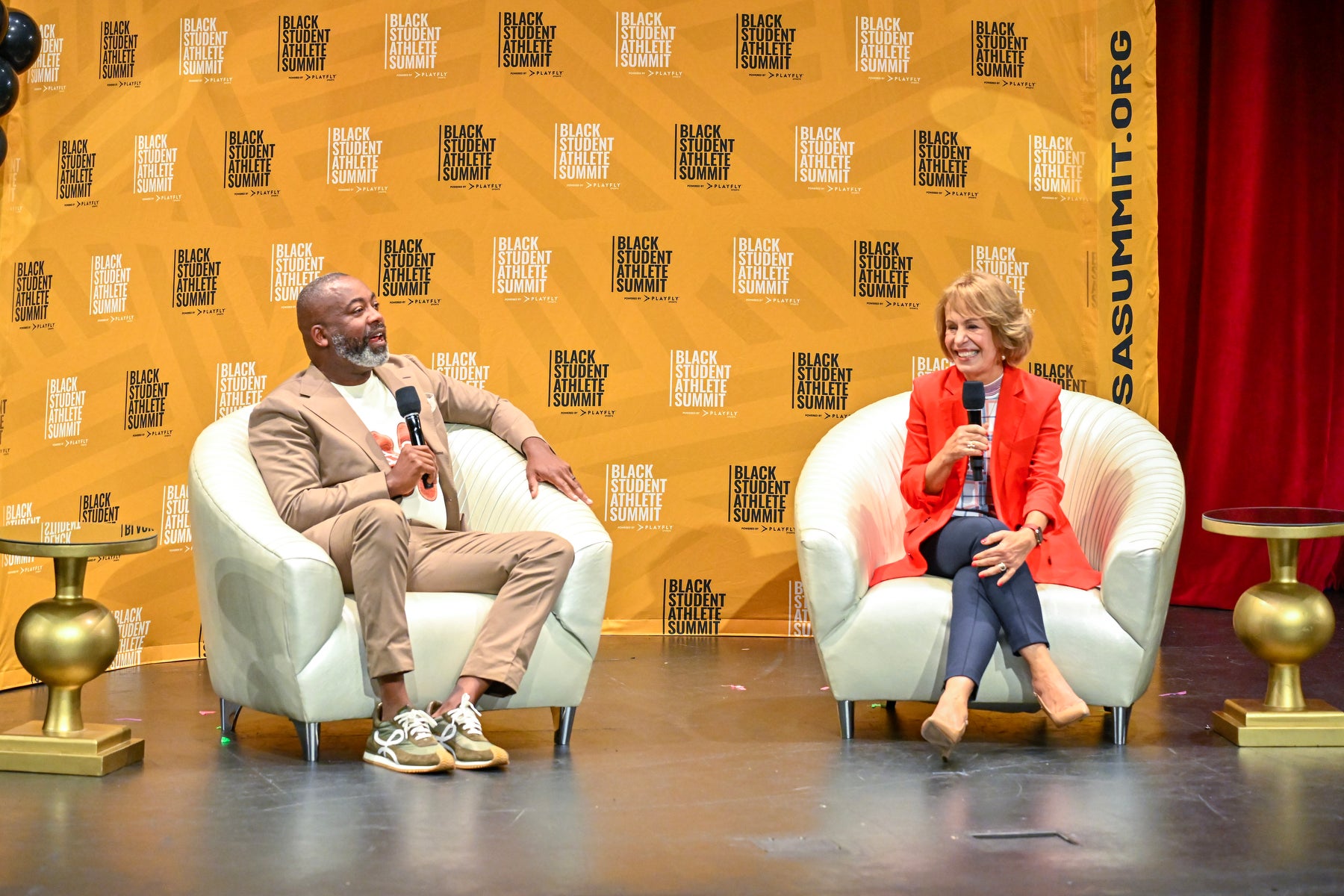 The DJ onstage at Bovard Auditorium played Aretha Franklin's "Respect" as USC President Carol L. Folt arrived at the 2023 Black Student Athlete Summit on Monday morning for her fireside chat-style interview with Leonard N. Moore, the summit's founder and executive director.
The respect was clearly mutual.
"We are so honored to have you here," Folt said to the crowd of students, many of whom had traveled from colleges and universities across the country for the conference. "This is an amazing organization, and we love to see it flourishing like this."
Folt's appearance came during Day 2 of the four-day event, which continues on the University Park Campus through Wednesday.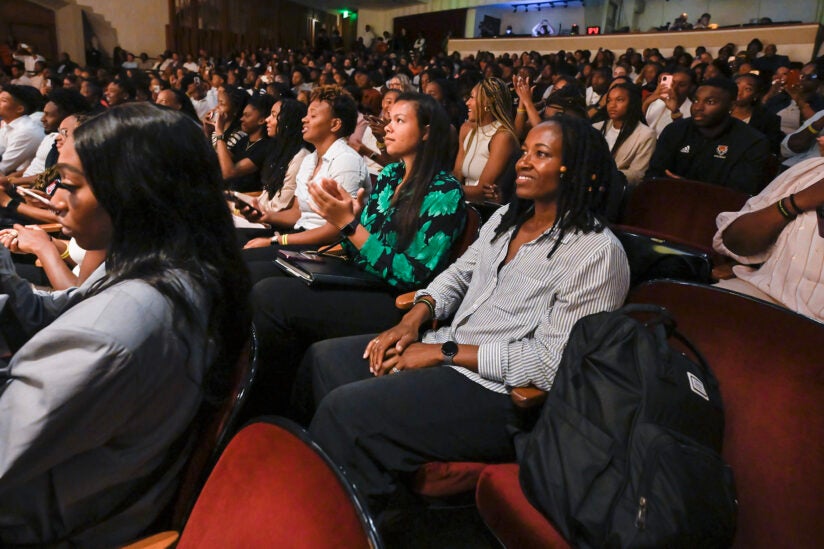 The summit drew 1,440 registrants this year — approximately 600 more than the previous year, when it was held in Houston. It is described as the only event of its kind that focuses on the "holistic development" of Black student-athletes and works to prepare them for life after sports.
Attendees are able to connect with a wide range of professionals in the world of college sports who can help them maximize their college experience and navigate post-graduation opportunities.
Tuesday afternoon's "Pro Day" session, for example, gave participants time to meet with Black former student-athletes who are now working in such professions as athletic coaching, consulting, technology, law, politics, music, journalism, marketing and medicine, among other fields.
Branding, faith and real estate at Black Student Athlete Summit
The summit includes numerous table talks and forums, including one titled "Hairstyles, Tattoos, Piercings and Gold Teeth: How Do We Mentor?" Others feature Black athletes from Ivy League schools, a discussion with former NBA player Matt Barnes, and a panel on how a white coach or staff member can connect with their Black student-athletes.
There are also sessions on personal branding, the power of faith, why Black representation in college athletics matters, and how Black student-athletes can buy, develop and own real estate.
During her time onstage, Folt said she wants to see student-athletes "flourish in all aspects of their life," including when it comes to their professional aspirations.
"I believe in the student-athlete model very, very deeply."

— Carol L. Folt, USC president
"I believe in the student-athlete model very, very deeply, and I do believe you can be successful at both," she said. "Our efforts have to make that success possible so that the students aren't pulled apart, the faculty aren't pulled apart and the staff and coaches aren't pulled apart. It's going to take a lot of work, but it's worth doing."
Folt said she believes it is the university president's job to really understand students and added that one of the most important things she likes to say to them is: "You do need to be your authentic self."
Preceding Folt on the Bovard Auditorium stage was a conversation featuring Resa Lovelace, assistant athletic director at the University of Maryland. This is the fifth summit for Lovelace and her first time on the University Park Campus.
Black Student Athlete Summit: 'We've been embraced'
"I'm blown away at how USC has created this space for the conference," Lovelace said after leaving the stage. "I feel like we've been embraced by the institution and able to show up as our authentic, Black selves in this space."
Lovelace believes the summit is a major opportunity to influence student-athletes at a critical time in their lives.
"We often talk about athletics as this family, but in some ways we don't see all of the family," she said. "How do we create spaces where students, staff and coaches can just bring who they are to the environment so that the next generation coming behind us know that they can just be who they are, whether it's showing up Black and proud, waving your international flag or your LGBTQ pride flag?"
On Wednesday, the event will conclude with a conversation with Lesley Slaton Brown, chief diversity officer for the National Basketball Association; a panel of voices from the National Collegiate Athletic Association national office; a discussion with Rich Paul, founder and chief executive officer of Klutch Sports Group; and a group photo shoot at Allyson Felix Field.