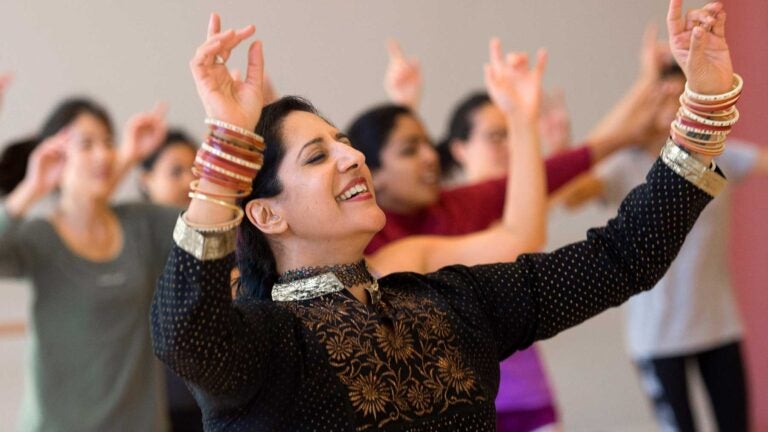 Bollywood class brings the sounds and moves of India to USC Kaufman
Groundbreaking class takes the stage as the school expands its repertoire of world dance
[new_royalslider id="144″]
Growing up in Cleveland, Achinta S. McDaniel had two lives when it came to dancing.
During the day, she was doing traditional Western dance — jazz, tap and modern.
At night, she'd return home to speak in Hindi and Punjabi, watch Bollywood movies and choreograph Bollywood dances for friends, weddings and graduation parties.
After college, she saw two potential paths: pursue the modern choreography she learned at New York University or give contemporary Indian dance a shot. After studying classical Indian dance in India for six months, she knew the answer.
[soundcloud url="https://api.soundcloud.com/tracks/282738763″ params="auto_play=false&hide_related=false&show_comments=true&show_user=true&show_reposts=false&visual=false" width="100%" height="450″ iframe="true" /]
She came back and founded her own contemporary Indian dance company, Blue 13 Dance, which tours, teaches and is a go-to choreographer for TV and film.
Now she's bringing that background to the dance floor at the USC Glorya Kaufman School of Dance, where she's teaching its first Bollywood course.
A curriculum with Bollywood aside ballet and modern dance could be indicative of a larger shift in the West, accepting Bollywood as a serious dance form, McDaniel said.
"It's refreshing that it's taken seriously at that level, and I think Kaufman is groundbreaking in that it might be the first to do so," she said.
A world view
Last year, USC put a call out for a Bollywood lecturer, looking to expand its repertoire of world dance. The school also added Afro-Cuban dance this year and hopes to add others, such as Latin ballroom and flamenco.
Billions of people pay to see Bollywood films in India and more and more are being filmed in Hollywood.

Jodie Gates
"Rather than introducing classical Indian dance forms directly and out of the gate, I chose Bollywood because of its affiliation with film," said Jodie Gates, vice dean and director of the school. "Billions of people pay to see Bollywood films in India and more and more are being filmed in Hollywood."
McDaniel has the perspective of working in the entertainment industry, choreographing for a 2015 episode of Fox's New Girl and The Strokes' music video "Threat of Joy."
Students in the Bollywood class like the fact that it's not just recreational: It's academic, too. They analyze the symbolism, themes and fundamentals of the dance, which is rooted in classical Indian forms.
"You look at Bollywood critically, and you also combine it with other dance forms and create this dance that has elements from Egyptian dancing and western jazz," said Aneesha Madhok, a theater major who grew up in India. "You learn it with an artistic perspective."
In one recent class, they discussed what an "item number" was – a performance in a film, usually by a beautiful woman. A group of men surround the "item girl" as she performs the dance, wooing the male character. It's sometimes irrelevant to the plot and used just to market the film.
"I made them all research what that was exactly because a lot of people have never heard of it," McDaniel said. "It was nice to see everyone be like, 'Wow, she did four costume changes, that's characteristic of an item,' and the question came up: Are there any men that do an item number? So that's their homework."
Diverse dancers
The class is open to students who aren't dance majors, making for a diverse group studying disciplines across the map.
Natalie Monger, 19, grew up dancing jazz, contemporary, ballet and modern. But Bollywood wasn't something offered back home in Dallas.
I really like how powerful the movements are and how upbeat the music is.

Natalie Monger
"It was a step out of my comfort zone, but I really like how powerful the movements are and how upbeat the music is," said Monger, who is majoring in computer science and business administration.
"I think it's amazing they're expanding our horizons [beyond] classical European and American kinds of dances."