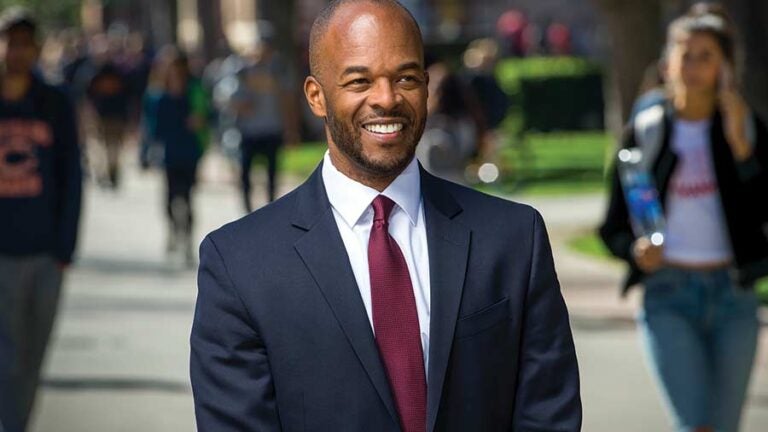 This USC Marshall Alum May Be the Ultimate Student Mentor
For networking pro Donald Dean '90, there's something special about Trojans helping Trojans succeed.
Donald Dean '90 leads a double life.
By day, he oversees a regional sales team for French pharmaceutical company Sanofi. By night—and afternoon, evening and weekend—he pours his time into his other passion: the Trojan Family.
Dean has mentored students for more than 10 years and serves on numerous USC alumni boards and associations. As co-chair of student outreach on the USC Alumni Association's Board of Governors during the 2014-15 academic year, he brought together students and alumni to share stories and celebrate USC traditions during family-style dinners. The association recognized his dedication, volunteerism and service in 2016 with the President's Award.
"I light up like a Christmas tree whenever USC comes up," Dean says. "I'm excited because I can see where the university is going and how it's grown. From USC Village to all the buildings going up around campus to new programs at the schools, it seems like there is something new every week."
Despite growing up near UCLA, Dean decided not to follow his older sister's footsteps into Bruin territory. He had noticed a close camaraderie among several USC grads at his after-school job at a department store, and it fascinated him.
Hopefully when they graduate, they want to come back and help out in that same way. I've always loved to see Trojans helping Trojans.

Donald Dean
"I knew right then I wanted to be a Trojan," he says. Within weeks of setting foot on campus, he knew he had made the right choice. "It was everything I imagined it could be."
As a marketing major at the USC Marshall School of Business, Dean was already looking out for his fellow Trojans. He helped recruit companies for student networking events, which led to many internship and job connections. After graduating, he stayed involved with USC, volunteering with alumni groups and serving as founding president of the Second Decade Society, which offers networking events, cultural activities and social get-togethers for USC alumni in their 30s and 40s.
PROTOTYPICAL USC MENTOR
But perhaps his biggest contribution comes through his mentoring and networking work with current students. It's hard for him to say no, he says, which probably explains why at one point he had 20 mentees and had to organize group sessions to handle the demand.
"One thing I always encourage them to do is to start early—get an internship and set yourself up for graduation, so you aren't waiting until the last minute," he says. "USC is known for its network, so you want to connect with companies and make sure they know who you are."
He has become so popular as a USC mentor that students from across the university have approached him for support, including one from the USC School of Cinematic Arts who would call for advice as he worked through negotiations in the entertainment industry. When the student returned to campus to screen a short film, he stopped in the middle of his remarks to thank Dean for his support. "I wasn't expecting that at all," Dean says, "but you never know the impact you are going to have on someone."
It's this kind of connection that he sees as the strength of the Trojan Family. "Hopefully when they graduate, they want to come back and help out in that same way. I've always loved to see Trojans helping Trojans."
USC offers mentoring opportunities for students across the university. USC Marshall runs its own Career Advantage Mentor Program for undergraduate business majors. The USC Career Center can link students from all majors, including first-generation students, to mentors as well. Visit the USC Career Center's mentoring services online to learn more.