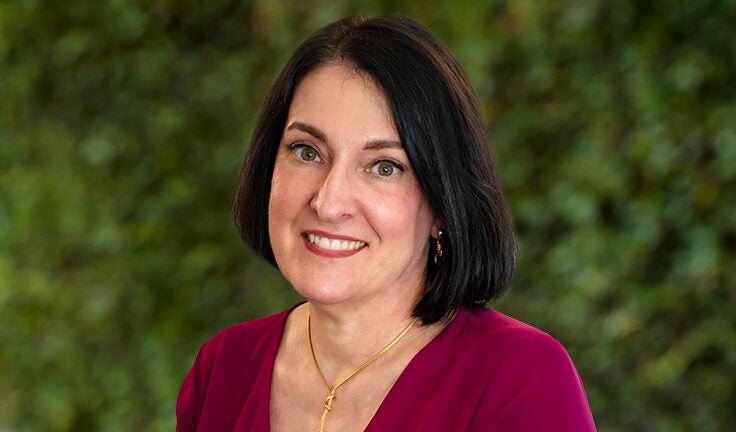 USC Alumna Prioritizes Sustainability and Access as California's State Architect
As California state architect, Ida Clair '87 helps set the standard for building sustainability, accessibility and safety.
Ida Clair '87 is quick to point out the irony of her job as California state architect: She doesn't design buildings.
Headquartered in Sacramento, the Division of the State Architect (DSA) is a regulatory entity, providing design and construction oversight for public schools, community colleges and state-owned essential services buildings. It also develops building safety codes and ensures that designers and builders comply with those rules.
But can still use her creativity and knowledge to make an impact on California. She's an expert on accessibility and sustainability, two big priorities for her division.
Affordable housing is so desperately needed in California.

Ida Clair
"I love what I do now. I'm still problem-solving, and that's what I've always enjoyed about being an architect," says Clair, who earned her bachelor's degree in architecture from USC. "My process now doesn't result in the design of a building, but it involves solving project-related issues so that school construction is not delayed and creating regulations that are necessary but do not limit design solutions."
Before joining the division, Clair spent more than 26 years in private practice. She focused on affordable and sustainable multifamily housing. "I enjoyed the work because there was an equity component," she says. "Affordable housing is so desperately needed in California."
One of her proudest achievements is a housing facility for residents transitioning from homelessness. "It was energy-efficient with a visually appealing aesthetic," she says, and it received the highest score for sustainability under the Building Green certification program when it was completed.
The USC alumna was appointed the first female state architect by Gov. Gavin Newsom in April after serving as acting state architect since January 2019. She joined the DSA in 2013, becoming the first technical administrator of the Certified Access Specialist Program, which ensures accessibility standards for buildings.
USC-Trained State Architect Helps Build a COVID-19 Response
With offices in Sacramento, Oakland, Los Angeles and San Diego, the DSA expedites plan reviews for all projects related to pandemic response so that schools can reopen safely. The division prepared guidance for schools and meets with school staff to help them identify comply with codes when they plan to improve facilities to reduce COVID-19 risk. Schools might want to upgrade ventilation upgrades or set up tents for outdoor instruction, for example.
"Schools have been scrambling because of the influx of funds, at both the state and the federal level," Clair says. "So we have been working with the California Department of Education to make sure schools understand what they need to do."
"Our goal is to get our schools to net zero energy.

Ida Clair
Meanwhile, the DSA continues to address requirements under CALGreen (the first state-mandated green building code in the nation, developed in 2010) for schools and community colleges, including the installation of shade trees, carbon monoxide monitors in classrooms and electric vehicle-charging stations in new parking areas. "Our goal is to get our schools to net zero energy," Clair says. "We consider what's good for the environment but also what provides that additional equity to students, especially in underserved communities."
An advocate for education and outreach — her own children attended public schools — Clair continues that commitment today. "The more you engage students in sustainability issues, the more you create future sustainability champions."