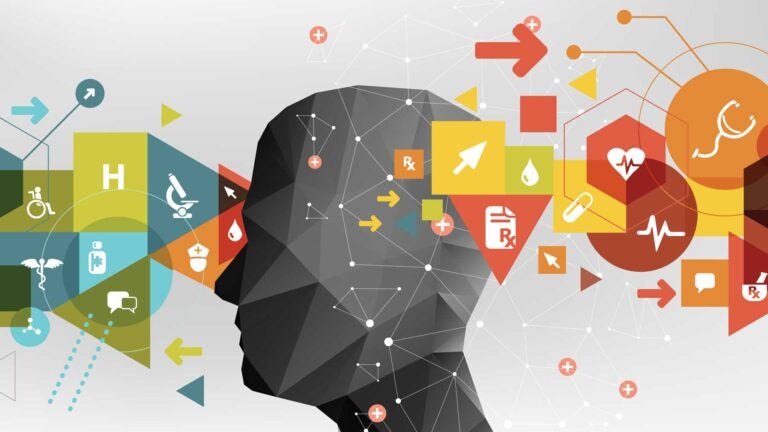 Calling on students to develop fresh approaches to total patient care
The USC Iovine and Young Academy is starting work on a new track for students to help patients participate in their own care
What if we put as much innovation design talent and thought into the patient experience as we do into our cellphone cameras and dating apps?
The USC Jimmy Iovine and Andre Young Academy wants to find out. This week, the academy announced a $425,543 grant from the Phase ONE Foundation, a nonprofit organization dedicated to cancer research, that will initiate a full-scale, four-year undergraduate track focused on health innovation to help patients achieve better outcomes.
The interdisciplinary undergraduate track is anticipated to launch in fall 2019.
As part of this new educational track, students will be immersed in an information-rich learning ecosystem where they will interact with physicians, scientists, patients and graduate students to develop innovative health solutions aimed at improving patient outcomes.
"Phase ONE's gift ensures we have the resources to continue to provide best-in-class education and develop innovative, agile thinkers who will help to shape the future of the health industries," said Erica Muhl, dean of the USC Iovine and Young Academy and the USC Roski School of Art and Design.
The convergence of biotech and design innovation
The academy has already started to lay the groundwork for this new course of hands-on study. Since last year, students have been working with USC's Convergent Science Initiative in Cancer led by Peter Kuhn, a faculty member at the USC Michelson Center for Convergent Bioscience and dean's professor at the USC Dornsife College of Letters, Arts and Sciences, to "hack cancer," as Kuhn puts it.
Alongside faculty, physicians, researchers and patients in Kuhn's lab, the students have been helping to develop CancerBase, a quantitative social networking platform that enables cancer patients to map and understand their own disease and situation along the disease development path. CancerBase was featured at former Vice President Joe Biden's Cancer Moonshot in June 2016, as well as former President Barack Obama's White House South by South Lawn Festival in October 2016.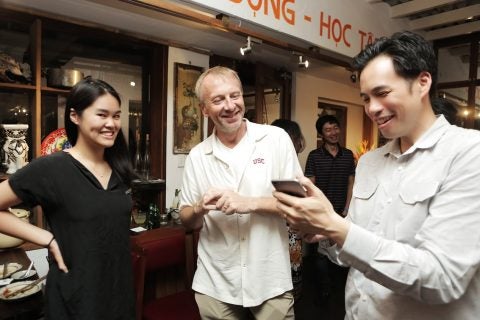 In working with CancerBase, Iovine and Young Academy students have focused on designing a user experience that effectively allows patients to open up about their care experience with other patients. Students are using the innovation design philosophy and the principles of popular user interaction platforms like Facebook and Twitter to produce a connective and empowering experience for patients anywhere in the world. Researchers can then use the data shared by the CancerBase participants to better understand how the disease works on many different levels.
"Cancer is so much of an unknown to the patient due to its complexity, but we do know so much more today about the disease then we ever did. However, it is challenging to bring this knowledge to the patient in a meaningful way. It is clear that we have to take the patient into consideration as much as the disease itself, so we are laser-focused on patient-centered innovation," said Kuhn, who is also a professor for the Keck School of Medicine of USC and the USC Viterbi School of Engineering.
The immersive cancer module organized by the academy, which continues through the start of the new health innovation track in 2019, will allow students to have access to Kuhn's lab at Michelson Hall, USC's hub for convergent bioscience.
At the newly opened Michelson Hall, scientists and engineers from USC Dornsife, USC Viterbi and the Keck School of Medicine are working to solve some of the greatest intractable problems of the 21st century in biomedical science, from a fundamentally new understanding of the cell to new approaches for cancer, neurological and cardiovascular disease.
For the academy's undergraduate track on health innovation, students will work closely with the Michelson Center's premier network of scientists and engineers, whose portfolios include a long history of research and innovation, including new therapies and diagnostics.
In 2019, students in the health track will have another new hub where they can hack cancer: Iovine and Young Hall.
Academy students are very well-equipped at helping us discern the problem and then putting together the pieces to solve it.

Peter Kuhn
"We are turning silos into pillars of the future," Kuhn said. "Academy students are very well-equipped at helping us discern the problem and then putting together the pieces to solve it."
Innovators of tomorrow solving wicked problems
As part of the academy's junior year "Discerning and Making" class, students learn about the design strategies employed by such companies as Adobe and TOMS Shoes. One of the first participant institutions in the class last year was CSI-Cancer and the CancerBase project.
Senior Sara Ma was in that class and was one of the first academy students to work with CancerBase, interning with Kuhn during the summer before she took the "Discerning and Making" class.
She came to the academy as someone interested in coding and graphic design, but immediately gravitated to the challenge and impact that CancerBase presented.
"I wanted to help solve the problems that need to be solved yesterday," Ma said. "Much of the health industry feels like it has a huge barrier to entry, but the great thing about working with Peter Kuhn is that he lets you in. You don't necessarily need that MD or PhD to make a difference."
The Iovine and Young students in the new track on health innovation will continue to focus their talents on one of the most challenging and important design questions of our time, but they will also apply the lessons learned from designing for the patient's "user experience" to enhance their personal grounding in design education.
"There are these amazing tools where you can help someone not be so scared about their next surgery or better plan around their own schedule," said Parker Malachowsky, a senior who was part of the first "Discerning and Making" class and will be part of the "first cohort" at the academy graduating this spring. "Really hard problems really need multidisciplinary approaches. You need something that allows you to look more at the complete picture, and I think that's a testament to what we're trying to do here."
Malachowsky, who like Ma grew up in Silicon Valley's backyard in Northern California, first became interested in the design and technology principles of music production as a high school student. He applied to the Iovine and Young Academy after seeing an article about the new school in Trojan Family Magazine (his brother is an alumnus). He is currently working on a user interface to help doctors better parse information with machine learning.
Ma continues to work with CancerBase and, as part of her senior project, is co-developing a smartphone app that will allow CancerBase's patients to better negotiate their side effects.
With an entire track now devoted to health innovation, even more young creatives from USC have now been put in a position to think about how other life-saving technology might be designed so that it can indeed hack cancer and other deadly diseases.