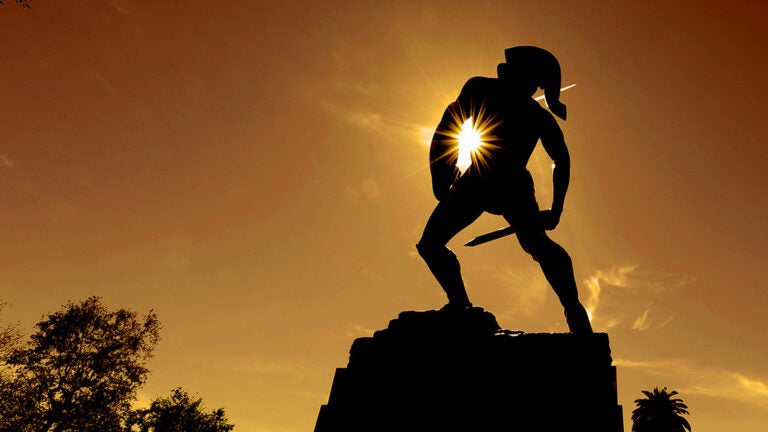 Campaign for USC crosses $4 billion milestone
Fundraising effort supports academic excellence; goal is $6 billion
The Campaign for the University of Southern California — the university's ambitious $6 billion fundraising effort — has passed a key milestone, crossing the $4 billion mark.
"Among all colleges and universities in our nation, only Harvard, Cornell, Stanford, Penn and Columbia have accomplished this," USC President C. L. Max Nikias wrote in a letter on Jan. 27, "and what is even more remarkable: We achieved this landmark in just 4½ years.
"I share this news with great pride and gratitude, as it represents the collective efforts and dedication of the entire Trojan Family, with gifts coming from every corner of the world, and every constituent group in our community," Nikias said.
Nikias specifically noted the generosity of the USC trustees, along with the university's parents and alumni. He noted:
Trustees have given a combined $1.12 billion to the campaign.
60 percent of the total amount raised has come from non-alumni.
USC Athletics has raised nearly $280 million during the campaign, its most successful fundraising ever.
The campaign's focus is academics, said Albert R. Checcio, senior vice president for university advancement.
"We are humbled by the incredible support of the Trojan Family for the campaign, and excited by how this investment will empower our faculty and students to continue USC's pursuit of academic excellence," he said.
Nikias noted that there is still work to be done to reach the campaign's goal. "The final stretch of any campaign is always the most difficult," he said.
He concluded, "In a very real way, our campaign advances academic excellence that touches all sectors of society, while cementing USC's position among the world's top research universities."