Can Journalists Help Readers Navigate the Changing Media Landscape?
As the media industry copes with fake news, journalists still relish the chance to tell stories that matter.
One weekend last December, 28-year old Edgar Maddison Welch, a father of two, drove from his home in North Carolina to Washington, D.C. on a mission to protect kids.
In search of what he had heard were secret underground tunnels harboring child sex slaves, Welch armed himself with an assault rifle and a revolver and entered a pizzeria, terrifying diners. He fired at least two shots, including one that broke a lock off a door.
But he found no tunnels or captive children. After 45 minutes inside the restaurant, the misguided gunman surrendered peacefully to police and no one was injured.
Online conspiracy theories that had circulated about a sex-trafficking ring — allegedly masterminded by presidential candidate Hillary Clinton and a top aide — were far-fetched but too compelling for him to resist. The shooting incident, quickly dubbed "Pizzagate," unmistakably established the power — and consequences — of fake news.
As is often the case, however, crisis brings opportunity. In the wake of fake or sloppily reported news stories that have gone viral, veteran and aspiring journalists alike are redoubling their commitment to their craft. New efforts are underway to improve the public's media literacy. And at a time when traditional media struggle to find workable business models and many media outlets get by with a pared down reporting staff, the divisive political environment has increased readership for media stalwarts like The New York Times and The Wall Street Journal, both of which reported a recent jump in subscriptions. In the process, there is hope that the news-consuming public will appreciate anew the indispensability of quality journalism.
"We have a return to a clarity of what our mission is," says Willow Bay, incoming dean of the USC Annenberg School for Communication and Journalism and a veteran broadcast journalist and author. "It is a calling, not just a job."
?
WHY THE RISE OF FAKE NEWS?
Fake news, or "misinformation crafted to influence public opinion or cull digital advertising dollars," as the Columbia Journalism Review puts it, is increasingly difficult to separate from real news. According to the Pew Research Center, 23 percent of Americans say they have shared a made-up news story, either knowingly or not, and 64 percent say fabricated news stories cause a great deal of confusion about the basic facts of current events.
Even the most sophisticated are vulnerable.
Jacob Soll, a USC professor of history and accounting who is also a staff writer for Politico and a regular contributor to The New York Times and The New Republic, recalls that a "hysterical" political story appeared in the newsfeed on his smartphone after the 2016 presidential election and he quickly shared it on Facebook.
"Somebody said, 'That's not true,' and I had to take it right down," he recalls. "It makes you realize how Pavlovian one's reaction is to news stories. You're not sitting, reading, scouring the paper version of The New York Times or The Wall Street Journal over a table, which is a really different thing."
Soll traces the problem in part to a decline in the teaching of science and basic literacy. Only a few decades ago, he says, science was venerated in popular culture, but it's now poorly understood or distrusted. The dive in discernment leaves people vulnerable to the allure of fabricated information.
"People aren't reading in a complex way, so they're not going to sit down with serious news sources," Soll says. "They can't assess sources well."
Readers may think that the reliability of information in an ordinary blogger's site is the same as that in an outlet like The New Yorker, he adds, but it's not. "The New Yorker hires fact checkers from Princeton. There's a huge difference."
Of course, fake news — known in its incarnations as yellow journalism, bogus news and sensationalism — is nothing new. To stir up anti-British sentiment in 1782, Benjamin Franklin created a fake newspaper story claiming that Native Americans had sent the scalps of Americans to the king of England as a sign of loyalty. Franklin was able to pull off the hoax by printing an authentic-looking newspaper on his own printing press. Today, social media has given anyone with an internet connection the means to spread messages with a speed that Franklin could never dream of. In the U.S. alone, 70 percent of adults report using some type of social media.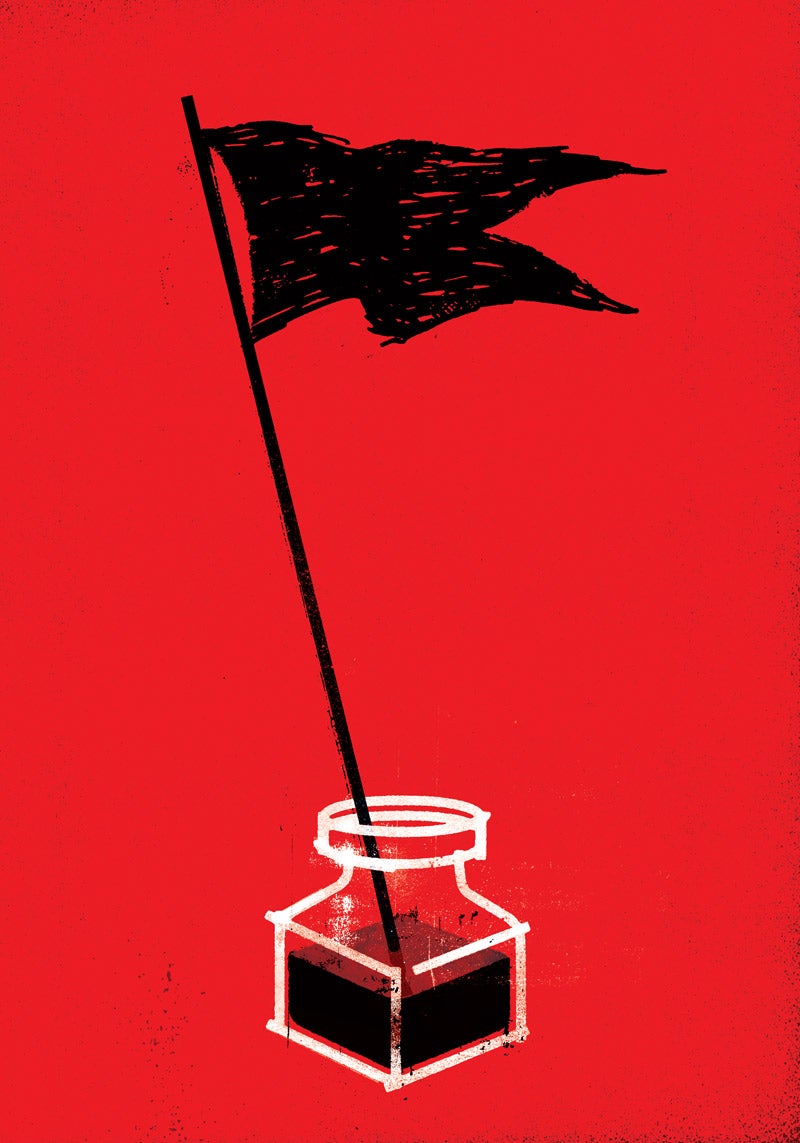 Gabriel Kahn, a professor of professional practice at USC Annenberg and a former bureau chief and foreign correspondent for The Wall Street Journal, notes that technological advances have leveled the playing field for anyone to create a website that at first glance looks like a credible news source. Moreover, he says, the algorithms employed by Facebook continue to feed users what they've already shown an affinity for. "It sounds true because it jibes with my worldview," he says of a person's typical response to fake news shared on social media. "You've got the perfect environment for people to live in their filter bubble and be served only ideological comfort food."
Social media users also get immediate visceral feedback when they share news online. As Bay puts it: "It's much more fun to spread something outrageous, whether you support it or are horrified by it, than it is some serious, substantive, accurate news information."
All of this is easier to understand when you consider that traditional news media have suffered losses in reach and in trust. According to Pew, only 20 percent of Americans trust the information they get from local news organizations. Meanwhile, 60 percent say they get their news from social media. But all is not lost for analysis and thoughtful reporting: Smartphone users are still reading and spending time on long news stories, indicating they've got an appetite for in-depth reporting.
?
CONSCIENTIOUS CONSUMERS
Even with fake news and the economics of traditional media working against journalism, experts see opportunities for it to thrive.
Bay says a key element of the solution is to make consumers savvier about what they see and hear. Schools can help meet that challenge.
"We spend a lot of time with young people explaining the dangers of online chats and social media accounts. We should be spending at least that much time, if not more, on teaching young people how to differentiate credible content from not credible content or hoaxes, which is in essence what fake news is," she says.
To that end, USC is offering "Navigating Media and News in the Digital Age," a required class for journalism majors that Bay believes would benefit all undergraduates. Among other things, it teaches readers to put every story through the "SMELL" test—examining it for sources, motivations, evidence, logic and what's left out.
"You're getting a piece of content on your phone, but it no longer comes with the signifiers of quality, or even authorship, that it once did," Bay says. USC, she adds, strives to teach students "to do more than consume media, but also to critique it and then to create it, to learn how to use the tools effectively, ethically and accurately to produce content of their own."
Newly graduated USC Annenberg alum Eli Goodstein '17 sees another solution: stepping out of the news bubble. "I think it's important to try following things that maybe [I] don't agree with, so I can hear what other people are talking about, so I can get both sides of the argument." This helps guard against being taken in by shoddy journalism, or worse, he says. "It's on the people who are consuming the news to really go out there and actually start listening to people."
?
REBUILDING TRUST
And journalists, too, must address the challenges themselves.
"As journalists and educators of journalists, we would be well served by combining humility with a powerful sense of purpose," Bay says. "Trust has to be earned—one reporter and one story at a time—by doing what good journalists have always done and focus on the core elements of their job: accurate, ethical, timely and relevant reporting."
Maybe people don't think so, but I actually think this is the best time to be a journalist. We're in a moment of reflection and reevaluation and it's really important for people who are in the field to do the best job that we possibly can.

Eli Goodstein
Kahn says responsible media outlets need to better explain their methodology and professional ethics so that the public can more easily identify the responsible from the irresponsible.
"The public doesn't quite understand the intricacies of the craft, the layers of editing, the editorial judgment, the corroboration and so forth," Kahn says. "Give the public some understanding that there is real effort put into this to make it fair and responsible and accurate."
The newly graduated journalists feel prepared to find the way forward.
Taking advantage of more immersive, sensory technologies, such as video on social media or storytelling on the radio, will be increasingly important for journalists, says Intisar Seraaj MA '17, who studied digital journalism at USC Annenberg and plans to pursue cultural reporting on the web or on radio. Digital tools can add layers of complexity and context that were impossible a few years ago.
"I know people are taken in by the clickbait, but I do think there are people still out there reading the deeper pieces," Seraaj adds. "They're maybe just not sharing it as much because it's not cute to share that kind of stuff on social media."
Goodstein says he was drawn to journalism so he could tell important stories on the most effective platform that reaches people where they are—whether it's traditional print or new tools like Facebook Live. He's not daunted by the challenges facing new reporters.
"I don't feel depressed; I actually feel very energized," he says. "Maybe people don't think so, but I actually think this is the best time to be a journalist. We're in a moment of reflection and reevaluation and it's really important for people who are in the field to do the best job that we possibly can."