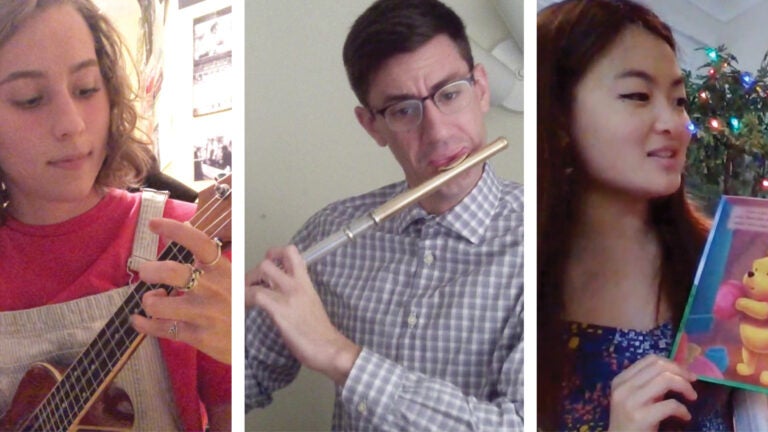 When Health Workers Fight Exhaustion, USC Musicians Soothe Their Souls
Artists send uplifting tunes that provide moments of relief during the pandemic — and you can watch and hear some of them below.
In a hospital that's still fighting a yearlong battle with a deadly virus, cheery jazz and reggae music might feel out of place. But not at Keck Medicine of USC.
Amid the intensity of the COVID-19 pandemic, health care workers have found moments of relaxation courtesy of dozens of local musicians — many of them students at the USC Thornton School of Music.
When the COVID-19 outbreak hit Los Angeles last spring, Keck Medicine officials sent out a call to musicians asking them to record a short video with a song and words of encouragement. The response warmed their hearts.
"We're still in the thick of it, and these videos have received really great feedback from people on the front lines," says Lauren Hoerchner, senior director for integrated risk management and organizer of the Music as Medicine program at Keck Medicine. "They help us experience a little bit of respite."
More than 90 submissions are now available to all Keck Medicine employees in genres ranging from pop and jazz to blues and reggae — and of course, Trojan Marching Band classics like "Conquest." Some students even recorded musical bedtime stories for health workers to share with their children after a long day in scrubs. Keck Medicine officials queue up the videos at the end of meetings, giving hard-working nurses, doctors, housekeeping crew members and other staff members a spirit-boosting moment to share.
"Everyone is very thankful," Hoerchner says. "Sometimes people pop into the chat and say, 'I love this song!' Other times I'll get messages after the meeting thanking me for playing one of the videos. We're always trying to share more videos and get new content."
Enjoy your own relaxing respite from COVID-19 with this collection of music from USC Thornton students.
---
Chandler Lawn
Major: Bachelor of Science, Music Industry
---
Francesca Boerio
Major: Bachelor of Music, Classical Guitar Performance; Bachelor of Arts, Cognitive Science
---
Marley Eder
Major: Doctor of Musical Arts, Flute Performance
---
Shelby Wong
Major: Master of Music, Piano Performance