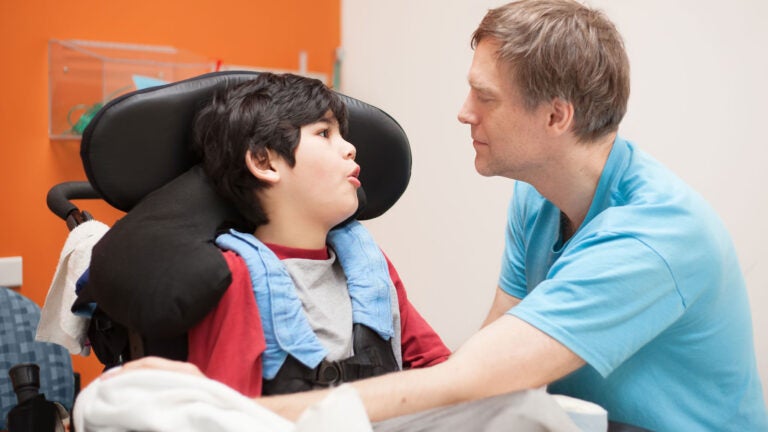 Caring for special-needs children at home brings high cost
USC-led study finds that home care is beneficial for the children, but it comes at great cost to family members or guardians.
U.S. families provide nearly $36 billion annually in uncompensated medical care at home to children who have special health care needs, such as muscular dystrophy and cystic fibrosis, according to a large national study.
The study by researchers at USC, Boston Children's Hospital and Rand Corp. appears to be the first to document the volume and cost of the children's in-home medical care. It found that an estimated 5.6 million children with special health care needs receive 5.1 hours of weekly medical care at home. In many cases, depending on their condition, children receive much more. While home care is beneficial for the children, it comes at great cost to family members or guardians.
Many parents and guardians are of limited means and would struggle to afford a professional caregiver, which would cost an estimated $6,400 a year per child, the study found. Even an unskilled professional to assist with care would cost them $2,100 a year.
To maintain their child's care, families often incur financial and emotional stress from reduced earnings.

John Romley
"Children with chronic health conditions require a significant amount of care, and hiring a home health aide can be prohibitively expensive for a family," said lead author John Romley, an economist at the USC Leonard D. Schaeffer Center for Health Policy and Economics. "To maintain their child's care, families often incur financial and emotional stress from reduced earnings."
Children who receive the most medical care at home tend to be age 5 or younger, are Hispanic, poor and live with conditions, such as cystic fibrosis or muscular dystrophy, that interfere with daily activities, the researchers found. Most of their parents or guardians did not graduate from high school. The families have had both public and private health insurance.
Although advances in care have enabled families to take on medical tasks such as changing feeding tubes or providing physical therapy at home, they do not receive reimbursement or pay for the hours they spend caring for the children. The value and cost of this care was unknown until now.
The financial burden of caring for children with special medical conditions can weigh heavily on families. Their efforts are time-intensive. Many miss work to care for their children. Collectively, the families lose more than $17 billion in income each year, the researchers determined.
"Parents want to do everything they can for their children, but it can be a real challenge to juggle their ill child, their other children and sometimes their job," says Mark Schuster, chief of General Pediatrics at Boston Children's Hospital and senior investigator of the study. "If parents did not provide this care at home, children would need to stay in the hospital longer, professionals would need to come to the home, or children might not get the care that their physicians prescribe."
The findings were published Dec. 27 in the journal Pediatrics.
Children receiving the most in-home care
For the study, the researchers analyzed data collected in the 2009-10 National Survey of Children with Special Health Care Needs. The survey results were based on telephone interviews with a sample of 40,242 parents and guardians of children with special needs.
About 11 million U.S. children have special health needs. Half of them – 5.6 million – receive at least 5.1 hours per week in medical care at home.
Care is much more time-intensive for certain conditions. The researchers found that 12 percent of the children receive more than 21 hours per week of care – largely for conditions such as muscular dystrophy, cerebral palsy, traumatic brain injury or concussion, intellectual disability or cystic fibrosis. These often are in combination with other health conditions.
The researchers estimated the value of their in-home care by calculating how much a family would spend to hire a caregiver. They based their estimates for lost earnings on the caregivers' wages.
For every child with special health needs, family caregivers forego an estimated $3,200 in earnings each year.
The families of these children do not just lose potential earnings or compensation, the researchers noted. Studies have shown, for example, that caregivers of a child who has cerebral palsy suffer psychological distress, cognitive issues and emotional problems. Out-of-pocket health care costs for a special health-needs child are three times more expensive than the out-of-pocket costs for children without any special conditions.
The researchers noted that the survey did not track the number of hours that caregivers spend assisting the children with routine daily activities such as bathing and dressing. "Had these tasks been included," they wrote, "the cost estimates would be much higher."
Policy solutions
Although the Affordable Care Act provides health care to many of these families, the researchers said that the national survey will not provide insight into its effects until the latest round of data collection, which runs through 2017, is completed and released.
The researchers said policymakers could help caregivers with their costs by offering employers incentives to adopt flexible work schedules or shared-leave programs for employees. They also suggested paid family leave programs, improving care coordination, providing respite care that gives caregivers an occasional break, and home visits by clinicians.
"We need to do a better job of training family caregivers in how to take care of their children at home, and we need better supports for them," said Schuster, a professor of pediatrics at Harvard Medical School.
The researchers received no external funds for the study. Other study co-authors were Aakash Shah and Katherine Vestal of Boston Children's Hospital, Paul Chung of UCLA and Marc Elliott of Rand.