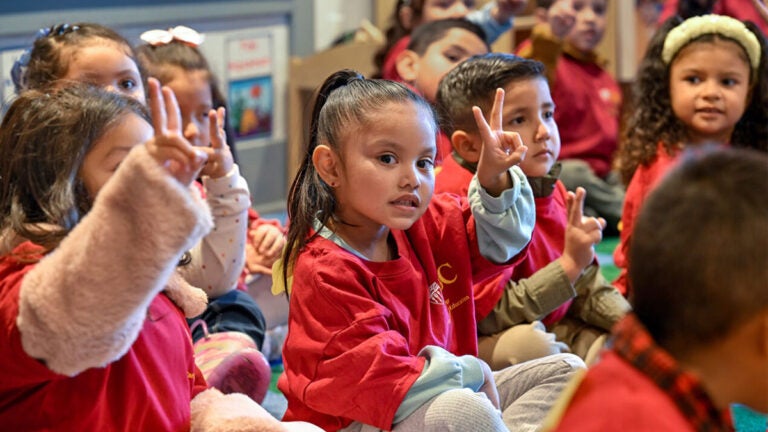 Celebrating Casa de Rosas' new Head Start center, housing for homeless veterans
USC President Carol Folt joins community leaders at the renovated campus, which includes a USC-run preschool and housing for homeless veterans and their families.
Veterans and families who have survived living on the streets of L.A. now call a small campus, Casa de Rosas, home.
On Thursday, city officials, local leaders and USC President Carol L. Folt joined together at the site, just north of USC, to cut the ribbon on the latest milestone in Casa de Rosas' story: an $18 million renovation overseen by the local Ward Economic Development Corp.
The transformation has rebirthed the historic 131-year-old West Adams site into a USC-operated Head Start school and housing with 36 units, including studio, single-bedroom and two-bedroom units.
Mayor Karen Bass noted the celebration was held the same week that the city and county learned they would receive $157 million to address homelessness through the "Continuum of Care" program administered by the U.S. Department of Housing and Urban Development.
Casa de Rosas is a hopeful sign that communities working with elected officials and federal agencies can collaboratively address homelessness, she said.
"Although I served as the cheerleader, it was your hard work that got this done," Bass said to Folt, Councilman Curren D. Price Jr. and Jacquelyn Dupont-Walker, who leads the nonprofit Ward Economic Development Corp.
Bass said that she is already speaking with Folt about how the city could work with the university to provide even more medical and health services to people experiencing homelessness. It would seem natural since the Keck School of Medicine of USC's innovative Street Medicine program has been a major care provider for the region's homeless population and was recently awarded funds to establish its mobile clinical model in other California cities.
L.A. is the City of Angels … and there are angels who live here. They are service members who have given the biggest gift of all.

Carol L. Folt, USC president
Folt called the vast number of collaborators — from community members to elected officials and the university — "angels" for their dedication to transforming Casa de Rosas to help veterans and families.
"L.A. is the City of Angels," Folt said. "This service to the community is the highest work. I don't know if I've ever been in a room that is so full of people who serve, and there are angels who live here. They are service members who have given the biggest gift of all."
USC oversees the federally supported Head Start program, which is one of eight that the university operates around the city. Two more are in the works.
At Casa de Rosas, nearly two dozen children ranging in age from 3 to 5 — some of them residents — greeted Folt as she walked into the Head Start classroom. The children sang "You Are My Sunshine" to her, and Folt read to them and taught them how to flash the two-finger signature "Fight On!"
These children represent just a fraction of the more than 500 children USC is helping through Head Start sites around the city. USC Head Start programs are overseen by Theda Douglas, USC's associate senior vice president for government programs and allied-health initiatives.
Years of sweat equity at Casa de Rosas
The massive undertaking at Casa de Rosas was made possible through a combination of federal and local support, such as tax credits and bonds — not to mention numerous people who always saw the potential in the unique Mission Revival-style fourplex that was languishing on the southeast corner of Hoover Street and Adams Boulevard.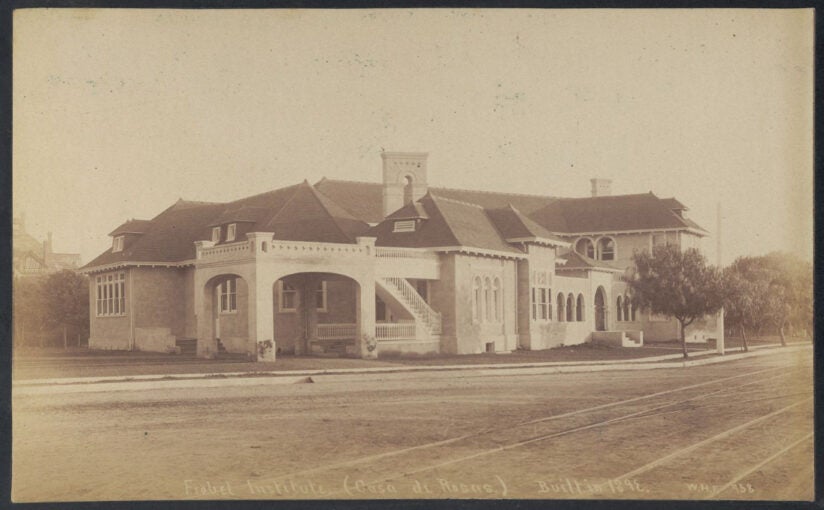 Years ago, when community leaders were first brainstorming how to save the historic property and address homelessness, several residents, minority owners of businesses, organizations that assist unhoused Angelenos and elected officials offered input. Their focus group shined a light on an overlooked population: single-parent veterans and their families.
"We started with a focus group that told us it is very difficult for single parents to come forward," said Dupont-Walker. "And even then, if they receive resources, they are afraid that their kids will be snatched from them."
L.A. has an estimated 3,400 unhoused families, and their members number more than 10,000 people. About 5,800 of them are children younger than 18, based on the annual count, which USC oversees for the local housing authority.
L.A. county and city agencies will receive about a third of the $525 million in funds coming to California, announced earlier this week by Secretary Marcia L. Fudge of the Department of Housing and Urban Development. Combined, the city and county's share represents nearly 6% of the $2.8 billion awarded to all 50 states to address housing and related service needs.
Many of the new residents who now call Casa de Rosas "home" were once among the thousands of people who lived in L.A. on its streets, in cars, in tents or makeshift shelters, squeezed into doorways, on sidewalks or bridges, or on the embankments that slope sharply toward L.A.'s twisted network of freeways.
The residents also are not the first unhoused to have found shelter in the charming complex. Nor has the complex only served as a shelter.
Building on a mission
Designed by architect Sumner P. Hunt in 1892, the four buildings at 2600 S. Hoover St. resemble a small Spanish mission like those established by the Spanish missionaries who had been in the region more than a century before.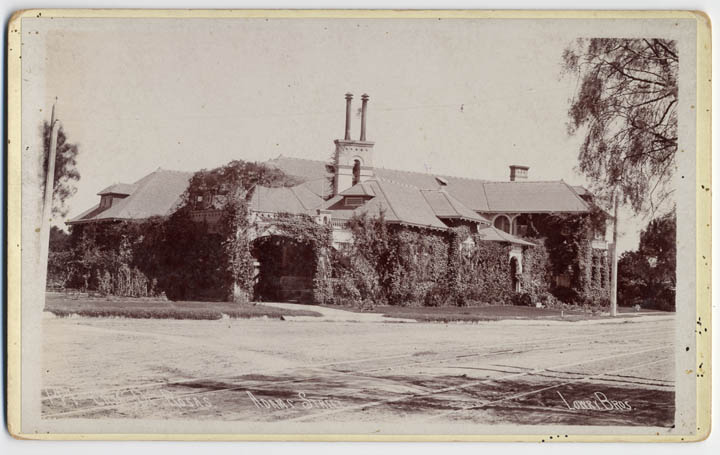 Although Hunt's design always stood out from the turreted Victorian-era homes that surround it, the building was serving a novel purpose as L.A.'s first — and perhaps the nation's first — private kindergarten for The Froebel Institute. Public kindergarten caught on, though. According to the Los Angeles Conservancy, the property transitioned over the ages from a college preparatory school for girls, to an inn and restaurant, to a military barracks in 1941 during World War II. Founding scientologist L. Ron Hubbard even had ties to the campus: It was listed as a headquarters for his Dianetics Foundation just before his popularity surged.
In 1950, local activist Essie Binkley West bought the property and opened L.A.'s first shelter for women, naming it "Sunshine Mission." It operated it until the 2000s, when it closed due to lack of funds. By then, the campus was deteriorating. South L.A. residents and preservationists teamed up to save it. Their first major victory was a 2004 historic designation that landed it on the National Register of Historic Places, protecting it from demolition.
Dupont-Walker, a longtime community leader who has served L.A. in multiple capacities, conferred with business owners and neighbors, including USC, to drive Casa de Rosas' rehabilitation.
The renovation was completed last year despite multiple challenges and hurdles, including the COVID-19 pandemic.
After more than three years, Casa de Rosas was unveiled anew, drawing the attention of the California Preservation Foundation, which honored the project with the 2022 Preservation Design Award for Rehabilitation.
Casa de Rosas: A home where hope grows
Last year, Casa de Rosas began housing veterans and families.
An estimated 3,900 homeless people in L.A. County — or almost 6% of the county's unhoused population — are veterans. That is the highest rate in the country, according to a report by HUD last year.
L.A. has held that unfortunate top spot for years. Casa de Rosas, though, signals that change could be coming. If residents, businesses and leaders are determined to help their communities shelter their homeless neighbors, they can — as long as they also have help from federal funds and the support of their elected officials.
On Thursday, Councilman Price praised Casa de Rosas' new occupants for finding shelter and services as well as for their military service.
"I just want to take the time to express my gratitude to the new residents of this project for all the freedoms they have given us," said Price. "I hope that you now can enjoy some freedom and a new beginning. We see you, we hear you, we love you."
Courtney McNeil, originally from Wilmington, N.C., has, because of Casa de Rosas, come out of homelessness. At age 26, on the cusp of 27, "it was a lot" to get here, he said.
"It was a long journey on just trying to figure out life," he said. "You know, like, you make mistakes in life, but it's not the end of the world. You may go through something that can be hard, but it's not the end. And you just have to keep pushing forward.
"I honestly thank God every day when I wake up in the morning, for just being able to, you know, have my own place. … It's been, it's been a blessing," McNeil said.
---
Beyond the Ward Economic Development Corp. and others already mentioned, additional organizations and firms gave Casa de Rosas new life. They are listed on the California Preservation Foundation site for the project.