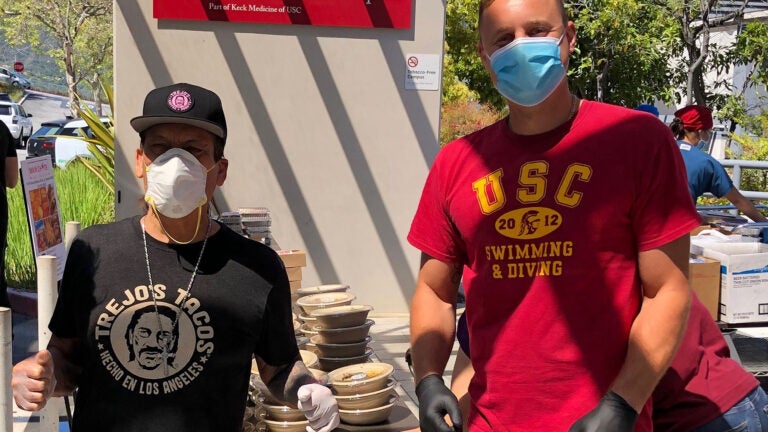 Celebs and USC Alums Feed L.A.'s Hospital Heroes
Arnold Schwarzenegger and Danny Trejo join USC alumni and friends to donate meals to health providers at Keck Medicine of USC and other L.A.-area hospitals.
Actor Danny Trejo's eyes gleam above his face mask as he lifts a bowl brimming with carne asada, street corn, rice, beans, salsa and salad into view.
"I'm sitting with the real angels of Los Angeles right now, all the people that are really on the front lines," he says to the camera recording his Instagram message. "We're just here — we can do our part, bring some food — but really, they're the ones that are saving lives."
As he speaks, Trejo gestures to nearby USC Verdugo Hills Hospital. Inside it, nurses, doctors and other health care workers treat patients with coughs, fevers and other hallmark symptoms of COVID-19.
Behind him stretches a table loaded with hundreds of meals donated to the hospital staff by his restaurant, Trejo's Tacos, and other local chefs.
"It's everybody helping everybody," Trejo says.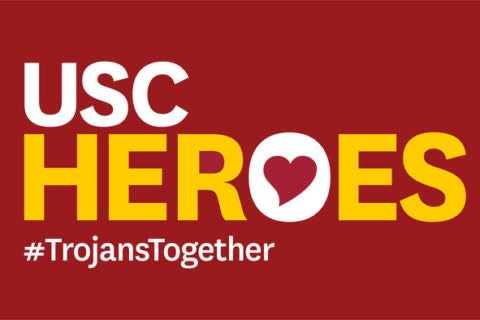 The Hollywood mainstay known for films like Desperado, Con Air and Grindhouse is among many celebrities, USC alumni and other supporters who have stepped up in recent weeks to encourage L.A.-area health care workers. They're doing it the way they know best: through donations of food.
Here are a few examples of USC alums (and honorary Trojans) doing their part to keep front-line workers energized and well-fed.
USC Alum Feeds Hundreds Through Smart Kitchen
When Trejo decided to have his chefs cook for caregivers, he turned to a USC graduate to make it happen. Dimitri Colupaev '14, an Olympian and veteran of USC's swim team, co-owns a "smart kitchen" space in L.A. called Colony Cooks. Restaurants often use these off-site kitchens to prep takeout and catering orders.
As the COVID-19 pandemic hit, Colupaev opened his smart kitchens to cook and deliver meals to front-line health workers, in collaboration with celebrity chef José Andrés' nonprofit World Central Kitchen and a local fundraising group started by motivated moms.
Colupaev's crew teamed up with Trejo and other restaurant owners to prepare 500 meals a day in the Colony Cooks space and then dish them out at USC Verdugo Hills Hospital for four days in April. They also served free food to health care providers at Providence Saint John's Health Center in Santa Monica for five days.
Trejo, who opened an outpost of Trejo's Tacos at USC Village in 2017 with USC alumni Jeff Georgino '90 and Ash Shah '89, piled up more than 50,000 views in a week with his Instagram video highlighting the collaborative effort.
"We really appreciate it," a hospital worker says during the video. "Danny's always been there supporting the community, and he's doing it again."
Arnold Schwarzenegger Sends Italian-American Food
Other celebrities are flexing their philanthropic muscles as well.
Despite being stuck in isolation, Arnold Schwarzenegger finds ways to entertain his fans. (Yes, it helps to have Lulu and Whiskey, his pet donkey and pony, by his side.) When he took to Twitter recently, however, the founder of the USC Schwarzenegger Institute for State and Global Policy shared more than just an amusing glimpse into his life in quarantine.
"There's a lot of people out there that are really fighting on the front lines of this virus, of this coronavirus," he says to the camera. "These are the people in the hospitals, especially at USC, the Keck School of Medicine — they're unbelievable. That's why I said to myself, we have to do something special for them."
He placed a call to one of his favorite restaurants, Bucca di Beppo, and ordered enough Italian food to serve hundreds of hospital workers at Keck Medicine of USC.
"I said to them: 'Make sure there is enough protein — I want them to have the chicken and the pasta and the vegetables and all those kinds of things,'" he says in the video. "So today is your day to pump it up. Thank you so much for the great work you're doing. Hasta la vista, baby."
The former governor of California also donated $1 million to a fundraising campaign to buy more protective equipment like masks, gloves and gowns for front-line health workers.
Porto's Provisions Potato Balls to Providers
It's tough to rival the Terminator when it comes to name recognition. But in Southern California at least, you'd be hard-pressed to find someone who hasn't tried the Porto family's cakes and baked goods — especially their famous potato balls — served at Porto's Bakery & Cafe.
The Portos are also known in USC circles as longtime friends and supporters of the university, and two of their own recently earned degrees from the USC Marshall School of Business. So when they wanted to support health professionals combating COVID-19, they made sure to include Keck Medicine staff.
What better to fuel doctors, nurses and other health care workers during their long shifts than coffee and pastries?
The Porto's Instagram feed recently highlighted a delivery stop at USC Verdugo Hills Hospital. They also visited Children's Hospital Los Angeles and City of Hope.
Brewery Space for a Blood Drive
As many local restaurants and donors step up to provide free meals and tasty treats to health workers, other food industry entrepreneurs find unique ways to lend a hand.
Brent Knapp MBA '13 is one of them. The co-founder and CEO of Common Space Brewing in Hawthorne, Calif., learned that the coronavirus crisis had canceled many blood donation drives, leading to a severe shortage in hospitals.
He opened up his brewery's expansive warehouse for two American Red Cross blood drives in recent weeks. The 6,000-square-feet venue gives health workers plenty of space to practice safe social distancing, along with other rigorous protective measures to keep everyone healthy while collecting donations.
Spots filled up quickly for the first two events. The brewery is gearing up for another blood drive in May — check its events page for more details.