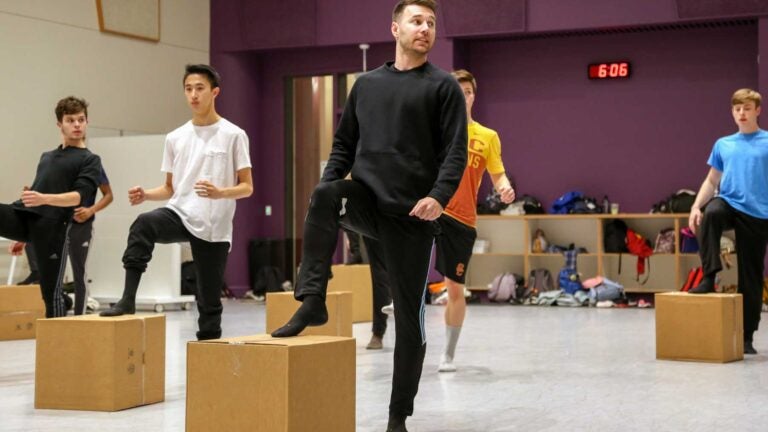 Choreographers shift from Dancing With the Stars to students
Jessica Lee Keller and Christopher Scott create an original work with USC Kaufman dancers
Even before their first onscreen steps as guest artists on ABC's Dancing with the Stars, Jessica Lee Keller and Christopher Scott were adept at multiple dances.
The dancers and choreographers with contrasting backgrounds — ballet for her, tap and hip-hop for him — blend cohesive movements. Put them in a room with USC Kaufman School of Dance "hybrid dancers" — those who can shift among varied styles and apply real-world concepts to their training — and creativity comes forth.
Keller and Scott have worked with students at the Glorya Kaufman International Dance Center to create an original work for the school. Referred to USC Kaufman individually (Keller worked with Vice Dean Jodie Gates while dancing with Cedar Lake Contemporary Ballet; Scott made contact through the school's chief operations officer Renae Williams Niles), the two joined forces again to work on a new piece with 50 freshmen and sophomores seeking a Bachelor of Fine Arts degree.
Fresh concepts
"Working with the students dictated what the piece would be, what story we would tell," Scott said.
The work initially centered on a story favored by Scott and Keller, but after workshopping it for a week, they opted to make it a piece more suited for the students.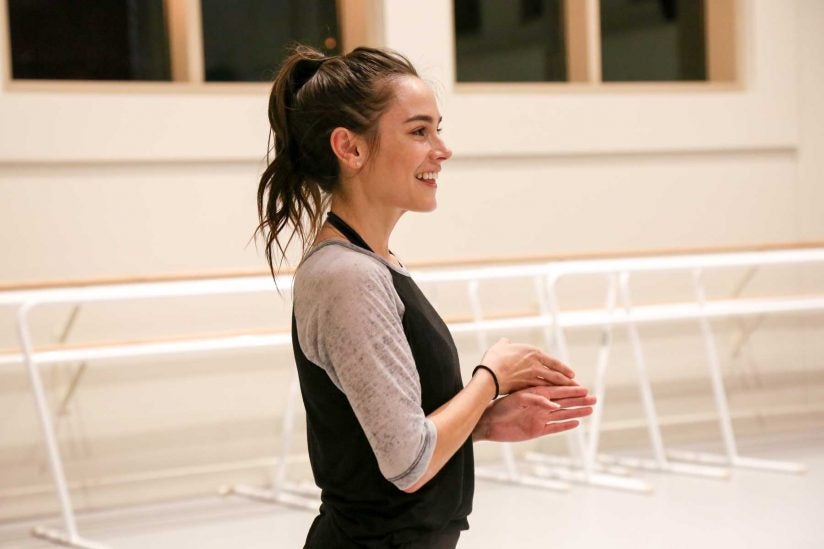 "It melted and mashed into this thing that fit them," Scott said. "There was an instant shift; they were just playing and then we added purpose and you could see the change. They know what's going on now."
The piece is built in two parts: One portrays youth and the other adulthood. The sections focus on the contrast between free-spirited carelessness and self-conscious fear. Scott and Keller said that the transition period experienced by young college students allows the dancers to embody both extremes.
Scott and Keller think that the students should influence the work.
"Stephanie [sophomore Stephanie Dai], for example, is really good at popping. It's so interesting to see where she takes my movement," Keller said.
Keller saw the movement from the initial workshop as "dark and gritty," but the students were able to show other qualities that the choreographers want to be incorporated.
"It was cool seeing them collaborate and negotiate ideas, and how they also collaborated with us," said Dai of rehearsing with the pair.
Negotiating time and process
Scott and Keller are based in Los Angeles, making it possible for them to fit a trip to the university into their busy schedules. They have small increments of time to rehearse at USC Kaufman — they are used to an eight-hour rehearsal period when choreographing — but they are accustomed to racing against the clock.
In the commercial world, it's go-go-go.

Jessica Lee Keller
"In the commercial world, it's go-go-go. You rehearse one day, you shoot one day and then you know you can do it better, but it's already done," Keller said.
The choreographers described a battle with time as a challenge in Los Angeles, where the realities of commercial dance collide with the longer incubation period of concert performances. At USC Kaufman, with rehearsal time distributed over a month, Scott and Keller are able to focus more on building their process.
"We're thinking less about the audience because it's a process with students," Scott said. After the first week or so of workshopping movement, they generally move on to building the piece — setting the sequences they are choreographing. The second week of rehearsals focus on the first section of the piece — the childhood section — and after a week away, the choreographers will return to finish the second and final section.
The students are very inspiring, Keller said.
"It'll be so interesting to see where their voice goes."