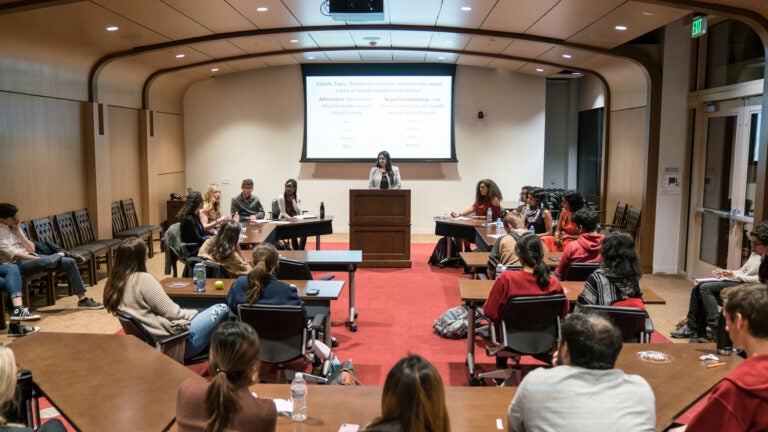 Civil debate amid partisan politics? USC students keep hope alive
The Trojan Debate Squad, USC's oldest chartered student organization, is gaining momentum. It teaches critical analysis and reasoned argument during era of trolls and "fake news"
Finding common ground can be challenging in today's climate of political bickering.
But one group of students at USC is learning how to remain civil and stick to the facts, even when arguing over heated issues like health care and abortion. It's the Trojan Debate Squad, a university-wide organization headquartered at the USC Annenberg School for Communication and Journalism that equips students with research and public speaking skills.
"In the age of social media, it's so easy to polarize yourself or stay in your bubble — just ignore people with different opinions or life experiences," said Nisha Kale, captain of the squad's parliamentary debate team. "The neat thing about debate is it forces you to consider the life experiences and arguments that exist on the other side."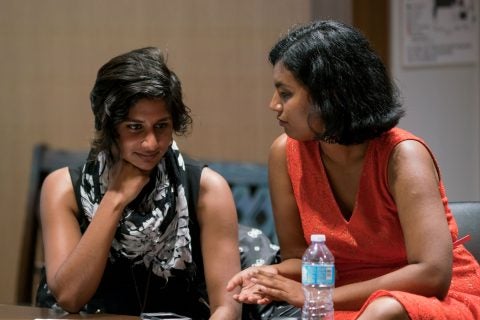 As USC's oldest chartered student group, the squad has a storied history of success since its founding in 1880. Its members have qualified for the National Debate Tournament for a record 55 years in a row.
And in recent years, the team has experienced a dramatic uptick in interest and support. It has more than doubled in size since last year, growing to more than 70 members. New donations enable more scholarships and cover the costs of traveling to competitions.
To Kiran Dhillon, it's a signal that people yearn for a revival of civil discourse in an increasingly divided society.
"I feel like partisan politics has made it so that we are isolating ourselves away from difficult conversations," said Dhillon, the squad's first female director and a lecturer of communication at USC Annenberg. "When we hear something we don't like, we walk away."
Debate forces students to learn how to talk with people with different beliefs and values, she said. This helps them challenge their preconceived ideas about contentious topics and test their advocacy skills. When confronted with differing perspectives, they don't resort to negativity and stubbornness. Instead, they can discuss difficult issues in a reasoned and respectful way.
"They do such a good job of navigating conversations and putting arguments out there," Dhillon said. "I see the transformations happening. And they take that into the classroom. They take that into their personal lives."
Put public speaking skills to the test
When Aron Berger isn't studying for his degree in politics, philosophy and law, he's scouring academic journals and news websites. He's on the hunt for the latest evidence to bolster his arguments during debate competitions.
The USC senior is captain of the squad's policy debate team. Along with his partner, Hex Larsen, he ranks among the nation's elite collegiate debaters. They head to Kansas later this month for the national championships as experts in health care, this year's policy topic.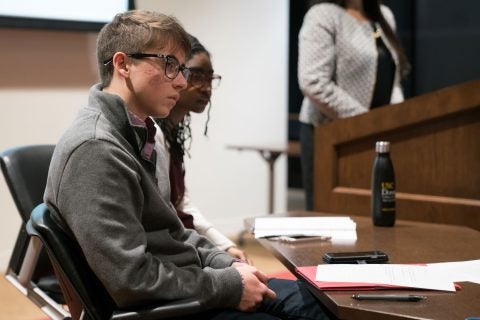 They're hoping to pull off a feat that has eluded USC since it started attending the National Debate Tournament in 1947 — a first-place victory. Berger and Larsen already defeated many of the nation's top teams this year.
The duo will use months of preparation and practice to defend their side, either for or against universal health care coverage. After outlining their position and supporting evidence, they'll face cross-examination and rebuttal speeches.
Each team tries to point out flaws in the opposing arguments, then judges determine the winner. In another round, they will take the other side, fighting for the position they had just attacked.
"It challenges students to avoid relying on their opinions about the world and instead forces them to test those opinions," Berger said.
Debating on a wide array of topics for nearly a decade has prompted Berger to change his personal views on some issues and strengthen them on others. In his time at USC, he has argued about carbon dioxide emissions, the U.S. military presence around the world and legalization of drugs and sex work.
"You have to be tested in what you believe, otherwise you can't be sure of its truth," he said. "If you are not prepared to defend your ideas about the world, then how can you be prepared to advocate for them?"
Ready to argue on any subject
Policy debaters dedicate themselves to a single topic each year, but other members of the Trojan Debate Squad never know what issue they might have to tackle. They practice parliamentary debate, in which they have just 15 minutes to prepare a seven-minute speech on a surprise subject.
When Kale joined the squad as a freshman, she struggled to come up with enough material to fill those seven minutes. Now the senior is president of the parliamentary team and will compete at the national championships in April with her partner, Anshika Niraj. They hope to rank among the top eight teams, surpassing their finish in the top 32 last year.
"I didn't have any previous debate experience coming into USC," she said. "Now we are nationally ranked, and we've won three or four tournaments. The only skill you need to succeed is a desire to come to practice and participate."
Members of the Trojan Debate Squad meet twice a week to study. They discuss logic and argument styles and review the latest news. Although the debate team is based at USC Annenberg, participants come from engineering, business, chemistry, history, medicine and many other fields.
Berger plans to apply to law school after graduating this spring. Kale is a history major with a minor in natural sciences. She is eying medical and public health degree programs and envisions a career in health policy.
Both are excited to see the growth of the debate program, especially an influx of young talent. Among the promising new members are Ben Rosenthal and Jerry Wang, who already qualified for the National Debate Tournament this year as freshmen.
"I feel like this is the tipping point for our club to be really competitive," Kale said. "I want to set the freshmen up to not only lead the club, but also to be competitively successful in the future."
New support helps the program grow
The squad's home turf recently got an upgrade thanks to a generous donation by Judge Judy Sheindlin and her husband, Jerry. The gift created The Sheindlin Forum, a space at Wallis Annenberg Hall dedicated to public debates and discourse.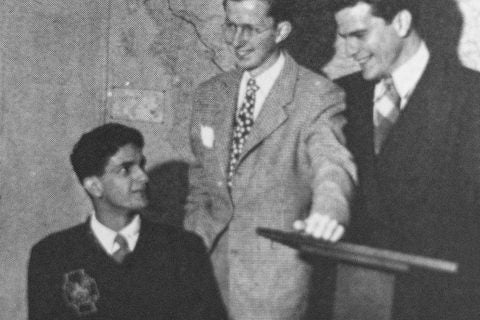 New funding also means the team can take more students on weekend trips to competitions, Dhillon said. Their latest and biggest surprise: A former member left nearly $1.2 million to the program in his will. Kenneth Gabriel attended USC in the 1940s and competed with the Trojan Debate Squad. He also served as the squad's manager. His gift will support a scholarship for debate students and create a program fund to help cover travel expenses and other costs.
"There are some tournaments we don't go to nationally just because we have to fly out to every event," Dhillon said. "This gift will make those decisions easier. Additional support is definitely helpful, especially with the number of debaters we have now."
Other critical streams of funding include resources from USC Annenberg, USC Undergraduate Student Government and individual donors. Kale also lauded a recent increase in financial support from USC, including debate scholarships funded by the university's endowment. The ongoing Campaign for USC aims to grow this endowment to provide more financial help for talented students like Berger and Kale, who are both on scholarships that cover this year's tuition.
"Very few schools can match the support USC gives to its debaters," Berger said.
Kale added that the scholarships show that the university is dedicated to giving its students rich experiences.
"Debate in particular is so fundamental to academic success," she said. "It really is a true display of how a student can apply the vigorous academics they learn in class to the real world."