Classical KUSC has a new Apple TV app
CONTACT: Allison Engel at (213) 740-1927 or allison.engel@usc.edu
You've heard of TV on the radio. Now there's radio on the TV. On Apple TV, to be specific.
Classical KUSC has become one of the first radio stations to create an app for Apple TV. It's free, and available on iTunes here.
Apple TV looks like a cable box and is used with a HDTV screen to show content from a variety of sources: HBO, YouTube, Hulu Plus, Netflix, AOL, network channels such as NBC and CBS, Vimeo, Flickr and others.
Chris Mendez, director of new media for USC Radio Group, said the new Apple TV app is similar to Classical KUSC's iPhone app but on a much wider canvas. It celebrates Southern California lifestyle through a slideshow of beautiful landscapes and architectural details as the station's music streams 24/7. It also provides stories of the world's most noteworthy composers while the app streams commercial free (see below left), and identifies each piece of music by title and composer.
"We are one of the first radio stations to create an app on Apple's new platform," said Mendez. "It's pioneering, and shows the innovation at the station."
Classical KUSC has been an app innovator for years, creating its first app for phones and mobile devices five years ago.
Example of composer information from the app: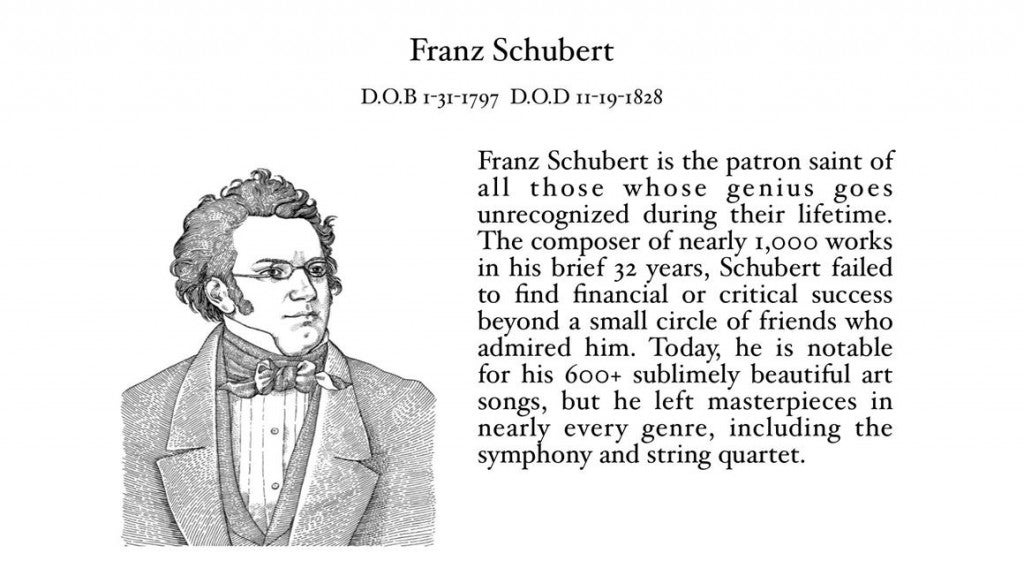 Image used in the Apple app store: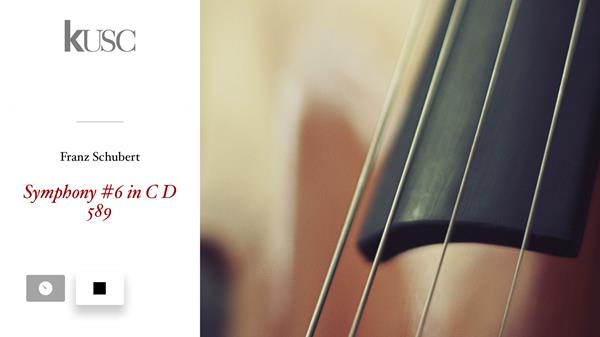 Classical KUSC, located in the USC building in downtown Los Angeles, broadcasts hand-picked commercial-free classical performances, expert music commentary and coverage of the arts in Southern California. The listener-supported station has been broadcasting for more than 60 years as a broadcast service of the University of Southern California at 91.5(FM) in Los Angeles and Santa Clarita, 88.5 KPSC in Palm Springs, 91.1 KDSC in Thousand Oaks, 93.7 KDB in Santa Barbara and 99.7 KESC in Morro Bay/San Luis Obispo. It is live-streamed at kusc.org, attracting listeners from around the globe.