Clinton gains 5 points to tie Trump in post-DNC Daybreak Poll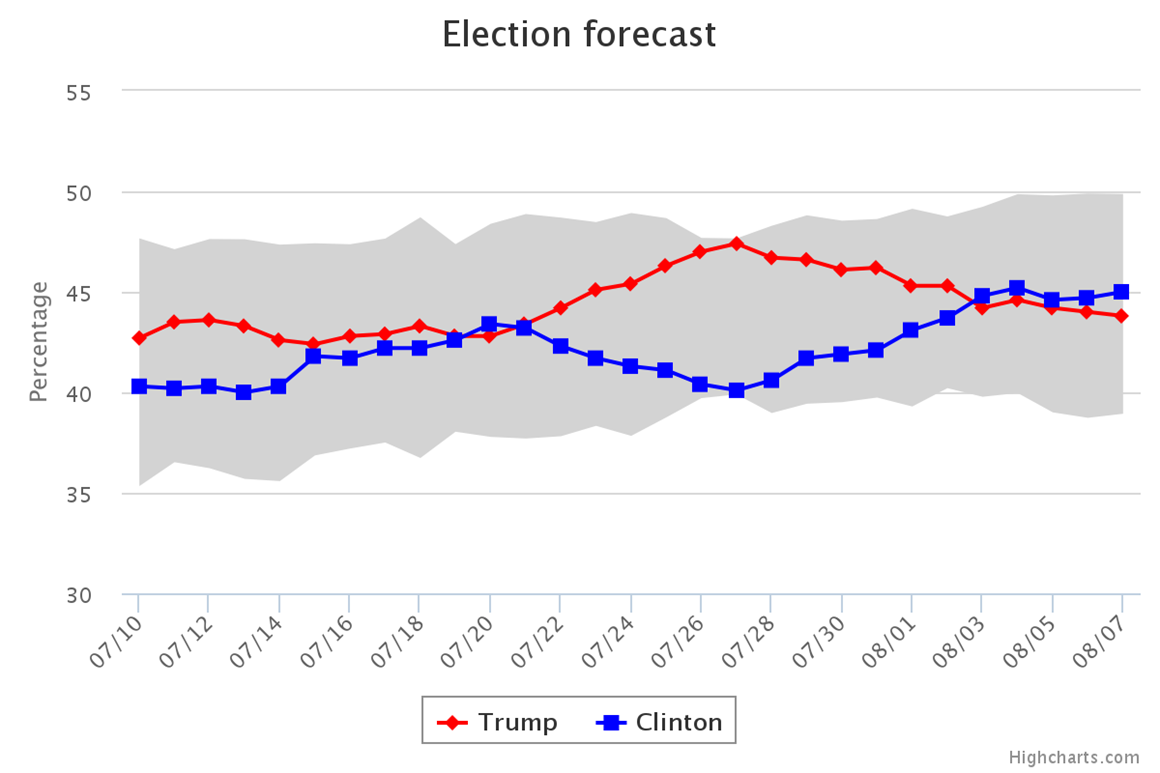 Contact: Emily Gersema at (213) 361-6730 or gersema@usc.edu
August 8, 2016 — Democratic presidential candidate Hillary Clinton and Republican candidate Donald Trump are nearly tied the week after the Democratic National Convention and after a series of controversies for the Trump camp, according to the USC Dornsife/LA Times Presidential Election Daybreak Poll.
Clinton has a slight edge, 45 percent to 44 percent, over Trump in the national daily probability poll — one of a few such polls in the country. Trump slid nearly 4 percentage points as Clinton gained nearly 5. However, the difference is well within the poll's margin of error of plus or minus 5 percent.
Clinton leads among eligible voters aged 35 to 64 — 46 percent to Trump's 43 percent. She made some headway among those 65 and older, gaining nearly 7 percentage points during the Democratic National Convention and in the days afterward. Even so, Trump still leads this age group, 48 percent to 45 percent.
Clinton also is drawing more support from low-income eligible voters (52 percent to 36 percent). Among women, she now leads 50 percent to 37 percent. Trump remains ahead among whites (54 percent to 34 percent) and among men (51 percent to 40 percent).
Methodology
The USC Dornsife/LA Times Daybreak Poll differs from most public opinion surveys on the presidential election because it measures both voter preferences and the intensity of those preferences. Rather than assuming that every voter is equally certain of their allegiance to one candidate or the other, the Daybreak Poll assigns more weight to those voters who express a greater degree of certainty in their preference.
"Measuring the intensity of voters' preferences for a candidate helps us understand how hard or soft the support for a candidate is," said Arie Kapteyn, executive director of USC Dornsife's Center for Economic and Social Research, which oversees the Understanding America Study whose panelists participate in the Daybreak Poll.
"The same is true of the questions we ask about the percent chance that a respondent will actually vote," Kapteyn added. "We want to give most weight to those who are most likely to actually vote in November."
A growing number of eligible voters — 55 percent — think Clinton will win in November, compared with 41 percent for Trump. That marks a 6 percentage-point increase for Clinton and a nearly 5 percentage-point decline for Trump.
Results are updated nightly in the poll, and they reflect a rolling seven-day average.
Additional poll highlights
In the aftermath of the Democrat and Republican party conventions, traditional political affiliation remains the biggest predictor of whether a respondent plans to vote for Trump or Clinton.
Party loyalty: Republican-affiliated voters indicated an 80 percent likelihood of voting for Trump, only a few percentage points below the 84 percent for Clinton indicated by self-described Democrats.
Independents: These respondents were more divided, averaging a 37 percent likelihood of voting for Trump, 30 percent for Clinton and 33 percent for some other candidate.
On the fence: With more than four months to go until Election Day, many eligible voters are undecided. Roughly 1 out of 4 voters have significantly increased or decreased their levels of support for the candidates over time. In the most recent week, only about 1 out of 4 in both parties rated the likelihood of voting for their party's candidate at 100 percent. At this time in 2012, more eligible voters — 35 percent — were confident that they were going to vote for President Obama's reelection.
Party affiliation was also predictive of whether Republican and Democratic national convention speeches and events were more likely to inspire optimism or fear, according to poll questions asked of respondents who followed the news about each party's convention.
The poll asked eligible voters who followed the conventions to rate if the convention made them feel that the future would be better or worse "for people like you," on a scale from 0 — they felt the future would be much worse — to 10 — they felt it would be much better.
Post-RNC: Some pundits characterized the convention's tone as apocalyptic or negative. However, Republican-affiliated voters rated their outlook at a fairly positive 6.6 out of 10. Among Democrats the average was 3, and among independents, 4.5.
Post-DNC: The Democratic National Convention focused more on traditional American campaign imagery and optimism, and the average level of optimism among Democrats was 7. But Republicans rated their sense of optimism at 2.5 and independents at 4.2.
"Although the differences are not large, there is some suggestion that Democrats are more optimistic about the future than Republicans, consistent with the different messages of the two conventions," said Jill Darling, survey director of the Understanding America Study at USC Dornsife's Center for Economic and Social Research.
A detailed breakdown of the poll demographics is here.
About the Daybreak Poll
The Daybreak Poll is a probability poll that will provide a best estimate of how America plans to vote in the November election. Updated nightly, results are based on repeated participation by a large panel of Americans representing a random sample of diverse households nationwide.
Only a few such daily probability polls exist in the country. The Daybreak Poll is part of the ongoing Understanding America Study at the USC Dornsife's Center for Economic and Social Research. It is conducted in partnership with the Jesse M. Unruh Institute of Politics (also at USC Dornsife College of Letters, Arts and Sciences) and with The Los Angeles Times.
More than 3,200 participants in the Understanding America Study are on the election panel. Of those, 450 are invited daily to participate in the Daybreak Poll to ensure a balanced sample. Each day at midnight, researchers update the results, which are based on a week's worth of responses. Learn more about the methodology here. A detailed demographic breakdown of the latest poll results are here.
The Daybreak Poll results are publicly available on three sites: election.usc.edu, at the Unruh Institute site and the LA Times politics page.
___
Arie Kapteyn is a professor of economics and the executive director of the USC Dornsife College of Letters, Arts and Sciences Center for Economic and Social Research, where he also oversees the Understanding America Study. Before founding CESR at USC in 2013, Kapteyn was a senior economist and director of the Labor & Population division of the RAND Corp. Much of Kapteyn's recent applied work is in the field of aging and economic decision making, with papers on topics related to retirement, consumption and savings, pensions, disability, economic well-being of the elderly. A pioneer in the development of new methods of data collection, Kapteyn has about 20 years of experience in recruiting and running population representative Internet panels, including the CentERpanel (2,000 respondents; the first probability Internet panel in the world) and LISS panel (7,500 respondents) in the Netherlands, as well as the American Life Panel (6000 respondents) and the Understanding America Study.
Jill Darling is the survey director for the Understanding America Study at USC Dornsife's Center for Economic and Social Research. She also is a research health scientist at the Veterans Health Administration Health Services Research and Development Center for Healthcare Innovation, Implementation, and Policy (CSHIIP), for which she was previously survey director. A former associate director of the Los Angeles Times poll, she holds a bachelor's in mathematics from Sonoma State University and a master's in health sciences from George Washington University.
Dan Schnur is the director of the Jesse M. Unruh Institute of Politics at the University of Southern California, where he works to motivate students to become involved in politics, government, and public service and teaches popular classes in politics, communications, and leadership. He also is the founder and director of the USC Dana and David Dornsife College of Letters, Arts and Sciences/Los Angeles Times poll series.
___

About USC Dornsife's CESR: The Center for Economic and Social Research is dedicated to discovering how people around the globe live, think, interact, age, invest, and make important, life-changing decisions. CESR's in-depth research and analysis deepen the understanding of human behavior in a wide range of economic and social contexts. CESR's ultimate goal: to improve social welfare by informing and influencing decision-making in the public and private sectors. Along the way, CESR is leading a creative revolution in how scientists conduct social science and economic research through the use of innovative technology.
The Understanding America Study at CESR is a panel of 5,000 randomly-selected respondents around the country who answer researchers' queries approximately twice a month through an online survey. The panelists are all adults, 18 and older.
Surveys conducted for the study are commissioned by researchers, including USC clients, international universities and government researchers who are studying issues such as consumer behavior, social and economic policy and health. Researchers worldwide create the surveys. CESR's team designs and tests them, and then it sends them to panelists to respond. UAS datasets, including the data from the Daybreak Poll, are freely available to download and use. Contact UAS at uas-l@mymaillists.usc.edu.

About the Jesse M. Unruh Institute of Politics: The institute is dedicated to bridging the academic study of politics with practical experience in the field. The Unruh Institute channels its efforts by offering courses in applied politics, a variety of speaker series, and an extensive political internship program. Its goals are to engage public officials with the USC community and to facilitate discussion of relevant issues across campus.
About USC Dornsife College of Letters, Arts and Sciences: USC Dornsife is the heart of the university. The largest, oldest and most diverse of USC's 19 schools, it is composed of more than 30 academic departments and dozens of research centers and institutes. USC Dornsife is home to approximately 10,000 undergraduate and graduate students and more than 750 faculty members with expertise across the humanities, social sciences and sciences.
About the Los Angeles Times: The LA Times is the largest metropolitan daily newspaper in the country, with a daily readership of 2 million and 3 million on Sunday, and a combined print and interactive local weekly audience of 4.5 million. The fast-growing latimes.com draws over 10 million unique visitors monthly.
#Election2016
# # #