Clinton leads Trump among California voters; Senate race draws little interest
USC Dornsife/L.A. Times Poll also shows support for ballot measure to legalize recreational use of marijuana
Hillary Clinton has a wide lead on Donald Trump among California registered voters, with 58 percent backing Clinton and 33 percent for Trump, according to a new USC Dornsife/Los Angeles Times Poll conducted by SurveyMonkey.
The poll also revealed:
In the California U.S. Senate race between Democrats Kamala Harris and Loretta Sanchez, Harris holds a double-digit lead, but more than a third of voters say they don't know who they'll support.
Voters expressed enthusiasm for a ballot measure to legalize recreational use of marijuana and another measure that would ban possession of large-capacity ammunition.
Presidential race
In the presidential contest, when the question of candidate preference was expanded to include third-party candidates Jill Stein and Gary Johnson, Clinton's support dropped to 49 percent while Trump's fell slightly to 29 percent. Johnson, the Libertarian candidate, drew 11 percent in support while Stein, the Green Party candidate, drew 6 percent.
The third-party candidates appear to attract younger voters from Clinton. Without the third-party candidates as an option, 71 percent of 18- to 24-year-olds support Clinton. When Johnson and Stein are listed, her support among that age group drops to 45 percent.
The four-way race also cuts into Trump's already-low level of support among 25- to 34-year-olds. Against just Clinton, he carries 22 percent of voters in that age group. In a four-way race with Clinton, Johnson and Stein, he carries 14 percent.
Trump and Clinton are in a close race among registered voters 65 and older in both the two-way and the four-way races. In the two-way, Clinton leads 47 percent to 45 percent. In the four-way, they are tied at 44 percent.
The poll, the largest statewide survey of California voters, also asked respondents to weigh in on other ballot issues, including the U.S. Senate race and several propositions that range from requiring background checks on ammunition purchases and a ban on large-capacity ammunition to recreational use of marijuana.
When asked which elections or ballot issues make them most enthusiastic to vote this year, only 2 percent said the Senate race, compared to 56 percent for the presidential election. Twenty percent said they were most enthusiastic for the ballot measure that would require background checks on ammunition purchases and a ban on possession of large-capacity ammunition. Sixteen percent were most enthusiastic about the proposition to allow recreational use of marijuana.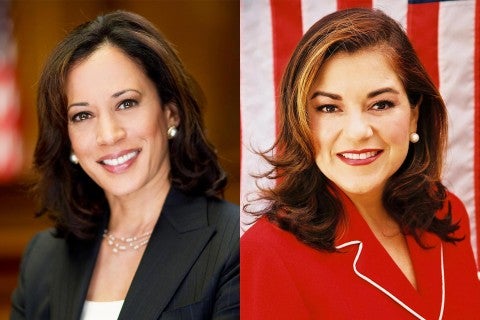 Senate race
The Senate race between Attorney General Harris and U.S. Rep. Sanchez marks the first time that same-party candidates have advanced to the election for a California congressional seat. The seat has been held for nearly 24 years by Democrat Barbara Boxer, who is retiring from Congress.
Harris leads Sanchez 30 percent to 16 percent. However, 36 percent of voters — most of them Republicans and independents — said they don't know which candidate they'll support. Also, 16 percent of registered voters — most of them Republican — said they will not vote on this race.
"This is the first open U.S. Senate seat in a quarter of a century in California and no one seems to care," said Dan Schnur, director of the poll and director of USC's Jesse M. Unruh Institute of Politics.
A possible explanation: 82 percent of registered Republicans and 52 percent of registered independents said it's a "bad thing" that they are being asked to choose between two Democrats.
In California, the two candidates garnering the most votes in the primary advance to the general election — regardless of party affiliation. The "top two" system was implemented before the 2012 election.
Sanchez, however, appeals to Republican voters, 34 percent vs. 25 percent for Harris.
Marijuana, gun ballot issues
Several issues appear on the ballot, including one to legalize recreational use of marijuana and another to ban possession of large-capacity ammunition.
Fifty-eight percent of the 1,879 voters who responded to this question said they would vote "yes" on Proposition 64, which would legalize recreational use of marijuana for adults 21 and older. The measure also would allow the transport and use of up to an ounce of marijuana and individuals to grow as many as six plants. If approved, the state would impose a 15 percent tax on all retail sales of marijuana. Thirty-four percent oppose it and 8 percent said they didn't know.
The proposition is similar to one in 2010, Proposition 19, which was rejected by 53 percent of voters.
"It's very clear that Californians' attitudes have changed dramatically on this issue over the last several years," Schnur said. "The opposition is going to have to identify a fairly sizable source of campaign funding if this initiative is to be close."
Most voters also back Proposition 63, which would require a background check and authorization to purchase ammunition. It also would prohibit possession of large-capacity ammunition and reinforce laws that already bar certain people, such as convicted felons, from possessing a firearm.
Sixty-four percent of the 1,879 people who responded to this question said they would vote for Prop. 63 if the election were held today, compared to 28 percent opposed and 8 percent who don't know.
"California has a deserved reputation as a deep-blue state, and while these leanings tend to show up to some degree on economic issues, they are much more notable on matters like this," Schnur said. "Without a compelling argument in the other direction, most Californians are inclined to support even more stringent restrictions on gun ownership," he added.
---
About this poll: The latest USC/Dornsife Los Angeles Times Poll, the largest statewide survey of registered voters, was conducted Sept. 1-8 by SurveyMonkey. The full sample of 4,212 voters 18 and older has a margin of error of +/- 2 percentage points. Results on questions about ballot measures have a margin of error of +/- 3 percentage points. Additional results on other ballot issues will be made available later.
About the USC Dornsife College of Letters, Arts and Sciences/Los Angeles Times Poll: The USC Dornsife/L.A. Times Poll is a series of statewide public opinion polls in California, designed to survey voter attitudes on a wide range of political, policy, social and cultural issues. Conducted at regular intervals throughout the year, the poll is the largest statewide poll of registered voters and has been widely cited, helping to inform the public and to encourage discourse on key political and policy issues.
About the Jesse M. Unruh Institute of Politics: The Unruh Institute is dedicated to bridging the academic study of politics with practical experience in the field. The institute channels its efforts by offering courses in applied politics, a variety of speaker series and an extensive political internship program. Its goals are to engage public officials with the USC community and to facilitate the discussion of relevant issues across campus.
About the USC Dornsife College of Letters, Arts and Sciences: USC Dornsife is the heart of the university. The largest, oldest and most diverse of USC's 19 schools, USC Dornsife is composed of more than 30 academic departments and dozens of research centers and institutes. USC Dornsife is home to approximately 10,000 undergraduate and graduate students and more than 750 faculty members with expertise across the humanities, social sciences and sciences.
About the Los Angeles Times: The Times is the largest metropolitan daily newspaper in the country, with a daily readership of 2 million and 3 million on Sunday, and a combined print and interactive local weekly audience of 4.5 million. The fast-growing latimes.com draws more than 10 million.